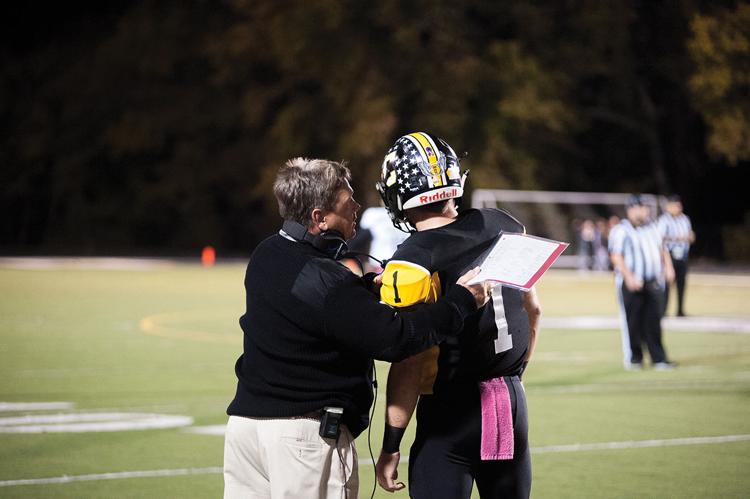 Who: Johnson Central (9-0) at Belfry (6-2)
Kickoff: Friday, 7:30 p.m.
Location: C.A.M. Stadium, Belfry.
Coaches: Johnson Central, Jim Matney. Belfry, Philip Haywood.
Notes: Johnson Central is coming off of a 48-0 win over Letcher Central, while Belfry is coming off of a 55-14 win over Pike Central.
Johnson Central vs. Belfry is one of if not the most competitive rivalries in Eastern Kentucky since the two schools started back playing in 2007.
The series is tied at 6-6 since that time.
The numbers are very even.
Both teams have one shutout win over the other.
Johnson Central averages 24.4 points per game in those 12 games, while Belfry averages 20.8 points per game.
The two teams play similar styles.
It's all about being strong and physical and that starts at the line of scrimmage.
Both teams are in the championship race in their Class each season.
Belfry had won three straight from 2015 to 2017 before Johnson Central picked up a 34-21 win last season.
Both teams have put together three-game winning streaks during the last 12 matchups.
This season, the game will mean a little more because of the RPI rankings for the playoffs.
Belfry is only going to finish regular season play with nine total games, so this win could be huge for the Pirates in the RPI rankings.
Johnson Central sits third in the Class 4A RPI rankings currently. A win over Belfry could jump them ahead of No. 2 Franklin County and possibly No. 1 Boyle County.
Johnson Central has outscored its opponents 416-85 this season. That's an average of beating its opponents 46.22-9.444.
The Golden Eagles have been dominant, but may have been flying under the radar some this season because the Golden Eagles are so consistent year-in and year-out.
Belfry is just starting to get healthy.
The Pirates have to fight a mired of injuries from the beginning of the season.
Brett Coleman missed significant time at the beginning of the season. Then Issac Dixon and Seth Mounts both missed time and are just now working their way back in the lineup.
The Pirates are finally getting their full lineup back.
On the season, Johnson Central has rushed for 2,624 yards, while the Pirates have rushed for 2,321 yards collectively.
Johnson Central's passing game has been better than Belfry's, though. Johnson Central quarterback Ryley Preece is 24 for 35 passing for 661 yards and 11 Ts with two interceptions. Belfry quarterback Brett Coleman is seven for 22 passing for 168 yards and two TDs with an interception.
Devin Johnson, who recently committed to Youngstown State the same place Belfry's Ben Bentley committed, leads the Golden Eagles with 909 rushing yards and 11 TDs on 75 carries. Preece follows with 428 yards and nine TDs on 42 carries.
Belfry's Peyton Hensley leads the Pirates with 703 rushing yards and eight TDs on 91 carries. Bentley follows with 635 yards on the ground and nine TDs on 67 carries. Dixon has 476 yards and four TDs on 44 carries for the Pirates.
The numbers are about even across the board.
Who 2 Watch: The quarterbacks.
If the game comes down to a big play or one team does a better job against the other team's run game, the passing game might be the difference.
Preece is a four-year starter and one of the best quarterbacks in the state.
Coleman doesn't get the opportunity to throw as much, but is a playmaker as well.
Both are dual threat quarterbacks who have a lot of weapons around them.
Preece has the experience advantage and has played in three state title games.
Look for a well timed pass to be a big momentum boost and it could be the difference who wins this game and who goes one game down in the series since 2007.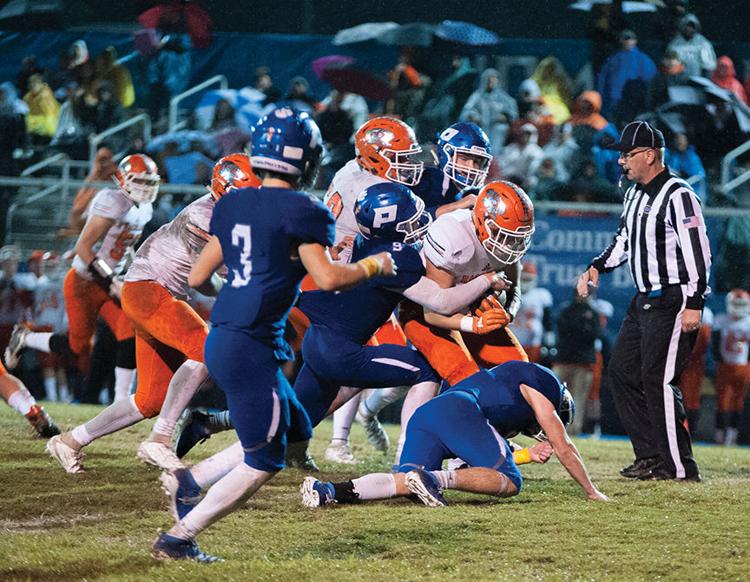 Who: Lexington Christian (8-1) at Paintsville (7-2)
Kickoff: Friday, 7:30 p.m.
Location: Memorial Field, Paintsville.
Coaches: Lexington Christian, Doug Charles. Paintsville, Joe Chirico.
Notes: Lexington Christian is coming off of a 38-13 win over Danville last Friday night, while Paintsville held off Raceland 19-15.
LCA is the No. 1 ranked team in the Associated Press's Class 2A Top 10 Poll.
The Eagles are playing well this season under first-year coach Doug Charles.
LCA's only loss is a 39-20 loss to Belfry in the Pike County Bowl.
Quarterback Jayden Barnhardt leads the way for the LCA offense. Barnhardt is 134 for 22 passing for 2,197 yards and 24 TDs with nine interceptions.
Xavier Brown leads the Eagle rushing attack with 630 yards and nine TDs on 79 carries. Barnhardt follows with 451 rushing yards and eight TDs on 112 carries.
Dearious Smith leads LCA with 54 catches for 1,178 yards and 12 TDs. Will Vernon follows with 30 catches for 430 yards and seven TDs. Brown has 29 receptions for 406 yards and five TDs. Elijah Hammond has 20 catches for 197 yards and a TD.
Mattie Lebryk leads the LCA defense with 98 total tackles and two and 1/2 sacks. Andrew Long follows with 74 tackles and a team-high 10 and 1/2 sacks.
Mason Moore leads the team with three interceptions. Long follows with two. Drew Nieves, Frankie Knight, Brown, Smith and Hammond each have a a pick.
Paintsville will have its work cut out in the regular season finale.
The Tigers got quarterback Jake Hyden back and that was key against a good Raceland team.
This game will be important for the Tigers in the RPI rankings heading into the postseason. Currently, Paintsville is No. 3 in Class A in the RPI. If the Tigers want to move up and have a better shot at getting the No. 1 or No. 2 spot and have home field advantage throughout the playoffs a win against Lexington Christian would go a long way in helping the Tigers' cause.
Hyden played well against Raceland. The junior signal caller was five for 16 passing for 67 yards and a TD with an interception. He also rushed for 56 yards and a TD on 11 carries.
John Walker Phelps led the rushing attack against Raceland with 95 yards on 26 carries. Harris Phelps also rushed for a two-yard TD.
Karsten Poe led the Tiger receivers with three catches for 35 yards and a TD. Nick Keeton added two catches for 31 yards.
Jaylyn Allen had a game on defense. Allen had eight total tackles and three sacks.
The Tiger secondary came up with three interceptions as well.
Hyden, Devin Hall and John Walker Phelps each had interceptions for Paintsville.
Who 2 Watch: The Paintsville secondary.
Barnhardt is going to throw the ball and throw the ball.
LCA likes to air things out and put pressure on the defense.
Paintsville's secondary is really strong and a turn or two could go along way in helping the Tigers pull off the big win.
On the season, Paintsville has 16 total interceptions.
Hyden leads the way with five interceptions.
Jonah Porter and Hall each have four interceptions. Hall returned one of his interceptions for a TD.
John Walker Phelps has added three interceptions as well. He returned one of his for a TD as well.
The Tigers are ballhawks.
If they can come up with an interception or two take some steam out of LCA's high powered offensive attack, it might give the momentum needed to pull out a big win over an outstanding team.