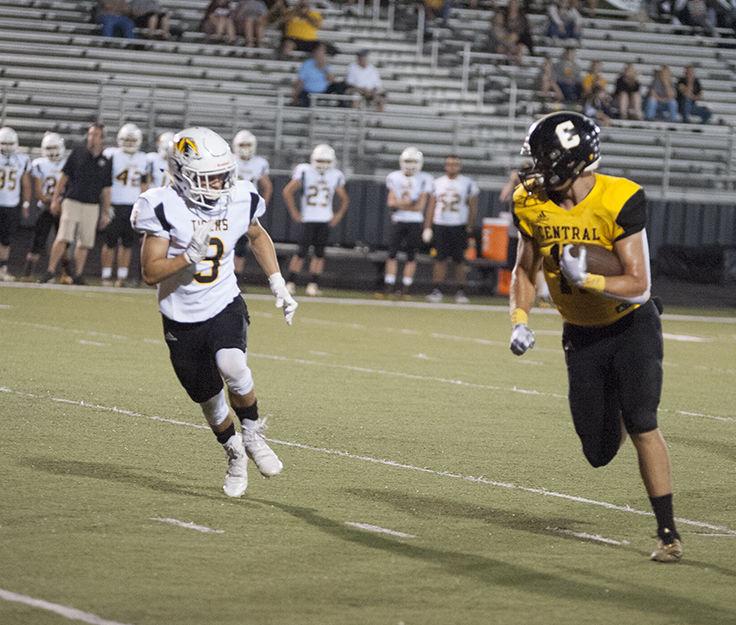 Johnson Central at Perry Central
Who: Johnson Central (6-0) at Perry Central (1-5)
Kickoff: Friday, 7:30 p.m.
Location: Commodore Field, Hazard.
Coaches: Johnson Central, Jim Matney. Perry Central, Ovie Canady.
Notes: Johnson Central is coming off of a 44-0 win over Clay County, while Perry Central knocked off Lee, Va. 41-20.
Johnson Central kicked off district play with a shutout.
The Golden Eagles are still getting better each game and with the big wins, they're getting younger players reps. A total of 12 players got to run the ball last week.
Last week, Toby Spriggs scored after finding out his dad had cancer and while treating, it doctors found a brain tumor. That went well for Spriggs' father. It was an emotional time and the football team rallied around Springs and he even scored a TD.
The Golden Eagles' had a wide range of emotions and used them to help a teammate.
That's what Jim Matney's teams are all about.
Look for the Golden Eagles to come back focused this week.
Perry Central finally broke into the win column last week.
The Commodores had been close, but couldn't find a way to win games.
It's probably not a good thing the Commodores have to face one of the toughest teams in Class 4A, after picking up their first win.
Ovie Canady's team likes to throw the ball around and play aggressive defense.
The problem that Perry Central is looking at this week is Johnson Central's offensive and defensive lines are the centerpiece of the team and one of the best lines in the state in any class.
Perry Central will have to find a way to slow the run game down on defense and will have to throw the ball with success on offense.
Who 2 Watch: For Johnson Central, the offensive line. For Perry Central, the defensive line.
Johnson Central features some of the top linemen in the state in Andrew Clifton, Grant Bingham and Owen LeMaster.
The Golden Eagles have rushed for 1,774 yards behind a tough-nosed offensive line.
Perry Central has some good talent up from with Noah Canady and the rest of the Commodore defensive line.
The Commodores having given up 1,063 rushing yards to opposing defenses this season.
Perry Central will face its toughest challenge.
The line that controls the game will go a long way in deciding who wins or losers the game.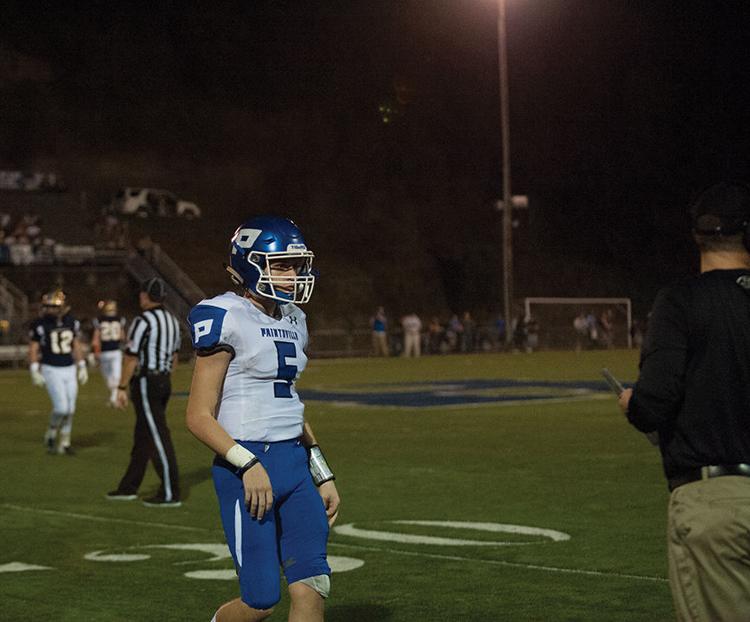 Who: Paintsville (4-2) at Fairview (2-3)
Kickoff: Friday, 7:30 p.m.
Location: Fairview Stadium, Ashland.
Coaches: Paintsville, Joe Chirico. Fairview, Daniel Armstrong.
Notes: Paintsville is coming off of a 21-14 win over Union, Va., while Fairview is coming off of a 26-22 win over Green, Ohio.
Paintsville is ranked No. 3 in this week's Associated Press Class A Top 10 Poll and are ranked No. 6 overall in the latest KHSAA RPI Rankings.
The Tigers defense stepped up at the end of the game last week and came up with an interception in the end zone to lock up the win.
Backup quarterback Frederick James led the way for the Tigers against Union.
James was six for 13 passing for 147 yards and two TDs. James also rushed for a TD.
John Walker Phelps had another outstanding game for Paintsville. John Walker Phelps rushed for a team-high 119 yards on 23 carries.
Harris Phelps led the receivers with three catches for 96 yards and a TD. Karsten Poe had three receptions for 51 yards and a TD.
John Walker Phelps also led the defense with 11 total tackles last week. Luke Hyden followed with 10 total tackles. John Blackburn added nine.
Jonah Porter had both of the Tigers' interceptions.
Fairview is struggling this season.
The Eagles opened the season with back-to-back losses to East Carter and Nicholas County.
Fairview bounced back with a win over Morgan County, but then fell to Symmes Valley, Ohio.
Fairview picked up its second win last week at home against Green, Ohio,
Quarterback Jack Roy leads the Eagles going 52 for 102 passing for 558 yards and four TDs with five interceptions. He also leads the team in rushing with 394 yards and eight TDs on 39 carries.
Jeremy Harper leads the receivers with 14 catches for 209 yards and two TDs. Jay Ferguson follows with 13 catches for 151 yards and a TD. Terrick Smith has 12 catches for 132 yards.
Gracin Smith leads the defense with 30 tackles and a sack.
Ferguson and Roy each have interceptions for the Eagles.
Who 2 Watch: For Paintsville watch Harris Phelps.
Harris Phelps is a dynamic freshman who gets better each game.
Harris Phelps has rushed for 109 yards and two TDs this season on 21 carries.
But he's more effective in the pass game. Harris Phelps leads the Tigers in receptions with 24. He is second on the team in receiving yards with 260 yards and two TDs.
Frederick James has played well in his two starts and if he has to start again for Hyden, Harris Phelps will be one of his biggest weapons and help take pressure off of him in the passing game.