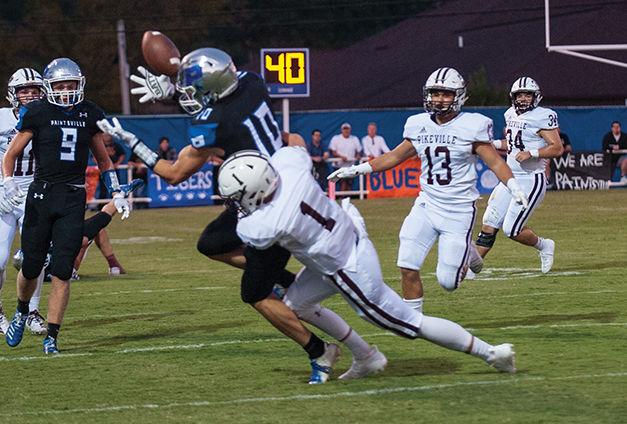 East Jessamine at Paintsville
Who: East Jessamine (2-1) at Paintsville (2-1)
Kickoff: Friday, 8:00 p.m.
Location: Memorial Field, Paintsville.
Coaches: East Jessamine, Michael Bowlin. Paintsville, Joe Chirico.
Notes: East Jessamine is coming off of a 28-21 win over Paul Laurence Dunbar last week, while Paintsville fell to Pikeville in a 9-8 thriller.
East Jessamine opened the season with a 35-28 loss to Franklin County and bounced back with two straight wins, a 42-35 win over Lincoln County and a 28-21 win over Dunbar.
The Jaguars have already racked up 953 rushing yards on the season in just three games. Dylan Moore leads the way for East Jessamine with 393 yards rushing and six TDs on 84 carries.
East Jessamine quarterback Turner McHolan is 12 for 31 passing for 170 yards and two TDs with no interceptions. He is also second on the team in rushing. McHolan has rushed for 286 yards and five TDs on 36 carries.
Valdon Miles has also racked up 211 yards rushing on 47 carries.
Moore is also East Jessamine's leading receiver. Moore has five catches for 85 yards. Jaylen Taylor follows with five catches for 55 yards and two TDs.
The Jaguars compete in Class 5A so expect the Tigers to have another tough challenge in front of them.
Paintsville and Pikeville played in a classic last week. It was the 88th meeting since 1925.
The Tigers had 244 total yards against Pikeville.
John Walker Phelps led the way with 88 rushing yards and a TD on 17 carries.
Quarterback Jake Hyden was seven for 12 passing for 56 yards and two interceptions. Hyden added 77 rushing yards on 11 carries.
Harris Phelps added 17 yards rushing and hauled in four catches for 30 yards.
On defense, Jaylyn Allen had nine total tackles against Pikeville; eight were solo.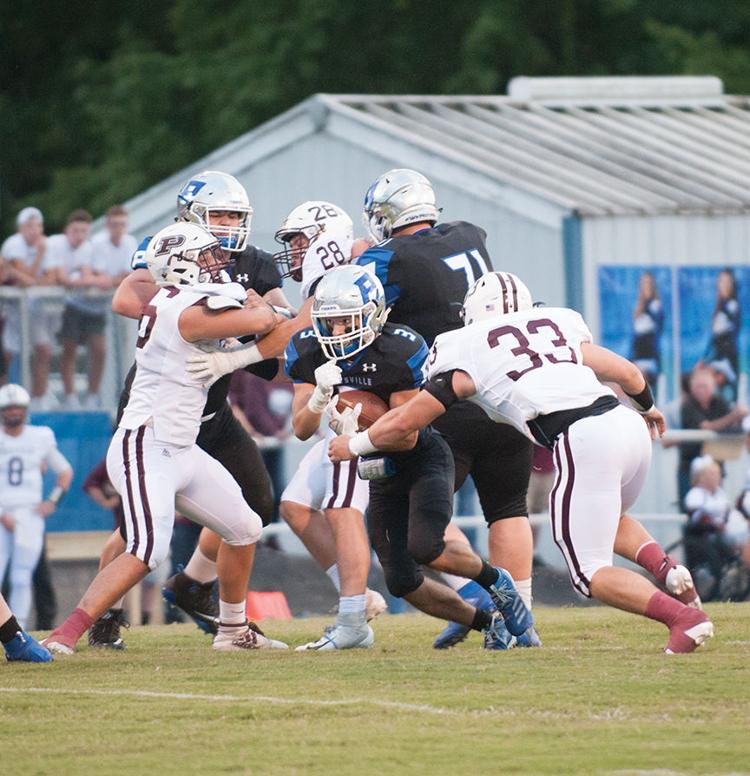 Who 2 Watch: Paintsville's defense.
The Tigers were stingy against Pikeville.
Paintsville's defense limited an explosive Pikeville offense and gave the Tigers a chance to win.
On the season Jaylyn Allen and Jake Hyden both lead the team with 20 tackles and three sacks each.
Hyden also has four interceptions to lead Paintsville. Devin Hall and John Walker Phelps each have interceptions as well.
If Paintsville's defense shows up and plays the way it did against Pikeville and takes the big play away, the Tigers should have a chance to knock off the Class 5A team.
Johnson Central at South Charleston
Who: Johnson Central (2-0) at South Charleston (1-1)
Kickoff: Friday, 7:30 p.m.
Location: South Charleston, W. Va.
Coaches: Johnson Central, Jim Matney. South Charleston, Donnie Mays.
Notes: Johnson Central was on its Bye Week last week, while South Charleston fell to Capital 38-14.
Both teams have played Capital. The Golden Eagles picked up a 28-13 win over Capital, while South Charleston fell to Capital.
Last week, was a Bye Week for Johnson Central, but the Golden Eagles were a popular topic of conversation. The Golden Eagles were trying to schedule the nation's No. 1 team in St. Francis from Maryland. That didn't happen, though and the Golden Eagles are back to playing all of the games on their original schedule.
Through two games, Ryley Preece leads the Golden Eagle offense. The quarterback is eight for 11 passing for 209 yards and two TDs with no interceptions. He's also rushed for 46 yards and two TDs.
Dillon Preston leads the rushing attack with 150 yards and a TD on 18 carries. Devin Johnson follows with 142 yards and a TD on 25 touches. Bryce Tackett has rushed for  76 yards and two TDs. Cody Rice and Ethan Reynolds have each rushed for TDs as well.
Seth Dalton leads the Golden Eagle wide receivers with two catches for 106 yards and a TD.
On defense, Hunter McCloud has 12 total tackles to lead the Golden Eagles. Mason LeMaster follows with 11 total tackles.
Johnson Central has six total sacks as well.
Preece and Rice each have interceptions.
Who 2 Watch: For Johnson Central, the offensive line.
The Golden Eagles like to control the line of scrimmage.
Johnson Central's line of scrimmage allows for the Golden Eagles to run so many different ball carriers and get guys work.
The depth of the backfield can be attributed to the work the guys up front put in.
If the offensive line has another big game and controls the battle, look for Johnson Central to pick up another big win on the season.