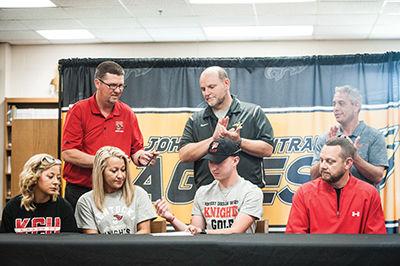 Tanner Mullet is going to Kentucky Christian and taking his golf skills with him. 
Mullet is a three-sport athlete at Johnson Central, participating on the Johnson Central golf, tennis, and wrestling teams. 
Mullet doesn't just participate in those three sports, he's shown he's capable of going to the collegiate level of any of those activities. 
Mullet did just that as he signed a national letter of intent to golf at KCU Friday afternoon at the school.
When it comes to golf, Mullet obviously has the talent with highlights including being a member of the 2016 regional championship team, as well as the runner-up in the 2017 regional championship.
Mullet has been on the tennis team for five years; making it all the way to the regional finals twice. Mullet has also wrestled for Johnson Central for four years.
"There's been a lot of hard work, a lot of dedication, a lot of commitment on his part, on his families part,and on his coaches part to get to this point today," McKenzie said. "We're very proud of him, he may be a Knight for a short period of time, but he's an Eagle for life."