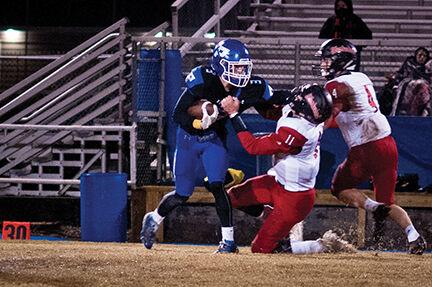 Who: Crittenden County Rockets (0-1) at Paintsville Tigers (1-0)
Location: Walter J. Brugh Complex, Paintsville.
Coaches: Joe Chirico, Paintsville. Sean Thompson, Crittenden County.
Kickoff: Saturday, 6:00 P.M.
Notes: This matchup between the Rockets and Tigers is a rematch of the 1985 state title game.
Paintsville showed off one of the more versatile offenses in the coverage area in their Week 1 debut against East Jessamine.
The Tiger offense put up 192 passing yards and 266 rushing yards (458 total yards) in the season opener.
The Rockets Defensive front should be a good test for the experienced offensive line of the Tigers.
In the Crittenden County's season opener against Caldwell County, the Rockets allowed a staggering 225 passing yards in the 22-0 loss.
However, Xander Tabor led the Rocket offense with 121 rushing yards.
Paintsville will need to control the line of scrimmage with their front seven on defense to keep Tabor in check.
On offense, the Tigers will have to create opportunities for their backs and give quarterback Jake Hyden some time to test a burnt Rockets secondary.
Who 2 Watch: For Paintsville, running back Harris Phelps.
Phelps had a monster Week 1.
He rushed for 144 yards and two TDs on 23 carries. He also hauled in an eight yard catch.
Quarterback Jake Hyden is going to get a lot of attention running and throwing the ball.
If Harris can have another big game running the ball, it will alleviate some pressure from Hyden.
Harris is speedy and he can catch the ball.
He is a big playmaker and can find the end zone any time he touches the ball.
If Harris has a big game, look for the Tigers to have a chance to pick up a big home win Saturday night.