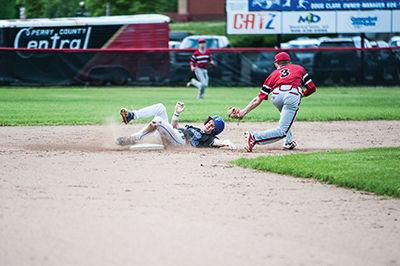 HAZARD — Both Paintsville and Perry Central were strong on the pitcher's mound Monday in Hazard, but the Commodores were able to mount a come back, scoring three runs in the bottom of the sixth to pull out a 3-1 win over the Tigers.
Tanner Smith started things off for the Tigers with a single to center field. Ben Daniels was up next and struck out. Smith was able to steal second and third. Seth Williams got hit by-a-pitch putting him on first to put runners on the corners with one out. Matt Baldwin was up to bat next. Williams made an attempt to steal second, but was picked off at first. On the next play, Smith was able to score a run, while stealing home putting the Paintsville Tigers up 1-0. Baldwin grounded out to first base on the next play for the third out.
From the bottom of the first to the bottom of the sixth inning, the game remained scoreless with Mason Moore pitching for the Tigers and Brayden Cottengame for the Commodores. 
Things got exciting in the bottom of the sixth inning when Perry Central's Dylan Fields hit a line drive single to first base to get on the bags. 
Cottengame laid down a bunt to put the game-tying run in scoring position; he reached first safely on the play. Brody Dixon followed by striking out. Ronnie Long came in next with two outs. Fields managed to steal third and Cottongame stole second. Long got walked to load the bases. 
With Camron Turner up to bat, Fields was able to score after a wild pitch. Turner singled off a line drive to left field allowing Cottongame and Long to score. That gave the Commodores a 3-1 lead.
The top of the seventh was the last hope for the Tigers. All hopes were dashed after just three batters. With Ryan Gibson striking out. Matt Combs and Matt Baldwin both had hits but were out at first. 
Perry Central (16-4) is scheduled to take on Montgomery County Friday at 5:00 p.m. The Commodores are scheduled to visit Harlan County at 6:00 p.m. Monday.
Johnson Central (14-10) is scheduled to take on Western Hills at 5:30 p.m. in the Fayette County Invitational Tournament Friday evening.