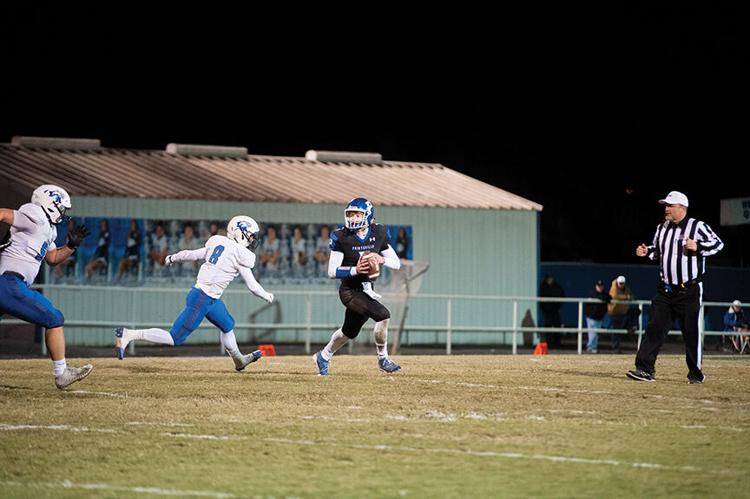 A lot of quarterbacks have secrets to their game.
However, Paintsville Tiger senior Jake Hyden isn't leaving anything up his sleeve.
Hyden was a dominant force last season throwing for 1,609 yards and 15 TDs, while also helping contribute on the ground, rushing for 776 yards and 10 TDs.
Hyden's efforts helped the Tigers finish the season with an 11-4 record, while also propelling Paintsville to the state championship. The Tigers fell short to rival Pikeville in the Class A state championship game.
How did Hyden find the sport he has cherished so much though?
"Ever since I was little, everyone in my family from my grandparents, my dad, my mom has always loved football," said Hyden. "We have been a football family from the start and in college my dad played at EKU (Eastern Kentucky University) and growing up, I thought that was the coolest thing ever."
The football family Hyden grew up in gave him a appreciation for the game and all the meaningful lessons it can teach a young person as they grow with the game.
As Hyden grew, he began to want to play the game his family loved so much.
"They were always talking about it and when I reached the third grade, I was finally able to play," Hyden said. "I can remember going and hiding in my room for hours because I was so upset that they wouldn't let me play, but finally, my fourth-grade year they let me play and I've loved it ever since."
Hyden's aptitude and talent for the sport his family loved became apparent quickly and by the time he made it to the high school level, his talent had earned him the starting quarterback role as freshman.
"I'm not even going to lie, coming in and starting at quarterback my freshman year was the most nerve racking experience of my life," Hyden expressed. "I loved every second of it, but there wasn't a second on the field that my hands weren't shaking and I was so nervous I'd mess things up for everybody, but lucky for me, I had so many great athletes around me that they made up for all the shortcomings I had and made it look like I had a pretty good year that season and in all honesty, it was just them making unbelievable plays."
Hyden learned from the veteran players on the team and over the past three years has become an ideal leader for the Tigers.
However, it wasn't always like that for the Paintsville star.
"Since I came in as a freshman, my leadership role has changed drastically," Hyden said. "When I came in as a freshman, I was shy and afraid to really talk to anybody. Just like most freshman, but I knew given my role, it was necessary to continuously ask myself, 'What I needed to do to be the best leader I can be? What were the things I could do to make my teammates better and propel us to the next level as a team?' Each year, I think we have done really well at getting better."
No smoke and mirrors here folks, Hyden and the Tigers have progressively gotten better each and every year since he came in as a freshman and with the help of his fellow leaders, Hyden and the Tigers were able to compete for a state title last season.
Hyden has been a two-way star for the Tigers the past three years as have a lot of the teammates in his class.
That's to be expected from a smaller school such as Paintsville.
However, Hyden knows the stress one's body is under when they play multiple phases of the game and has been prepping his body for the toll of what is sure to be a long season for the Tigers.
"Last year, we didn't have a great excess of players and with that guys are asked to play multiple phases of the game. I had roles on both sides of the ball," said Hyden. "That took a toll on me and I was beat up after every game along with a lot of our players being beat up after every game."
This would lead Hyden to add to his frame in order to handle the grueling demands of playing offense and defense.
"I had a few injuries last year that kept me from playing in a few games," said Hyden. "From last year, I knew I needed to be bigger and stronger, so I wouldn't get those injuries. I worked really hard (this offseason) to put on weight and get bigger and stronger."
Hyden explained how in the state championship game he weighed in at 170 pounds and over the offseason he packed on 20 pounds of muscle putting him at 190 pounds for the start of the approaching season.
This extra muscle will help him continue to be a consistent dual threat on offense, but will also make Hyden even more of a force in the secondary on defense.
Hyden was an outstanding defensive threat that teams had to game plan for around the clock.
He notched 38 total tackles (29 solo, nine assisted), had a fumble recovery, a sack, six interceptions, and 68 return yards on those interceptions.
"Well obviously, my main goal is to tackle the dude with the ball and be violent when I get there," said Hyden. "But I'm not even going to lie, the only reason my stats looked like that on defense was because of our defensive line and linebackers because they got back there to the quarterback so fast that he had no choice, but to throw it or take the sack and when you have that much pressure on you as a quarterback, you're going to make mistakes."
Hyden gives his front seven all the credit for his defensive accolades as they made his job in the secondary that much easier.
Speaking of making things easier, the Paintsville Herald recently did an article on the offensive line unit that anchors the Tigers offensive attack.
The article covered the bond amongst this group that gives them a continuity that is a dream for a backfield loaded with talent like Paintsville.
"Oh my gosh our line," Hyden uttered. "First of all, our line did an unbelievable job last year (helping the Tiger offense rush for north of 3,000 yards, close to 5,000 total yards counting passing yards) and having a lot of those guys returning is probably what I'm most excited for. Just watching them go at it. Getting to be behind them and know I have nothing to worry about and that makes my job easy on offense too."
Hyden believes with the offensive line being as steady and consistent, that will lead to big plays for the backfield and his guys on the outside.
"That opens up everything for the receivers," Hyden said. "As a defensive back, it's hard to cover someone for more than three to four seconds, so someone is bound to get open and having those guys hold people off just makes every skill players job that much easier."
After the departure of running back John Walker Phelps, who was the feature back for the Tigers last season, it can be expected that Paintsville will be on the lookout for a playmaker to fill his shoes.
Though there is no one who may be the next John Walker Phelps, this is a golden opportunity for guys to make their own imprint on the Tigers offense.
According to Hyden there are a host of players that are ready to step up and be just what the Tigers are looking for.
"We still have Karsten Poe, Harris Phelps, Luke Hyden, Mason Lovely, Colby Fugate, Devin Hall, Zach Thompson and Zach Taylor," said Hyden. "We have a lot of dudes that if they get in open space, they are going to make something happen."
Getting these guys the ball will be fun to watch and is certain to be a challenge Hyden is welcoming with open arms.
However, an unusual offseason presented unusual circumstances that multiple teams including Paintsville has had to battle.
The Tigers took two weeks off earlier this summer when there was a COVID-19 outbreak in the community.
"Well I guess before this last period that we had a little break from, we were just basically conditioning and it was very rough and the coaches pushed us really hard to get into football shape," said Hyden. "Every single one of our dudes were just motivated to keep going and none of them were lazy and I mean they were giving their full effort. I was really happy about that and then we got shut down again and I think everyone was a little worried and upset and everything, but just as soon as they told us we were for sure going to have a season, we started practice again everyone came back that first day and was giving their all. It was probably the best first week of practice with the intensity level and all that we have had since I've been with the school."
Make no mistake; Hyden and his guys have been approaching this season with the mentality of taking advantage of the privilege to play the sport they love so much.
Hyden understands that he and his teammates are playing for something more this year.
"I feel like sports for a lot of people is just like kind of a get away because not everyone has the perfect home life and a lot of people have it hard," Hyden expressed. "I feel like it's just a time to be with your friends and just do what you love and I really do feel like sports are vital for high school kids. It's kind of like a comfort to them."
Hyden understands the connection sports gives young people his age and how it goes much further than a regular connection, especially during the trying times the country is facing in 2020.
Hyden, his teammates and coaches along with players and coaches from other schools all across the country have been using their platform and voices to speak on this subject.
The theme behind their voices is simple and screams one thing in the #LetUsPlay campaign.
"Honestly, everyone has their own views on it (it means different things for different people) and I know we are going through these crazy and hard times," Hyden said. "I just feel like every single kid that's playing a sport will do every single thing they can to just get to play because in sports you develop a bond with your teammates unlike any other. It is hard to form that any other way; for example in football it's like you are going to battle and going out there and fighting with the guys you go to work with every single day and you give every single thing in you to reach one common goal. In times like this, that is more important than anything."
Hyden has everything on the table this season and will lean on his teammates for support and will ask them to do the same to him.
Together Hyden and Tigers will take on every obstacle in their path; playing for each other in an effort to make it back to the state title picture and prove to the masses that their unified bond is what makes sports such a compelling and vital part to the lives of so many.