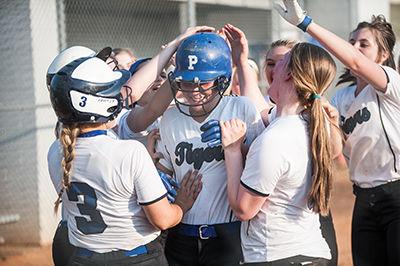 Paintsville's Lady Tigers handed the Lady Patriots of Knott Central their sixth loss of the season Monday evening in Paintsville. 
Paintsville's Jordan Mulcahy accounted for a big two-run home run in the bottom of the sixth inning to help the Lady Tigers to pull away to a 6-3 victory.
Anna Keeton was the first to score for the Lady Tigers in the bottom of the second inning. Keeton roped a shot past the first baseman and was able to stretch the hit out into a triple. Hope Auxier followed with a sacrifice bunt, allowing Keeton to score to put Paintsville up 1-0.
The game went without another score until the bottom of the fourth inning. Mulcahy was able to get a walk to first, and with Abigail Williams up next to bat, Mulcahy was able to steal second. Williams connected on a hit out to center field, but was out at first, allowing Mulcahy to score brining the score to 2-0.
Paintsville played  solid defense with Knott Central, going three up, three down in both the top of the fifth and sixth inning.
Fortunately for Paintsville, the Lady Tigers would catch a huge break in the bottom of the sixth allowing them to pull away to a big lead with Mulcahy's home run. With Mattie Ratliff on second, Mulcahy was up next to bat and hit a home run, allowing Ratliff and Mulcahy runs, culminating in a score of 4-0.
Knott Central was able to put three runs on the scoreboard, but not before Paintsville added two more to their totals making a final score of 6-3.
Paintsville (18-11) is scheduled to take on Shelby Valley and Letcher Central Saturday.