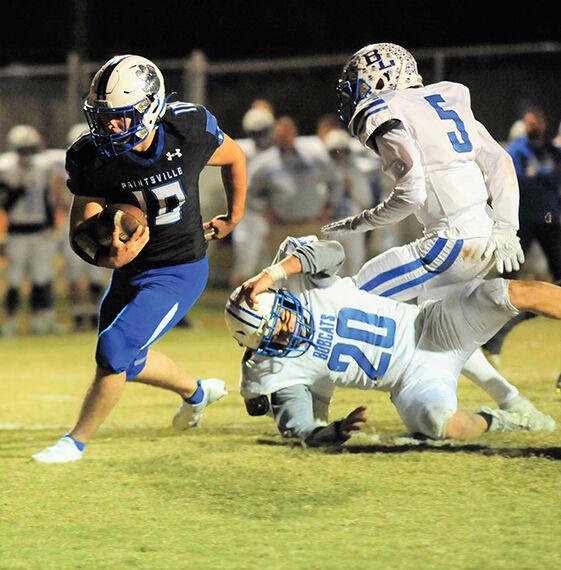 Last season, the Paintsville Tigers were Class A Champions. Before they faced off against Kentucky Country Day at Kroger Field, they ended Raceland's season in the second round of playoffs.
This year, the Rams returned the favor.
Paintsville traveled to Raceland for round two of the Class A playoffs, and fell to the Rams 28-14.
The Tigers came to play, and jumped out to a quick 7-0 lead just seconds into the game as Harris Phelps rattled off a 67 yard run. The point after try (PAT) by Carson Holbrook was good, to give the Tigers a quick lead with just 11 seconds off the clock.
Raceland quickly answered back, and capped off their offensive drive with an 11-yard run by Noah Wallace. The PAT was good to tie things up at seven each, with 8:39 remaining in the first quarter.
Both teams held on strong at defense with both the Rams and Tigers exchanging possession without scoring. The Rams would break the stalemate with just 7:21 remaining in the third quarter when Wallace punched in a two-yard rush to bring the score up 14-7.
The Rams then went to work in the fourth quarter, scoring twice more to pull out to a 28-7 lead with just 4:05 remaining in the game.
The Tigers were able to find the end zone one last time, when AJ James connected with Grayson Peters on an eight yard pass to cap off the Tigers drive. The PAT was good, but with just 1:25 remaining in the game it was too little too late as the Tigers season came to an end.
The Rams move on to face Bishop Brossart on Nov 19, at 7:30 p.m. That game will be played at Raceland.
The Paintsville Tigers will end their season with a record of 6-6.
The Tigers were the defending Class A state champions. With the loss, their will be a new state champion this season.