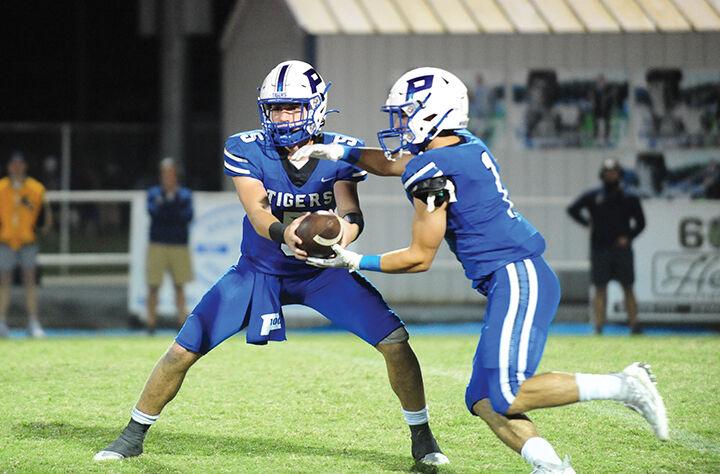 The Paintsville Tigers snapped a three-game losing streak on Friday night, picking up a 35-30 win over Knox Central at home.
The two teams battled it out early with plenty of offense, but at the half it was 21-18 with Paintsville holding the advantage.
The Panthers regained control of the game with 8:19 remaining in the third quarter. That was when Knox Central capped off another successful drive with a run by Steve Partin to make it 24-21.
Paintsville followed that up with a TD run by Harris Phelps to make it 28-24.
The Tigers got a lucky break on kickoff as the ball took a lucky bounce where Connor Fugate was able to recover and give the Tigers possession.
Paintsville turned that into another score to extend its lead, now 35-24.
Knox Central however wasn't done, and with 10:56 remaining in the game they scored another TD to cut the lead to five, now trailing 35-30.
The Panthers got the ball back later in the fourth quarter after the Tigers were unable to find the end zone.
During its drive, Knox Central needed a fourth down conversion.
While faced with a fourth and one from midfield, the Panthers ran a QB keeper that went nowhere. However an inadvertent whistle called the play dead and gave the Panthers another chance.
Knox Central got Paintsville with the hard count giving them another set of downs to work with.
The Panthers now had momentum on their side and a fresh set of downs. They used that for a deep pass down field that was caught, but ultimately fumbled and recovered by Paintsville, effectively ending any chance for Knox Central to mount a comeback.
Paintsville was able to hold on for the final minutes of the game to pick up the win over Knox Central 35-30.
It's the first win for the Tigers since the season opener on August 19.
Paintsville (2-3) is on its Bye Week this Friday. The Tigers are set to travel to Perry Central Friday, September 30. Kickoff is set for 7:30 p.m.