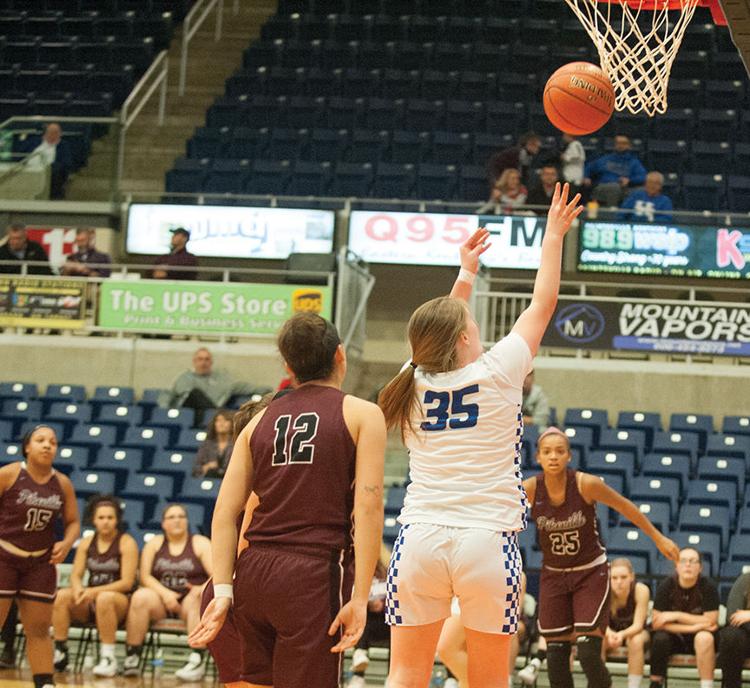 Floyd Central returned to the win column at the start of the week, defeating visiting Paintsville 63-39 on Monday night.
Familiar 15th Region rivals, Floyd Central and Paintsville met for the first time in the 2019-20 boys' high school basketball season.
With the win, Floyd Central improved to 11-6.
Paintsville dropped to 7-13 with the loss.
Floyd Central shot 45.3 percent (24 of 53) from the field. The Lady Jaguars were three of 13 from three-point range.
Floyd Central shot 70.6 percent (12 of 17) from the free-throw line.
Katie Moore scored 26 points and grabbed 11 rebounds to lead Floyd Central to the victory.
Moore, who was 12-of-15 from the field, led all players in scoring and rebounding with her double-double.
Kennedy Harvel accompanied Moore in double figures in scoring for the Lady Jaguars, adding 11 points.
Nine different Floyd Central players broke into the scoring column as part of the winning effort. The additional scorers for Floyd Central were Grace Martin (eight points), Kennedy Blevins (five points), Kylie Tackett (five points), Natalie Holle (three points), Kamryn Shannon (two points), Jada Johnson (two points) and Chelsea Johnson (one point).
Limited offensively, Paintsville shot only 22.2 percent (10 of 45) from the field. The Lady Tigers were 5-of-24 from 3-point range.
Paintsville shot 58.3 percent (14 of 24) from the free-throw line.
Emilea Preece paced former 15th Region champion Paintsville, scoring a team-high 12 points.
Accompanying Preece in double figures in scoring for the Lady Tigers, Ava Hyden netted 11 points and Chloe Hannah contributed 10 points.
Rounding out the individual scoring for Paintsville, Camryn Helton chipped in five points and Kali Mulcahy added one point.
The Lady Tigers rebounded from the loss to Floyd Central with a big 36-17 win over 58th District rival  Magoffin County Wednesday night.
Camryn Helton led the way for Paintsville with 15 points and five rebounds. Emilea Preece followed with 14 points for the Lady Tigers. Izzy Chirico added seven points in the win.
Paintsville shot 25.7 percent from the floor.
The Lady Tigers pulled down 25 rebounds.
Paintsville (8-14) is scheduled to visit Prestonsburg at 7:30 p.m. Tuesday night.