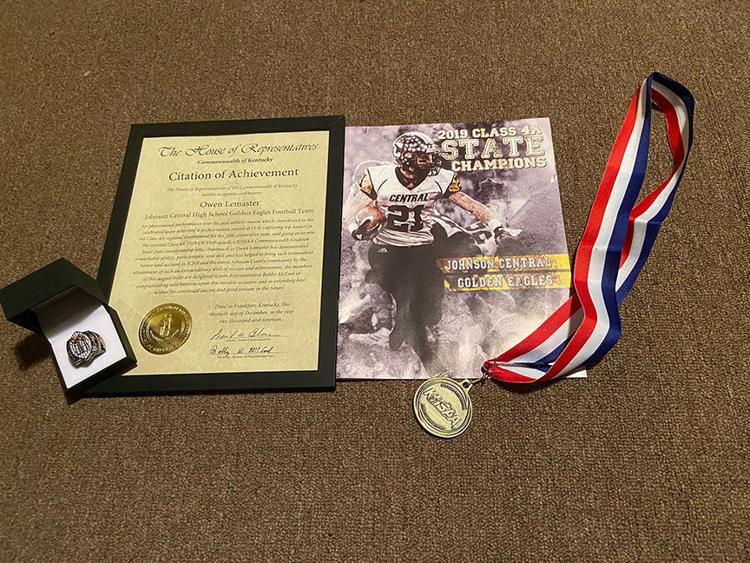 On Friday, the Johnson Central Golden Eagles held a 2019 Kentucky State Championship ring ceremony in which all the players, coaches, and team affiliates received their rings to commemorate the Golden Eagles' championship run.
The ceremony was held to show the appreciation for all the people (players, coaches, stadium staff, affiliated students) who volunteered their mind, body and soul to the success of not only the program, but one another as well.
That said, it may be just another ring to some people, but for head coach Jim Matney, his team, coaches and community it is much, much more.
"We are very proud of what we have done, but we realize that we don't want to fall back down, we want to keep moving forward." Matney said, "Like the old saying goes, 'Your either moving forward or falling behind.' There's no middle ground there and for us, we want to keep moving forward each year."
Coach Matney's no middle ground mentality has propelled the Golden Eagles into the gold standard when it comes too continuing success.
The players who join the program have bought in along with the surrounding community that has supported the team for so long.
The team has won various region titles and has been in the Class 4A state title game every year since the 2015 season, winning two titles in 2016 and this past season in 2019.
What should this past championship mean to the players who will be filling the cleats of seniors who will have graduated?
"I think for us we want to build expectations. Expectations are a little more than what person might think when they hear that," Matney said. "With expectations they can be a good thing or bad, but they say that winning is a habit and losing is a habit. I find both of those to be very true, so we set our expectations high because we want our people to come up with expectations to do something awesome.
"At the same time we want our older people to pass down to our younger people that this didn't just happen. In a good program your younger players come in and they get to see, how well  these players did. Then they see these guys in the weight room, working out and showing their high work ethic on the field and that becomes embedded in those younger guys."
The Golden Eagles are known for having younger players prepared and ready and coach Matney understands just how important they are in sustaining the success of the program and sticking to his no middle ground mentality.
"Obviously, you're always going to have younger players contribute and we always do," Matney said. "There is a saying that you are only as good as your weakest link and sometimes I've seen scenarios where you have good starters, but you didn't have anybody to practice against so, in our situation our JV (Junior Varsity) does a really good job in preparing us for our varsity games.
"With how competitive these practices get sometimes draws a narrow line between the JV and the varsity."
This is a luxury a lot of teams in the state don't get to experience as the Golden Eagles are able to have competitive practices pitting theJV against the varsity, having the JVgive the varsity an in depth look at whatever team they may face that week.
Again, what is the real message with these rings and how does a simple piece of hardware seemingly enhance the winning culture within the Johnson Central football family?
"On one hand it is like a reward, a thank you for putting in the hours and believing and that's what we preach is that you can become anything in life that you want if you believe and put in the work that comes with it. That's kind of been our motto is that we aren't any lesser people than anyone anywhere and that whatever you want in life you have to work for," Matney said. "We also want them to know that there is a reward at the end and what you put in is what you get out and this is a concept that we push continually."
Coach Matney also believes the rings are something else.
"We also want that ring to be a reminder to our younger people of what they can achieve themselves if they keep their eye on the prize," Matney said. "I'm no great Christian person, but the Bible says, 'know ye not that all who run in a race all run, but one receiveth the prize? So run, that ye may obtain it.'
"It is a sound principle and it is a Christian principle to keep your eye on the prize."
These words and their meaning span farther than just the sport of football for the Golden Eagles.
"Its not all about a ring for us and its not about winning a state championship, matter of fact, our No. 1 goal over winning a state championship is to put these kids in college. That's our No. 1 goal because we know that a college education can be a life changing event for kids." Matney said. "Now it doesn't necessarily mean that it will change you life but, we want our kids to come from our program and be able to exchange their athletic ability for money to go to school."
Matney and his staff, along with program itself have constantly been pushing the young minds that pass through its doors to always reach higher and to always strive for greatness.
The Johnson Central football program along with coach Matney have become one of the best in the state at producing collegiate talent, more over they have been one of the leaders in making a college education an obtainable goal for kids who may not have ever seen that as a realistic possibility.
 "One way to beat poverty is with a college education and giving these kids that opportunity is what we are about," Matney said.
In the end it is not about the rings and trophies, the accolades and awards, it is about young leaders that the Golden Eagles seem to produce year-in and year-out.
It is about helping these kids realize that if they have a dream, chase it, but be prepared to do whatever it may take to achieve whatever goal or dream your heart steers you to.
For an ole' ball coach it is about the memories along the way and being able to thank those who give all they can in the believing in one another and themselves to reach their goals.
"I don't know what a mother hen feels like when the chickens grow up, but Iv got a ton of proud moments with all these boys and to be able to thank them with a ring is extra special," Matney said. "It's the ultimate way to go out, for those seniors. Their last game was a state title victory and as a coach, you want those guys to have that moment because it comes so rarely for most people and for my last moments with them to be handing them that ring and saying thank you is the best feeling."