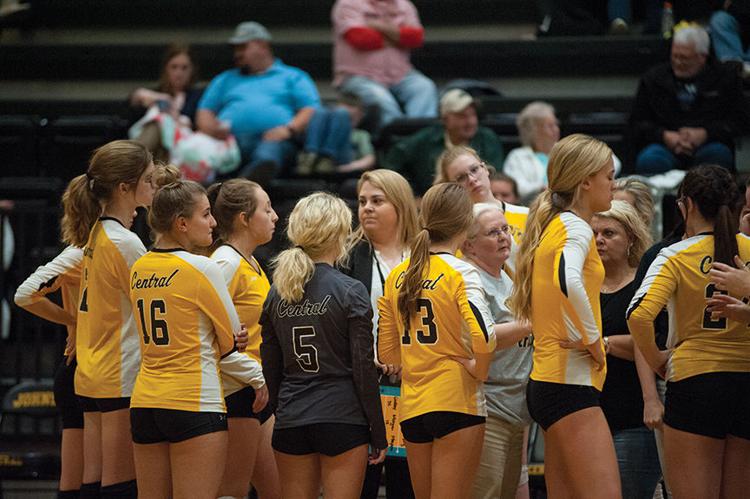 Kayla Moore Vanhoose wears many different hats at Johnson Central High School. From her duties as Library and Media Assistant to head volleyball coach to keeping stats for the boys basketball team, she has a love for students and athletes that is matched by few. This week, Moore Vanhoose announced that she would be trading one hat on her rack for another as she will step down as head coach of the women's volleyball team to take a new role as Sports Information Director at Johnson Central, the first Director of its kind in the region. 
VanHoose coached the volleyball team for three seasons and improved the squad's record by three or more wins each season she was at the helm. She also won her 50th career game at Johnson Central; a feat she's particularly proud of. 
VanHoose won't be entirely leaving the game of volleyball as she still plans to participate in getting the sport more exposure in this region. 
"I plan on continuing to grow the sport of volleyball across the region with Bluegrass Volleyball Academy, a travel club team I own," VanHoose said. 
She has taken this additional role on top of her Library and Media Assistant duties as SID so she can help all student athletes at Johnson Central. Although she will miss being in the action of actually coaching volleyball, she is looking forward to getting started in her role as SID. 
"As for being the SID at Johnson Central, I am thrilled. I think our school is truly blazing trails not only in athletics, but in education as well. With over 20 sports and sport activities for our kids, their opportunities grow every single day," said VanHoose.
As the world of athletics changes with technology and social media, we have witnessed an uptick in local kids continuing their educations at the next level by signing to play collegiately by the way of social media and with various camps that are now offered to our kids in this region and beyond. 
"I think as we see high school athletics evolve, we have to change our approach to them as well," VanHoose said. "It may not have made sense to have an SID at the high school level in years past, but now that there is such a large presence on social media, our student-athletes deserve someone dedicated to promoting them and their athletic accomplishments."  
As Sports Information Director, VanHoose will create media guides for home events, share key stats and accomplishments with local media outlets, handle all athletic-related press releases. She will send film and highlights to coaches and college recruiters and  also coordinate all collegiate signing events for student athletes. Not to mention, handle all of Johnson Central's social media pages and community events. 
"Pretty much anything that involves the promotion and success of our student-athletes, I'll be working to get them out there," VanHoose said. 
VanHoose is from Martin County and attended Sheldon Clark High School. This is her second year at Johnson Central High School and fifth year in the Johnson County School District. She is married to a familiar face around the mountains in her husband Paintsville great and Marshall Hall of Famer J. R. VanHoose, who is an assistant coach on the Johnson Central boys basketball team.