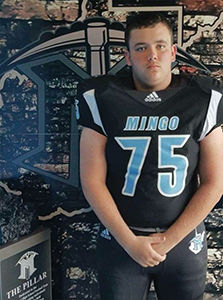 The community is rallying together in support of a Mingo Central High School football player who collapsed during the opening day of practice on Monday, July 30th. 
Football officially got under way for area schools as most teams held their first practice signifying the start of the upcoming season. The Miners of Mingo Central hadn't been on the field very long when during routine sprints, sophomore Dustin Ferguson, 15, started complaining of numbness in his legs. 
That prompted new Miner head coach Josh Sammons to give the team a water break. After the break, the team was returning to their conditioning when Ferguson became lethargic and collapsed around the 20-yard-line. According to a gofundme page set up for Ferguson and his family; "He passed out at practice and remained unconscious until the ambulance arrived. He was then rushed to the hospital (Cabell Huntington Hospital) where he was evaluated and found to be severely dehydrated, high fever, infection and kidney failure. He remains on the ventilator at this time and is considered in critical condition. His condition has not improved and he will begin dialysis in the morning "Wednesday."
Ferguson is being treated in the Intensive Care Unit at Cabell Huntington Hospital where his family is keeping vigil around the clock.  His mother, Robin, is currently with him every minute. His father, Charlie, is also missing work to be by his young son's side. 
On Wednesday, Robin gave the following update on Dustin's condition via text to the Mingo Messenger: "I want to give an update on Dustin Ferguson. He still isn't urinating like he should. It's actually getting worse than it was, so they are going to put him on dialysis. It's not long-term that we know of, but this is what's best for our child. They have taken him off two different medicines which is amazing, but he's still very, very sick and still needs lots of prayers. I know God will make sure my baby will pull through this and he will be stronger than he has ever been. I can't wait until he wakes up and I can hear his voice. I want to see his big beautiful eyes and hear him say, 'Hi, mom,' or 'I love you, mom,' or something. I have never hurt or been so scared in my life. I want to be in that bed. I want to have all of these problems, I don't want him to have to go through this. He doesn't deserve this, he is such a wonderful young man. He deserves the world; not to be this sick. Sorry for such a long post, but please, please, please pray for my baby boy. Thank you all from the bottom of our hearts."
Doctors are keeping a close eye on the fluids they are administering to Ferguson. With his kidney's not functioning properly, if given too much, fluid could back up in his lungs. 
The Mingo Messenger spoke with Miner football booster president Wes Wilson, who was present when Ferguson collapsed. Wilson talked about the situation and how hard it is on the family, the team and the community. 
"I just hate they're having to go through this right now. It's especially hard for his family and teammates. Those prayers are the most powerful thing we can do right now for sure," Wilson said. 
Player safety can't be stressed enough coming back from summer break. Staying hydrated and eating right with exercise are key to getting an athletes body into game shape. With technology these days, kids are more likely to stay inside all summer and not prepare themselves or their bodies for upcoming practice or physical activity. The Messenger wishes Dustin a full and speedy recovery and hopes he is able to return to the field of play.