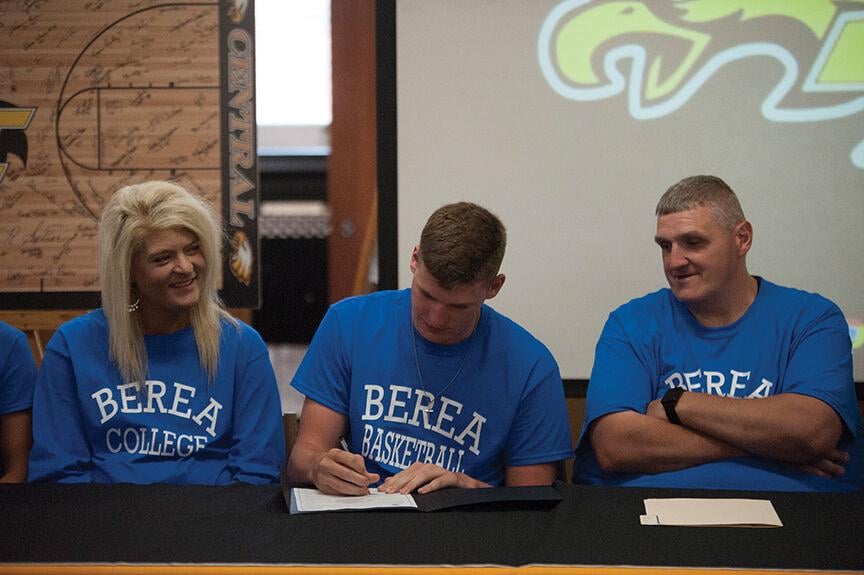 Johnson Central basketball now has a player committed to play in the college ranks as senior shooting guard Isaiah May signed his official letter of intent to play for Berea College on Monday afternoon.
It has been a goal of May's to play college basketball and now, he has achieved it.
"Today is a very exciting day," said May. "That's something I've wanted to do as a kid. Playing college basketball is like a childhood dream. I've been waiting on this for my whole life, pretty much, and I am excited to get started."
May scored 2,098 career points as a Golden Eagle. He is one of three people in the program's history to accomplish that feat. He also notched 707 rebounds as a Golden Eagle. May was named 2021 15th Region Coaches Association Player of the Year.
Also among his accolades at Johnson Central was being named a 2021 Mr. Basketball finalist in the state of Kentucky. May is one of four athletes to claim that distinction in the school's history. He was a 2019 15th Region champion, a three-time 57th District champion and 57th District All-tournament Team selection, a four-time 15th Region Coaches Association All 15th Region Team selection, a three time 15th Region All Tournament team.
May played in 25 games in his senior campaign of 2020/2021, pouring in 407 points while averaging 16.7 points per game. He nailed 72 three-pointers for a percentage of 37.9% and he cashed in on 130 of 314 attempts from the field, good for 41.4%.He grabbed 108 boards on the season.
May visited Berea in November or December and he felt good afterwards.
"It went really well, coach (Berea Head Coach John Hemenway) made me feel welcome and right at home," said May. "He texts and calls me every other day and still does, just to check up on me. He's made me feel really comfortable."
May wasn't shy about expressing his eagerness to step on the floor at Berea with his new teammates.
"I've played against Issac Caudill, who is from Knott County (Central), numerous times," May said. "Me and him text pretty regularly. There's another guy I played travel ball with, his name is Scott. I played with him my freshman year, I think. I think I'm going to room with him. I know guys like that. I'm very excited to get on the floor just to see how I match up against those guys and just compete."
May couldn't have seen this moment come to fruition without the support of his head coach, Tommy McKenzie.
"This is a very special occasion that he's worked really hard for, and so has his family," said McKenzie. "Without his family, none of this would have been possible. He came in here as an eighth-grader and said his goal was to play college basketball somewhere, and he spent every moment that I can remember working towards that goal, whether it be in the weight room, the basketball court, doing individual instruction, or doing things with his team, he's put the work into this and it has paid off."
According to McKenzie, May is more than a good basketball player.
"Coach Hemenway is very excited to get him down on campus," said McKenzie. "We all know what kind of basketball player they're going to get, but they're going to get a special young man that's going to add more than just basketball to their locker room."
May might be leaving his hometown for Berea for the time being, but McKenzie wants him to know that he will forever have support from the people of Johnson County.
"We want him to know that he's forever a Golden Eagle," said McKenzie. "No matter where he goes from here, no matter how many years he stays away, he's always got a home here. He's always got the ability to come back and make an impact here, or just a visit, whatever he wants to do. He's got friends for life here in the room. He's got a friend for life from his coach, as well as coaches that are here, and his principal."