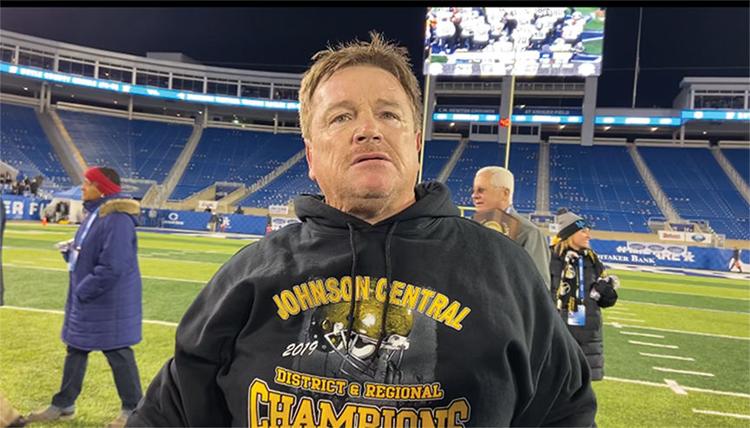 The Johnson Central Golden Eagles football team is coming off a perfect 15-0 season and will be looking to defend their Class 4A state title.
Golden Eagle head coach Jim Matney recently talked about the prospects of playing a modified football season and the outlook of his team, now that all spring sports are cancelled.
"Well, there's no good answer," Matney said. "I'm good with playing a modified playoff or however they want to do it."
Matney talked about how he thought starting later and ending early, which he admits is the best case scenario.
"That's the way I would prefer doing it. But, whatever they choose to do I'm good with it," said Matney.
The coach will have to replace a big chunk of his offense, but has a slew of talented young players.
He will lose Ryley Preece and Devin Johnson handling the football, along with Andrew Clifton on the offensive line.
"It's a pretty big loss, but we have a lot of talented young players," Matney said.
The Golden Eagles return linebacker Mason LeMaster and tight end Zach Russell, who's already gotten plenty of offers.
Soon-to-be junior Grant Bingham is back to anchor that offensive line. He has received offers from Big 10 powers Nebraska and Michigan State, but also Kentucky and Vanderbilt out off the SEC, to most recently, Purdue.
Matney is advising his players to run and workout from home, until things can get back to normal.  
" I think it's imperative that we get going again. We need to get sports going," Matney said.
When we finally do get back to normal, coach Matney and his Johnson Central Golden Eagles will be right back in the hunt to defend their Class 4A state title.
Last season was Matney and the Golden Eagles' second Class 4A state championship.
"We need to get our country going back again and we need to keep in mind our kids mental health as well," said Matney. "All we can hope is, we're on the downside of this virus and we'll get our sports back soon."
It is still unclear whether or not football season will start back on time or not.