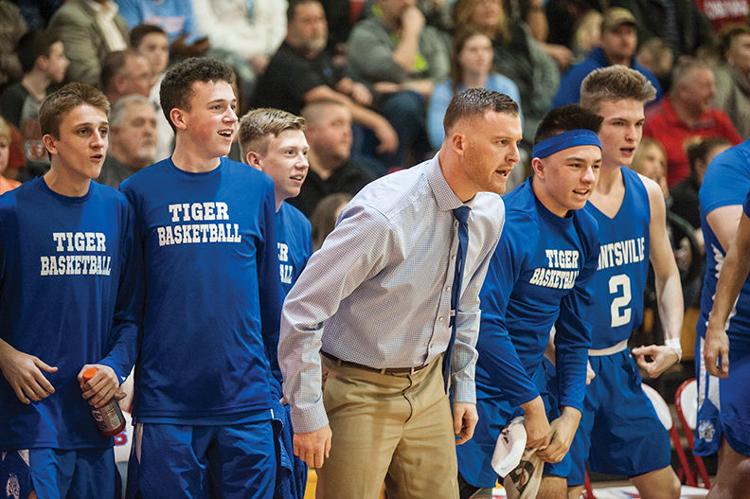 Paintsville head coach Landon Slone and his Tigers might have finished last basketball season at 15-14, but it's all about building for the future and coach Slone has plenty to look forward to.
Slone played at Paintsville, were he starred on Tiger teams that earned him the attention of former University of Kentucky coach Billy Gillespie.
Slone accepted a walk-on offer from U.K., although scholarship offers were plentiful from other programs. There is just something about being born in Kentucky that makes playing in Rupp Arena, the greatest dream ever.
Slone was not your typical walk-on however.
He proved himself in practice and worked hard to perfect his assignments, garnering him playing time over the bigger and more talented players at Gillespie's disposal.
The young coach was featured in the January 3rd, 2009 edition of the New York Times with a headline that read, 'Freshman Walk-on Gives Kentucky A Lift,' in which they praised the young Wildcat.
Slone was quoted in the article as saying, "Gillespie doesn't care if you're a scholarship All-American."
The former U.K. coach had said numerous times that the players who played the hardest in practice would get to play and Slone got his chance.
He played 25 minutes off the bench during the win over Florida Atlantic that season and contributed four points and three assists in that span. He played 24 minutes just two nights later, where he poured in eight points and five boards in the Cats win over Central Michigan.
Slone finished his career at the now University of Pikeville.
Once back in Pikeville, he worked just as hard as he had in Lexington and it showed.
Slone is a Paintsville kid through and through. So, It was no surprise that if given the opportunity he would return home to his beloved Tigers, to give back as much as he could.
He had served as an assistant to legendary Paintsville coach Bill Mike Runyon and also served as a junior high coach.
He finally got his opportunity in 2016 when Runyon resigned. The Tigers finished 8-17 the year before he took over, and had not been back to the 15th Region Tournament since he graduated.
He brought that same hard work and desire as a player and applied it to his coaching. And it has paid off for the Tigers.
After going 8-20 in his first season, the young coach completely turned the Tigers around, as they finished the 2017/2018 season 20-10 and reached the semifinals of the 15th Region Tournament before falling to Pikeville by three, at 54-51. He would follow that up with a 19-8 mark the next season, and reach the semifinals once again, before losing two straight years to Pikeville; this time 64-61.
Last season, the Tigers ended the year 15-14, however, Paintsville was playing its best basketball at the end of last season. They rolled eventual 57th District and Region champ Martin County in the regular season 57-48 on Bill Mike Runyon Court. They faced off again in the District tournament, and nearly pulled off a comeback against the Cardinals.
Slone has plenty of talent back this upcoming season, with the return of one of the mountain's best in Colby Fugate. If his team will buy in and listen to their coach who has played at the highest levels of basketball, they will surprise many this season.