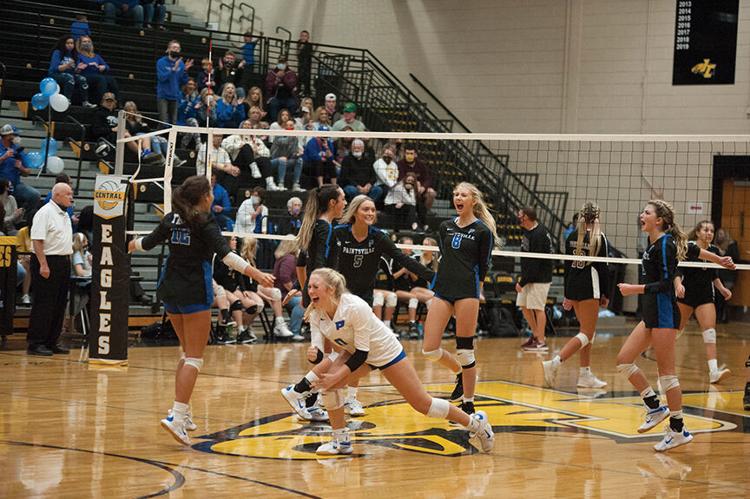 With the match tied at 2-2, Pikeville opened the third and final game with a 6-3 lead over Paintsville Thursday night in the 15th Region championship at Johnson Central.
Paintsville woke up and finished the game with a 12-4 run to claim the match 3-2 (25-27, 25-22, 25-20, 21-25, 15-10) and the 15th Region title.
"All season we talked about energy," Paintsville coach Dawn Kinner said. "Positive energy and if we're down, just thinking about the next play or the next play. For us to get down and have these girls to fight back like that, I couldn't be more proud them. It was a total team effort. That's something that we've got better at. Our motto all season has been, 'Together we win.' When they play together and somebody is off, they pick the other girl up and they really showed that tonight. It was an awesome way for them to fight back as a team and to seal the victory. I'm so proud of them."
It was the Lady Tigers' third region championship in four years. Paintsville won back-to-back region titles in 2017 and 2018. Floyd Central took home the crown against the Lady Tigers in the championship last season.
"Last year, we had a lot of youth," Kinner said. "We had graduated a lot of players since the prior two championship teams. We had one senior last year and she was a phenomenal leader for us. A lot of these girls were freshman, but it was a great learning experience for them. We got a taste and lost to a really good Floyd Central team that went on to win it. That experience last year just rolled into this year. To see these girls mature on the court and really find out that they need each other. We don't just have one star, we have a team full of them. I'm just so proud of how they came together."
Pikeville jumped out to an early 3-1 lead in the first game.
Paintsville's Hailey Little hit a big kill to give the Lady Tigers a 5-4 lead in the first game.
The two teams stayed close the rest of the game. Pikeville got kills from Chloe Wright and Kaylee Wells to give them a 27-25 win in the opening game.
Paintsville fell behind 4-1 in the second game, but battled back to tie things up at 6-6. Little hit an ace to give the Lady Tigers a 7-6 lead.
Pikeville took control in the middle of the game as the Lady Panthers built up an 18-14 lead.
Hannah Akers hit a kill for the Lady Panthers to push the lead to 20-16.
Paintsville battled back and Kara Ward hit an ace to tie things up at 21-21. The Lady Tigers pulled out a 25-22 win in game two to tie things up at 1-1 heading into the third game.
In the third game, Little hit a kill to give Paintsville a 7-6 lead. Ward pushed the Lady Tigers' lead to 15-13 with a kill.
Paintsville went on to win the third game 25-20.
Paintsville jumped out to a quick start in the fourth game. The Lady Tigers held an early 6-2 lead.
Pikeville battled back though as Wells hit a kill to give the Lady Panthers an 8-7 lead.
Hadley Hardin came up with a block to tie things up at 12-12.
McKinlee Potter put Pikeville back out front 22-16 with a kill. Potter added another kill to push the lead to 23-18.
Wells put the fourth game away for the Lady Panthers with a kill to give Pikeville a 25-21 win and force a fifth and final game.
Pikeville jumped out to a 6-3 lead in the fifth game.
Paintsville's Blair Ratliff came up with a big block to tie things up at 6-6. Ratliff added back-to-back kills to push the lead to 10-7.
Bella Blackburn followed with an ace to push the lead to 11-7.
Potter tried to stop the bleeding for Pikeville with a kill to cut the lead to 11-8.
Paintsville went on to pick up a 15-10 win in the final game to give them the match and the 15th Region championship.
"Pikeville has a phenomenal team," Kinner said. "Kaylee Wells and Riley Tavis are hands down, phenomenal players and they have great senior leadership on that team. They can really pound the ball at you. Our goal was just to play defense, get our blocks up when we could and I'm so proud of my back row girls. A lot of people just focus on the hitters and hitters are awesome. I'm an offensive girl, but our defense was great and that's what wins championships right? I'm so proud of how they battled against a really good Pikeville team."
Paintsville is scheduled to visit Russell Monday November 2 at 7:00 p.m. in the opening round of the Volleyball State Tournament.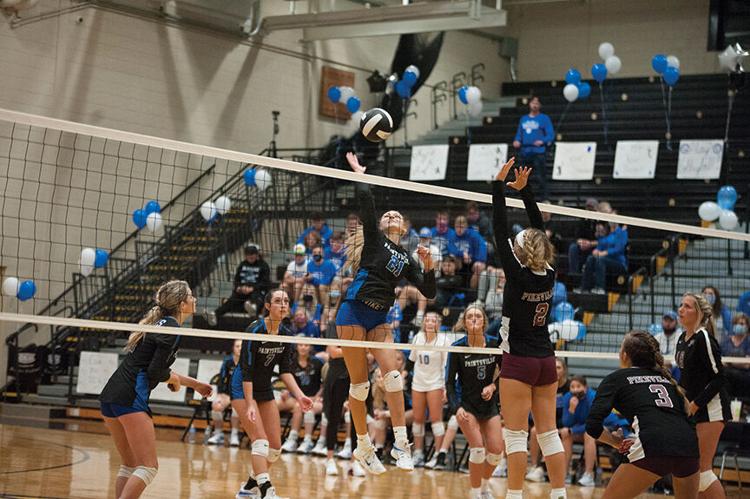 The Lady Tigers couldn't find a way to go on the road and pull out a win over Russell in the Volleyball State Tournament Monday evening.
Paintsville finished the season with a 19-3 record.
With the win, Russell () advances to the Elite 8 round of the state tournament. The Lady Red Devils will take on West Jessamine at 9:00 a.m. Friday morning at George Rogers Clark.
The Lady Tigers won their third 15th Region title in four years.
Paintsville will graduate three seniors off of this season's roster: Shelby Hatfield, Hadley Hardin and Alissa Mullins.