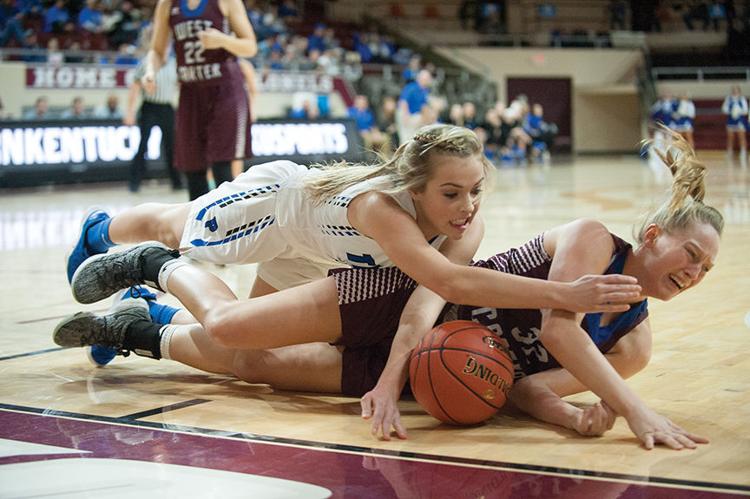 The Paintsville Lady Tigers are coming off of a 20 win season and are the defending 15th Region All "A" Classic champions, but coach Les Trimble will have to rely on his underclassman heavily if they want to repeat that success from a year ago.
Gone are the Lady Tigers' two top scorers in point guard Elizabeth "Swoop" Williams and sharp shooter Anna Keeton, who, is now making her impact felt at Kentucky Christian University in Grayson. Both Keeton and Williams scored over 1,000 points for the Lady Tigers as their jerseys now hang on the "Wall of Fame" at Bill Mike Runyon Court. Keeton averaged 20.7 points per game last season while shooting 42.4 percent from the floor. Williams was second on the team in scoring with a 16.9 ppg. average and also led the team in free throw percentage at 77.5 percent from the charity stripe.
That's a lot of scoring to replace, but if anyone can make up the difference, Trimble can remedy the problem.
The Lady Tigers will be young to start the season. Trimble lists only one senior on the roster and that is center Hope Auxier. Auxier saw extensive playing time last season and provides size down low for Paintsville. She saw action in 21 of the Lady Tigers' 31 games last season. She shot 33.3 percent from the floor and fourth on the team in free throw percentage at 62.5 percent. Coach Trimble has named her a captain on this years Lady Tiger squad.
The other veteran returning for this young Paintsville team is sophomore forward Ava Hyden. Like Auxier, Hyden saw extensive minutes last season and provided a spark for the Lady Tigers with her hustle and grit to go after the ball. She led the team in the rebounding category last season, pulling down 146 total boards good enough for a 5.2 rebound per game average. Hyden can score the basketball as she has a good jump shot and can drive the lane, but it's her defense that sets her apart. She, along with Auxier, has also been named captain by their coach.
Junior center Bethany Tackett will return this season and be looked to to provide minutes and leadership for this youthful Lady Tiger team. Paintsville have four freshman on their roster. Camryn Helton played in nine games a year ago. She will have to contribute if the Lady Tigers are to have the success of years past. Kaleigh Horn saw action in three games last season. She, Kali Mulcahy and Destiny Trimble will all be looked to for productivity this year. Paintsville touts three eighth graders In Izzy Chirico, Chloe Hannah and Emilea Preece who will see playing time as well. Chirico made three varsity appearances a year ago as a seventh-grader.
Speaking of seventh graders, coach Trimble has two talented ones at his disposal. Bailey Porter and Emma Keeton, the younger sister of Anna, will round out this years Lady Tiger squad. She has the time to follow in her sisters footsteps and getting her on the floor as early as possible will give her the best chance learning Trimble's offense and getting her exposure.
The Lady Tigers kicked off their season December 2nd with their home opener against Betsy Layne. They got their year started off the right way as they defeated the Lady Bobcats 55-43. They will hit the road December 3rd as they travel to Jenkins for a 7:30 p.m. tip.