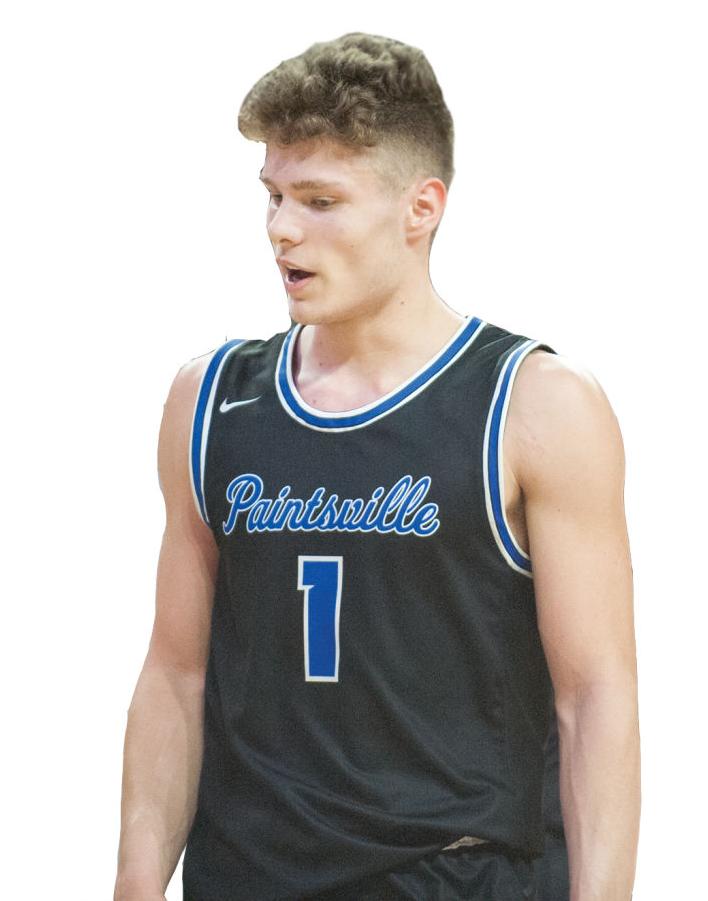 The Paintsville Tigers have been a hot bed for years in producing talented big men on the basketball court. One doesn't have to look back very far to remember the Tiger big men in the 90's, that led Paintsville to a Sweet Sixteen state championship. 1997 Mr. Basketball J.R. VanHoose was an imposing figure at 6 foot 10. Lest we forget Craig Ratliff, who, came in listed at 6 foot 9 as well.
Any coach will tell you, it is imperative to have a guy down low who can swipe rebounds off the glass and use their size down low to score and post up.
The Tigers go to guy in the paint this past season, Nick Keeton, may have only been listed at 6 foot 4, but his game was much bigger than his listing in any program.
Keeton not only had height on his side, but his build made him a nightmare for opposing defenders. A workhorse, he often received the ball down low and forced his way to the basket, more often than not, taking a beating on his way to the hoop.
Last week, the Tiger center committed and signed his letter of intent to play for Midway College next season.
Keeton always rose to the challenge in big games when coach Landon Slone needed him most. In a December 27th meeting with Beechwood at Lexington Catholic, the senior scored a team high 24 points and pulled down 13 rebounds. However, the Tigers lost that matchup 57-50.
He also shined on the big stage in the All "A" Classic state tournament, as he recorded another double-double against Harlan with 20 points and 15 boards.
Keeton started the New Year off the right way as against district rival Magoffin County he had one of his best games. A 34 point, 19 rebound night  as Paintsville rolled the Hornets 84-73.
He would also have a huge game against 15th Region foe Pikeville at the end of the regular season as he poured in 33 points to go along with 20 rebounds in the Tigers' 68-67 road win.
"Everyone has always seen Paintsville as a hard working team," Keeton said. "We're going to guard you, we're going to pressure you from the second you inbound the ball."  
Hard work is something Keeton knows all too well. For that effort and hard work, he caught the attention of college coaches and recently signed his letter of intent to continue his academic and athletic career at Midway College.
"Coach (Slone) always taught us hard work will overcome talent," Keeton said. "I feel like all that hard work had finally paid off."
It has always been his goal to play college basketball and the senior talked of how his coaches deserved credit in helping that become reality.
"Coach Slone and coach VanHoose have been right with me every step of the way. They told me to stay in the gym and grind as hard as I can and it's finally paid off," Keeton said.
Keeton has tried staying busy with his training as he prepares for next season with the Eagles, however, with the coronavirus still gripping the nation, it remains a challenge.
"I've got a small weight room here, so I've been working out, and I go running down by the (Paintsville) lake after I workout," said Keeton.
The senior finished his career at Paintsville averaging a double-double with 15.4 points per game and 12.3 rebounds per contest. He led the Tigers in field goal percentage shooting right at 60 percent. Keeton also shot 65 percent from the free-throw line.
In Keeton, Midway will get a hard working player who can take the bumps and bruises of the next level. They also get a player who, at only 6 foot 4, plays like he's 6 foot 10. He will grind. He will hustle. Midway will be a better team with Keeton on their squad.