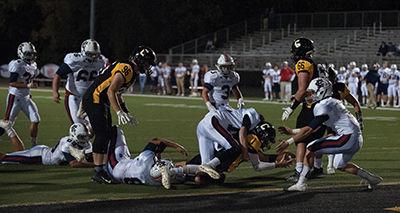 PAINTSVILLE — The Johnson Central High School football program is preparing to host media day and its annual Black/Gold scrimmage.
Under the direction of head coach Jim Matney, Johnson Central has advanced to three straight Class 4A state title games. The Golden Eagles finished runner-up to Franklin-Simpson in 2017. One of the state's top high school football programs, Johnson Central captured the 2016 Class 4A championship. 
The annual Black/Gold Scrimmage is slated for 6:00 p.m. on Tuesday, Aug. 7.
Johnson Central has tabbed its Media Day for 6:00 p.m. on Friday, Aug. 10.
The Golden Eagles ended the 2017 season 12-3, placing runner-up behind Franklin-Simpson in Class 4A after reaching its third straight state title game.
Joe Jackson, the leading rusher from the 2016 season, is back for the Golden Eagles. Jackson, who suffered a season-ending injury early in the 2017 season, was the MVP in the 2016 Class 4A state title game.
Johnson Central is slated to kickoff the 2018 season at home against visiting Capital (W.Va.) on Friday, Aug. 24. The Golden Eagles' regular-season schedule will include additional games against Henry Clay, South Charleston (W.Va.), Moore, Boyd County, East Carter, Greenup County, Rowan County, Ashland Blazer and Belfry.