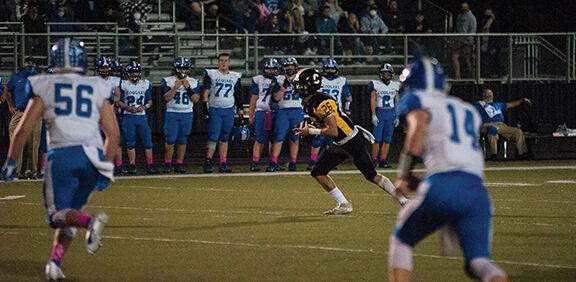 Both Johnson Central and Letcher Central came into Friday's matchup undefeated.  The Golden Eagles left undefeated as they routed the Cougars 62-0.
This season has been one for the books with all the teams that have had to cancel games, reschedule teams to play with less than normal time to prepare and as well as the season beginning later than usual.
However, good teams find ways to still win ball games and with that said, great teams are able to still learn from wins.
In this matchup between undefeated teams, the Golden Eagles came out ready to perform.
Johnson Central scored 21 unanswered points in just the first quarter.
By halftime, the Golden Eagles had sealed their victory after extending their lead to 48-0.
Johnson Central head coach Jim Matney and the Golden Eagles cruised to the 62-0 win over the Cougars with a cast of characters having big games, while also showing just how versatile the offense can be.
The Golden Eagles also flexed their muscles on defense as well.
"Normally at this point, it would be like Week 11 or 12 counting the scrimmage games we normally play instead of Week 6," said Matney. "I feel like we have came a long, long way each week really and especially, last week's game against Harlan County which was good for us."
One thing the Golden Eagles have done as well as anyone in the state on the fly is coaching during key moments of every game.
Matney knows how much of an advantage that brings to his group.
"It definitely is an advantage to have the coaching staff we have," Matney said. "All of our assistants are excellent and our kids believe in our program and if anything, we are probably a little spoiled right now. You don't want them to lose, so we try to learn through our wins and sometimes guys take that for granted, but it's good to see that our guys haven't. lost focus."
The Golden Eagles have been stressing every moment of each game as a learning experience even though they win, which is a break in the mold of learning from losses.
However, this method makes a lot of sense when you look at the numbers the players from the Golden Eagles pile up.
Against Letcher Central, Johnson Central quarterback Grant Rice is one example of taking advantage of every opportunity.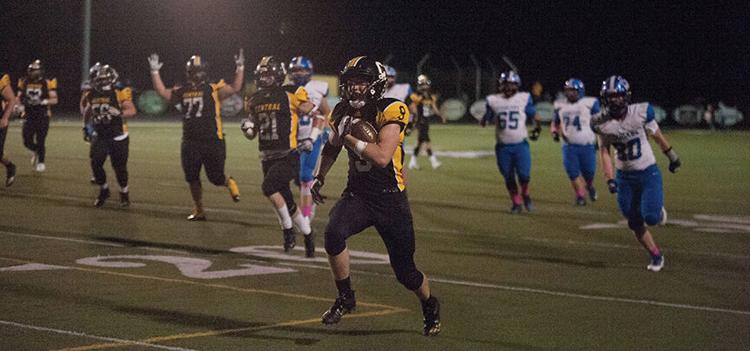 Rice completed four of his five attempts to four different receivers (Cameron Wright — 54 yards, 1 TD), (Dillon Preston — 25 yards, 1 TD), (Toby Spriggs — 20 yards) and (Mason Lawson, six yards) for a total of 105 yards and two TDs.
"He is a solid quarterback and is getting more comfortable each game," said Matney. "He (Rice) is a perfect example of somebody who is penalized from not having a full season and there isn't many guys who can do what he has and step right in and run a team that is a contender like he has done."
Another prime example of players that take advantage of every opportunity is Dillon Preston.
The Golden Eagles running back had monster numbers against the Cougars rushing for 118 yards and two TDs on only eight carries.
Preston also had the 25-yard TD reception mentioned earlier and even scored on defense with a 30-yard pick six before the halftime buzzer giving Preston four total TDs in the 62-0 win over the Cougars.
"Dillon (Preston) is really just having an incredible season and that catch he made in the end zone was unbelievable. I don't know how he made it and then, capped that off with the pick six," said Matney. "He (Preston) has had an incredible start to the season, but we always say its not how you start, its how you finish, so we need Dillon (Preston) to finish the season this strong too and I have all the confidence that he will continue on the pace he is going."
However, it's nearly impossible to talk about how well a running back is doing without talking about the offensive line and Matney knows how important the big guys are.
"Of course, that goes back to the line and we always say games are won and lost in the trenches," said Matney. "So the line is everything in the sport of football."
Preston and Rice had stellar performances, but maybe the most impressive thing to note is that these two guys put these numbers up in the first half (and didn't play in the second half).
However, the Johnson Central defense was a force the entire game and the numbers back that up.
The Golden Eagles forced two fumbles that came off sacks, one being returned for a TD by Andrew Burchett for 41 yards.
Johnson Central kept their foot on the gas all game long on offense and forced the Cougars to try to move the ball through the air.
However, the pass rush for the Golden Eagles also had their foot on the gas as well and never allowed Letcher Central quarterback, Carson Adams, from getting any momentum throughout the entire game.
Adams has played good this year and has thrown for 452 yards and five TDs as well as running for 402 yards and seven TDs and has become one of the better dual threat QBs in Class 4A.
The Golden Eagle defense kept him in check all night getting to Adams seven times and forcing him to fumble twice and throw a interception for a TD.
"Our guys were up for the challenge and there was a lot of talk leading up to the game that this might be the year that Letcher beats us," said Matney. "Take that with fact that they were undefeated and I think that gave our guys some extra energy and sometimes that's good to have that extra energy. Our defense had not played well the week before. We were kind of going through the motions I felt like, so we challenged them this week.
"The defensive coaches did a great job of getting our guys ready and challenging them and there was a lot of talk before the game about their quarterback (Adams). I think he (Adams) is a really good quarterback but our guys just didn't give him a chance to really get going."
After the 62-0 win over the Cougars, the Golden Eagles shift their focus to the Belfry Pirates.
"We are starting to peak at the right time and I think we will have to play very well because I think Belfry is getting a heck of a lot better," said Matney. "I think they have improved a whole lot just from watching them on film maybe as much as anyone I've seen so far."
This is a matchup fans are really excited for on both sides to really see how good each team is as the playoffs approach in the coming weeks.