It was an offensive outpour at Johnson Central Tuesday night.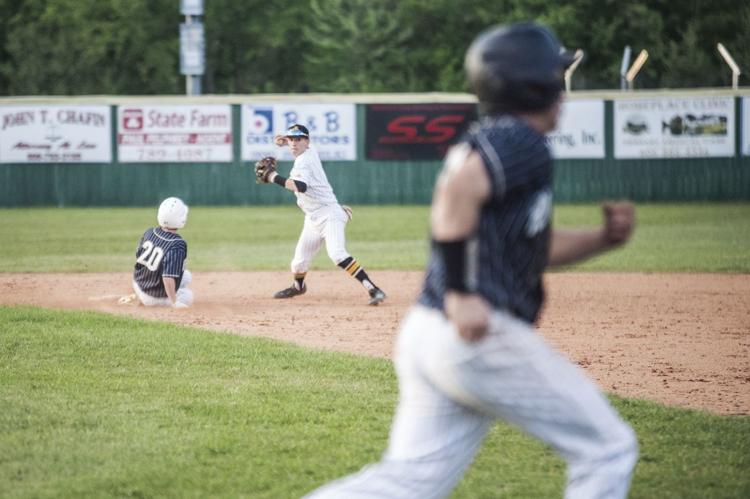 Johnson Central was down by as many as three runs in the bottom of the second, up by one in the third, tied in the fourth, up by one in the sixth, only to come back to win 8-7 over the Hazard Bulldogs.
Hazard had no trouble on offense jumping out to a 3-0 lead. Johnson Central's Chayse Meade was able to score a run off of a Cody Rice single to make it 3-1. A couple of batters later, Rice and Weston May were both able to score runs tying things up at 3-3. 
The Golden Eagles were able to push out to their first lead of the night in the bottom of the third when Hunter McCloud was able to hit a double with Riley Preece scoring to put Johnson Central up 4-3.
Hazard's Kyle Johnson was able to tie things up again in the top of the fourth inning off of a Trajon Campbell single making it 4-4.
McCloud, already having a good night, was able to hit a home run in the bottom of the fifth putting Johnson Central back up 5-4.
Johnson Central looked to have things wrapped up in the top of the seventh until Andy Baker of Hazard gave the Bulldogs a three run home run putting them up 7-5, with only the bottom of the seventh to make a comeback.
Blake Delong was up to bat first and he hit a single. McCloud too would connect and get on first putting Delong on at second. Meade was able to reach on fielder's choice with Conner Lemaster (replaced Blake Delong) out at third. McCloud advanced to second. Blake Gamble was next and ground out giving the Golden Eagles their second out. Cody Rice received a walk to first. McCloud was able to score off a passed ball with Braxton Kelly at the plate making it a 7-6 game. Kelly connected with a big hit that resulted in Meade and Rice scoring, giving Johnson Central the 8-7 lead the Golden Eagles needed to secure a win.
Johnson Central (16-10) is scheduled to compete in the Fayette County Invitational Tournament this weekend.