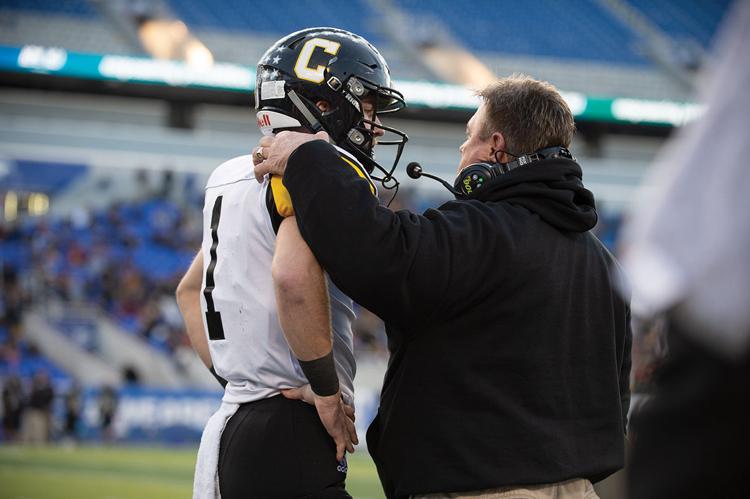 To most coaches in the mountains of Eastern Kentucky, it is a big honor to be recognized any time for their hard work and dedication to their kids, team or the school in general. There are different awards that can be bestowed upon a coach, such as, with our publication at the end of each season the sports writers get together and choose an "All-Mountain Team Coach of the Year."
Historically in the mountains, football and basketball have always been the favored sports over all others. However, in Johnson County, specifically Johnson Central, their sports programs have been having major success the past few years and in sports maybe not so familiar to folks in Eastern Kentucky. Of course, Johnson Central represented the 15th Region at last year's Sweet 16 boys basketball state tournament at Rupp Arena. Back in December the Golden Eagles brought home their second Class 4A state football championship after defeating Boyle County.
Also, last season Johnson Central brought home another state title in wrestling, the team's first overall.
Johnson Central head football coach and wrestling coach Jim Matney has not only turned his football team into one of the state's elite teams, but has transformed the Golden Eagle wrestling team into a perennial powerhouse as well. Matney, since arriving at Johnson Central has won two large school state championships, three small school state championships, two duel meet state titles and finished as state runner-up three times.
Coach Matney wanted to give his kids pride in where they come from. Something he is always adamant about. With his resume, I think he's doing well.
"I wanted to come back to the mountains to give the kids an opportunity to compete against the bigger schools and schools down state," Matney said.
Coach Matney has taught kids the sport of wrestling for 37 years and for his efforts, was just named the 2019 NFHS (National Federation of High Schools) Coach of the Year. In short, among his peers nationwide, he is the top wrestling coach in the country.
"I'm in shock. This is by far the biggest award I've ever received," said Matney.
Matney, who, grew up in Belfry, spoke of how the community took care of him growing up.
"I grew up poor. I give credit to the community of Belfry. The whole community took care of me. They really wrapped their arms around me. I've always said that three groups of people really influenced me. Teachers, preachers and coaches," Matney said.
The coach reminisced of wrestling in the state tournament and how his trip to get there is a captivating story.
"Well, I hitchhiked to the state tournament in Louisville. I was the only kid from my team to qualify, so I caught a ride with a candy salesman. I made it to Lexington where I stayed two days with a wrestler from Henry Clay, and then made it on to Louisville for the state tournament. To think I've came from that to National  Coach of the Year, I would've never believed it," said Matney.
Coach Matney and his Golden Eagles are preparing for the regional wrestling meet to be held February 8th at Letcher Central High School as they prepare to defend their state title. Asked what preparations his team is now undertaking, he stressed health as a big hurdle.
"Right now we're just trying to stay healthy. Fighting off sickness is another big thing right now and it's so hard this time of year. We just need to polish everything up and not get lost under the big lights and we'll be fine," Matney said.
This season, Johnson Central is 25-3 and finished as runner-ups in the Dual State Championships last week.