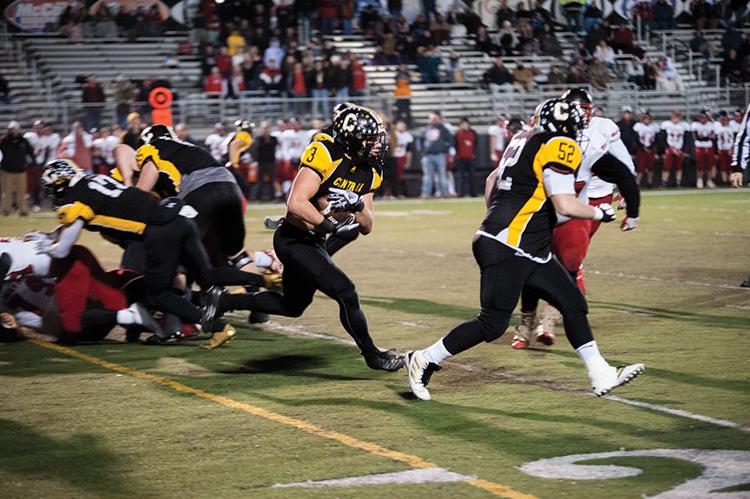 Johnson Central likes collecting region championships.
The Golden Eagles added their fifth straight region title with a 36-7 win over Wayne County.
With the win, Johnson Central improves to 13-0 on the season and advances to the Class 4A state semifinals.
The Golden Eagles applied the pressure early as quarterback Ryley Preece scampered up the right side and into the end zone with 10:00 to play in the opening quarter. Place kicker Jake Headly scraped the inside of the goal post to give Johnson Central the early 7-0 lead.
Golden Eagle head coach Jim Matney caught Wayne County sleeping as he called for the onside kick, which, was quickly recovered by Jacob Cain and Johnson Central's high potent offense was right back on the field. The opportunity wasn't wasted as Devin Johnson plowed his way to the end zone with 8:00 to play in the first to push the lead to 14-0.
Wayne County's first offensive possession came at a heavy price. As Cardinal quarterback Brody Weaver rolled out to his right to pass, he was hit awkwardly and suffered a serious leg injury and was carried off the field. Due to the injury of Weaver, star running back Braedon Sloan took over duties under center.
The Cardinals threatened as they drove the ball down to the Johnson Central one-yard line and looked to be on its way to points. However, the Golden Eagle defense had other ideas as they caused Wayne County to turn the ball over on downs inches from the end zone.
Wayne County ran the Wildcat offense mainly with Sloan under center. Johnson Central was called for pass interference with 10:11 to play in the second which moved the ball to the  Golden Eagle 25-yard line. On the next play, it was Johnson Central's Cain once again jumping on his second fumble of the night.
The Golden Eagles found the end zone with 50 seconds left before heading to the locker room as Cody Rice broke for a 35 yard TD run to extend the lead to 21-0 at the half.
Preece had a big 76-yard TD run called back toward the end of the third, but Johnson Central held a 28-0 advantage after three periods of play. Devin Johnson punched it in from 26 yards out with 11:44 to play in the game to start the clock running as the Golden Eagles went up 36-0.
Wayne County finally ended the shutout as Sloan found pay dirt as the clock continued to tick away to cut the lead 36-7.
Johnson Central (13-0) advances to the state semifinals. The Golden Eagles will host Madisonville-North Hopkins at 7:30 p.m. next Friday night. The winner will move onto the state championship game at Kroger Field.