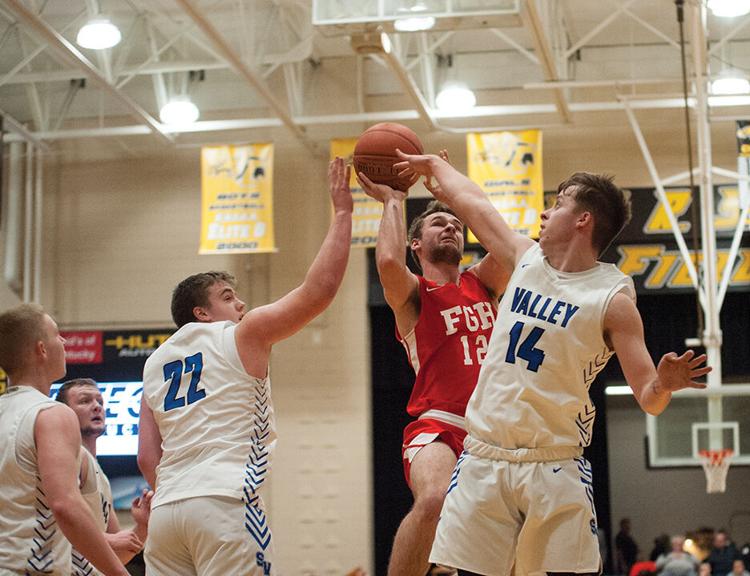 With the world trying to reach normalcy, COVID-19 leaves so much uncertainty just lingering in the midst of the upcoming basketball season.
As far as this season is concerned however, there is one thing to be certain of.
The Johnson Central Golden Eagles, who finished last season with a 17-12 record before having their season cut short in the 57th District tournament to Paintsville, are going to be back in the 15th Region Tournament picture.
Senior leadership along with one of the most explosive scoring duos in the region is the simplest answer to give.
"I think it's (senior leadership) going to be the difference for us," said head coach Tommy McKenzie. "I really do, when these guys were sophomores obviously, we won the region, and last year as juniors I think we got a little complacent with where we were and it ended up biting us in the rear end. This year, the motivation is there. We don't have to motivate kids, we do not have to ask them to come to practice and put the work in, they are just doing it. I think that just goes with being older and more mature. That comes from having a lot of senior leadership and these seniors are really taking the bull by the horns and they seem to be really really getting it right now."
Two seniors apart of this mature team are one of the most dynamic scoring duos in the 15th Region.
Isaiah May and Cory VanHoose.
May averaged 20.4 points per game last season and his running mate VanHoose was never far behind averaging 18.3 points per game behind May.
The duo also hit the boards quite frequently for the Golden Eagles with May leading the team with 6.2 rebounds per game and VanHoose being Johnson Central's third leading rebounder with 4.7 behind now senior John King who averaged five rebounds a game.
"I think we have been very blessed to have Cory and Isaiah. Obviously, I think both of them have a chance before they graduate to be 2,000 point scorers," said McKenzie. "I know they would have to have exceptional years to do it, but I think the possibility is definitely still there. That's really unheard of to be honest and is a pretty good feat."
Having a duo that has the potential to reach this feat is a problem teams will have to account for night in and night out.
The Golden Eagles still have things they are addressing according to their head coach.
"I think the one thing we were missing last year that was an obvious glaring part that was missing was a true big man," said McKenzie. "We didn't really have the size to compete the way we needed to, but outside of that we never really had that consistent third scorer. I do think John (King) would be the easiest answer to that and he has put in a lot of work in the offseason and has changed his body completely. John has been a truly unselfish kid for us since he has been in our program and has shown how freakishly athletic he is."
King, according to McKenzie has been playing out of position, but the head coach thinks they have a way to get him into a groove this season.
 "We have played John out of position as a back to the basket five and he is not a back to the basket five but he was the best option for us at that position," said McKenzie. "He is not a stretch four or someone who is going to beat you from outside but he is a slasher. If I could use a football analogy he is a downhill runner. I'm looking to do some things differently this year and open some things up for John hopefully. I think by doing that your going to see John score more than he has in the past three years just by using his athleticism and spacing him out on the floor a little bit and getting him into some isolation type stuff this year."
McKenzie also thinks that the team may have another key piece that can help them reach their full potential this season in Grant Rice.
"Grant Rice has to be more of a scorer for us or a threat to score so to speak," McKenzie said.
If Rice and King are able to become bigger scoring threats and space the floor for the Golden Eagles then there may be no limit to the numbers we could see this team put up.
A player coach McKenzie also thinks will have an impact is Bryson Hackney.
"Bryson (Hackney) all year last year, but its no secret what he had to overcome just to be playing last year," said McKenzie. " He had three retina surgeries last year and never really got to 100 percent and maybe he is a fifth kid that can give us what we need."
With all that said, something the Golden Eagles and coach McKenzie will face along with every other team in the region is Martin County and their big man Trey James.
So, the question there is how do the Golden Eagles prep or plan to take Martin County out of their element, which is the slow paced half court game?
"If you look at our team the last several years we have really not had a lot of size," said McKenzie. "People ask me all the time what the difference was from the 18-19 season and last year and it's that we had a scoring point guard in Jacob Rice and a stretch four in Gabe Ferrell and the floor was open to us. Last year, we didn't have those perimeter threats to play a team like Martin County because they didn't have to come out on our bigs and they could just focus on stopping May and VanHoose."
This year Johnson Central looks to be more consistent out on the perimeter and open the floor back up and pull bigger teams out to the perimeter.
This would allow the Golden Eagles to get back to running the floor and playing their pace of basketball.
Which is something Martin County did to a lot of teams last season by dictating the pace of games against teams that lacked an inside presence.
"If you let them play in the half court, I don't think anybody in our region can beat them, they are just too big," said McKenzie. "We need to create more opportunities for ourselves and take opportunities away from them and getting up and down the floor is what we want to do."
If the season goes the way the Golden Eagles think it can then there is no reason to count them out of the 15th Region tournament or title pictures.
The only think that could stall this is the uncertainty that coach McKenzie thinks COVID-19 shrouds the upcoming season in.
"From my perspective, we are in a two week quarantine right now, so we've not practiced the past two weeks," McKenzie explained. "We can come back on Thursday, so it really has hit home for us, but I think the biggest thing and this goes from the fans, coaches, players, administrators, teachers, and people in the community is just the uncertainty around everything and that goes for anyone and everyone dealing with COVID."
However, the uncertainty doesn't stop the kids from showing how much they truly just want the opportunity to play.
"These kids are showing up to practice every single day with their hope secured in the ability to play a full season," said McKenzie. "But really in the back of their minds they're not sure if we are going to get to play or not. I think that's very tough and mentally taxing on kids. Most of the questions I get from my guys is, 'Coach do you think we are going to get to have a season? Coach do you think we are going to be able to start on time? And coach do you think we are going to be able to play?' They are not worried about game the plan, they are not worried about opponents, they are just worried about the opportunity to play and you know that's just always in the back of their minds and that's just tough and you know its just mentally taxing on these kids."
Johnson Central is set to tipoff their season on December 1, with a home opener against Betsy Layne.