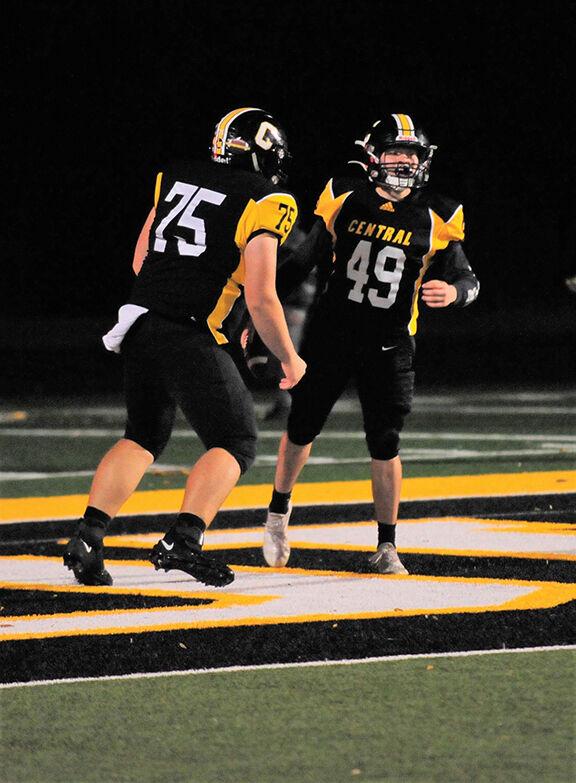 Johnson Central opened up Week 1 of the postseason on a high note cruising past Clay County in a 56-7 blowout.
The Golden Eagles kept to the same recipe that has found success all season long with a total combined 361 yards of offense on the ground with five different running backs finding the end zone.
Zack McCoart made easy work of the Tiger defense taking just six handoffs, but rushing for 106 yards and a TD. McCoart also had one catch for 15 yards.
Matt Crum had 74 yards and a TD on six runs. Chase Price had 55 yards on four carries with a TD. Carter Conley had 48 yards on three carries with two TDs. The freshman Landon Clark found his way in to the end zone to finish off the scoring late in the fourth quarter.
Grant Rice has continued his strong season, going four of six for  72 yards in the air. Rice also rushed for 29 yards on three carries. Rice scored from defense as well, returning an interception for 75 yards for a TD.
On defense, Seth Davis led the Golden Eagles with seven tackles. Logan Castle and Mason Lemaster each recorded six.
Johnson Central's defense knocked loose three fumbles, one in which Lemaster recovered for a TD. Jacob Cain and Ryleh McKenzie each had a fumble recovery of their own.
Johnson Central will play back to back home games to open up the post season thanks to its seeding for the playoffs. The win against Clay County pushes them to the second round, where they take on Letcher County Central at home, Nov 12 at 7:30 p.m.
The Golden Eagles and the Cougars faced off earlier this season, on Oct. 22. Johnson Central won that game in convincing fashion, 48-18.
The winner of that game will advance to the region championship round of the Class 4A playoffs.