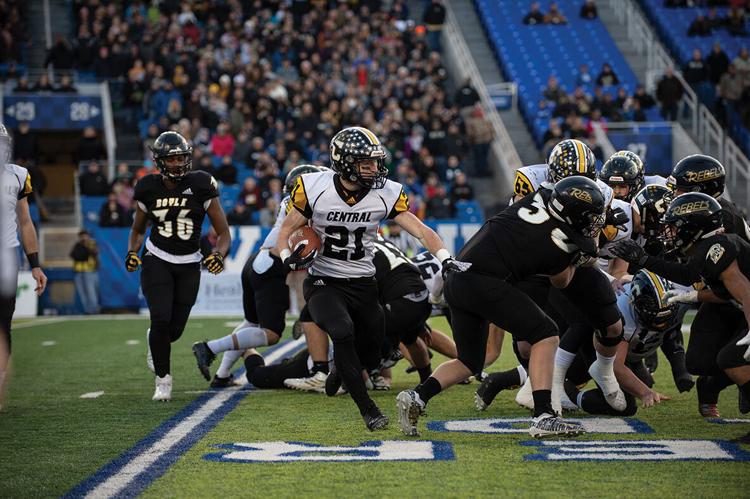 To be a great running back you have to have a culmination of certain skills.
Patience, speed, vision, power, explosiveness, persistence and confidence are among those.
And a good offensive line never hurts.
Without these attributes and traits it is hard to succeed.
Johnson Central senior running back, Dylan Preston, is a prime example of a player that doesn't lack a single one of these qualities.
Preston knows however, that he can't do everything by himself and that his teammates along side his mentality are vital to his success.
"My mentality before and during games is to do my best to show everyone that I'm the baddest man out there," said Preston.
This mentality is something that he definitely proves with almost every touch on the offensive side of the ball.
Preston has had 84 carries this season for 1,118 yards rushing (13.3 yards per carry) and 21 TDs along with three catches for 83 yards and all three for TDs.
Preston is one of the most opportunistic players in the state and those offensive stats are the proof.
However, Preston realizes who helps create these opportunities for him.
"My teammates do the same thing playing hard nosed ball. As far as scoring goes our versatile line is what our team really relies on," Preston said. "Obviously with Grant Bingham blocking on the line or down the field, Toby Spriggs does a great job blocking out in space and on the line. Dylan Boner has stepped up this year and played big for us. Cameron Willis moves great and is always making blocks down the field. Lucas Wyatt and Owen LeMaster are really gritty and make good blocks on the line and of course Zach Russell who is extremely versatile and we do a lot of things with him."
Preston and the Golden Eagles have one main goal year-in and year-out — a state championship.
"Year-in and year-out, our main goal is to win a state championship and that's what drives us to go 100 percent no matter who or when we play," said Preston.
Johnson Central has been in the last five state title games; having won two with the most recent coming last year in a nail biting 21-20 win over Boyle County.
This season, the Johnson Central offense has been explosive to say the least.
The offense has shown just how dangerous it can be on the ground and through the air as well.
Preston believes in a game earlier this season the Golden eagles put that explosiveness on display.
"I would say our game against the Letcher Central Cougars showcased what we can do the best," Preston stated. "The line was dialed in and was doing everything right and we put the ball in the air a lot and Grant Rice (Junior quarterback) showed everyone what he is very capable of doing."
Letcher Central entered the game undefeated and so did the Golden Eagles.
There was a question of whether or not the Cougars could actually beat Johnson Central this season.
However, in classic Golden Eagle fashion, Johnson Central silenced the talk with a dominate performance. The Golden Eagles rolled to a 62-0 win over the Cougars.
Rice, who Preston spoke of earlier, completed four of five passing to four different receivers for 105 yards and two TDs.
As for Preston, well he had eight carries for 118 yards on the ground and two rushing TDs along with grabbing one of Rice's passes for a 25-yard TD.
Preston and the defense also showed just how stingy they could be in that game holding the Cougars to only 10 rushing  yards and 29-yards passing.
Preston also managed to come away with an interception for a TD in the 62-0 win over the Cougars.
This brings us to Preston's defensive prowess.
Not only is Preston one of the Golden Eagles' best skill players on offense, but also he makes an impact on defense as well, being one of Johnson Central's top defensive backs.
On the season, Preston has recorded 33 total tackles, four tackles for loss, six 1/2 sacks, a fumble recovery and the 30-yard pick six.
Although Preston is putting up great numbers from his position he refuses to take individual credit for it.
"On defense my teammates are doing their jobs and my coaches are putting me in the position to make big plays. Those are the reasons I'm able to do what I do," Preston explained.
Now, the Golden Eagles prepare for post-season play as the KHSAA has pushed back the start of the playoffs until next week.
As for Preston and Johnson Central, the goal remains the same — getting to their sixth straight state title and walking out of Kroger Field with a trophy in hand.
"Our mentality is to not let up whether it's in practice or in a game. We are going to give it our all and stay focused on our main goal," said Preston.