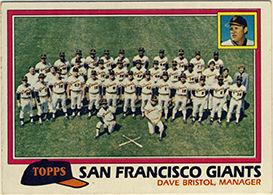 Johnson County has always had a history of producing great baseball talent. Paintsville and Johnson Central high school's are among the tops in their district and the 15th Region every single year and it's been that way for ages.
Is there something in the water in Johnson County? Do the baseball gods reach down from upon high and touch the right and left arms of Johnson County kids?
As we wrote about Johnson Central's Willie Blair last week, there is another Paintsville native who played many years on the grandest stage of them all. His name is Johnnie LeMaster.
LeMaster, who, was a multi-sport athlete at Paintsville High played nearly every sport offered by the school.
"It was a great memory," LeMaster said. "I wish I could still do it. I played four sports at Paintsville. I played golf, baseball, basketball and football. I would've ran track, but when I was in high school we didn't have a track team."
LeMaster played for two legendary coaches on the diamond in Charlie Adkins, and in football with coach Walter Brugh.
"I had some really good relationships with those guys," LeMaster said. "They both were truly Hall of Famers and it was just a great time in my life that I wish I could go back and do it all over again."  
When LeMaster was in the eighth-grade, a Cincinnati Reds scout by the name of Gene Bennett gave LeMaster his card. It was then, he knew he might have a chance to make a career out of playing baseball.
"By the time I was a sophomore, junior or senior, there would be 30 scouts at every game I played," LeMaster said. "They would come knocking on the neighbors doors wanting to know about me. They would show up at the high school and do eye tests and psychological tests on me."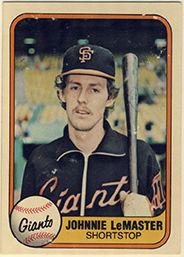 After LeMaster's senior season at Paintsville, he was drafted as the sixth overall pick in the 1973 Major League Draft by the San Francisco Giants.
LeMaster was sitting in a restaurant when he learned he'd been drafted.
"The former owner of the Paintsville Herald, Bud Perry, he was the one that told me because he had saw it come across the line," LeMaster said. "I was pretty sure I was going to be drafted, but I didn't know I was going to go that high. I didn't know that much about the Giants because everyone around here were Reds fans. I was watching the Big Red Machine in 1973, they were together then, and two years later I was playing against them. It was like a dream come true."
In his first at bat as a Giant, LeMaster hit an inside the park home run, one of only two players to ever accomplish the feat. He also held the record for most put outs without an error for a time.
LeMaster is also known for his humor. During a game in July of 1979, LeMaster had heard some boos from Giant fans over his hitting and a couple of rare errors. He asked the Giant equipment  manager to replace his nameplate on the back of his jersey with "BOO." LeMaster wore the uniform out for a half inning before the GM made him take it off. He was then fined by for the stunt.
"Can you guess who all the reporters were talking to after the game," LeMaster said laughing.
 LeMaster spent 13 seasons with the Giants organization, which is unheard of today. That just shows how valuable LeMaster was to San Francisco. Most players stay just a few years, some just a few games with a team. LeMaster was in the lineup day in. day out. Although he struggled with the bat at times, he will go down as one of the greatest fielding shortstops in major league history.
LeMaster finished his career with the Pittsburgh Pirates, the Cleveland Indians and finally the Oakland Athletics.
His last season in the big leagues in Oakland was just the beginning of the career of his roommate. His roommate just happened to be one of the greatest home run hitters in the history of the game — Mark McGuire.
LeMaster played against the best to ever play and played in the most historic places in America. When asked who the greatest player he ever saw play the game, LeMaster replied,
"Day in and day out it was Pete Rose," LeMaster said. "He came to play everyday and came to beat you everyday. Pound-for-pound I don't think there was a better player to ever play the game to be honest with you."
He also talked about playing in historic Wrigley Field and Fenway Park.
"Those two places are just special," LeMaster said. "Not just for the things going on on in the inside, but on the outside. It's just pure unadulterated baseball."
After his major league career was over, LeMaster came back to his beloved Paintsville were he coached several youth league teams which were affiliated with Little League Baseball. He did so, to give back to his community that had supported him his entire life and for his grandchildren, so he could continue the baseball tradition in the LeMaster family.  
The LeMaster family is just an athletic family in general. LeMaster's brother Link, was a great baseball player in his own right, as well as a golfer. His cousin Frank LeMaster also played in the NFL for the Philadelphia Eagles. Now, LeMaster's grandchildren are involved in athletics in some form or another.
He then took the head coaching job at then Pikeville College where he would turn a Bears program around that had struggled for many years.
LeMaster was also involved heavily in his church and was a business owner operating multiple Johnnie Lemaster Sports Centers.
He coached at Pikeville for 12 seasons where he was named Coach of the Year in his conference by his peers. LeMaster left Pikeville as the all-time wins leader in school history. He then took the head coaching position at Ashland Paul Blazer where he would get the chance to coach his grandsons at the high school level.
Today, LeMaster is enjoying retirement as he plays golf, but he can always be spotted around the baseball and softball fields of Paintsville watching his grandsons and granddaughters.