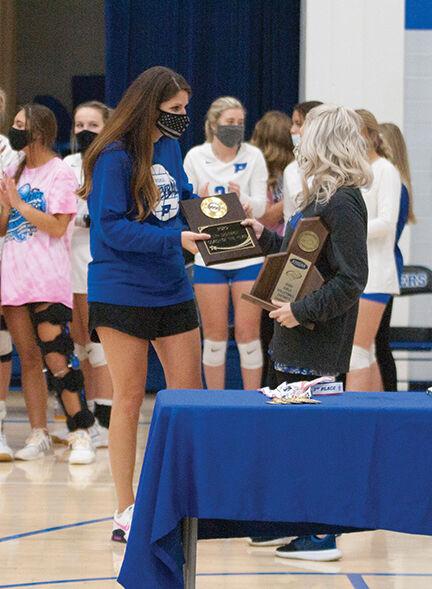 Paintsville head volleyball coach Dawn Kinner is becoming accustomed to winning big games and reaping the rewards.
The Lady Tigers began the season with an outrageously impressive 10-1 start.
Paintsville and coach Kinner went on to finish the season with a 19-2 record and a state tournament appearance.
They claimed their district title and won the 15th Region Tournament to earn that right.
Kinner was adamant all season long with her girls to never take their opportunity for granted this season.
"We were very thankful that we were given the opportunity to play. This was a difficult season as far as having the fear that it could be shut down at any moment, so we wanted to make the most of each game in the event that happened," said Kinner. "Our girls really understood the mentality of playing each game like it was your last. Playing with a purpose helped us get off to a strong start and carry us through the season."
The Lady Tigers rode that wave all season long and it led them to the 15th Region title game against Pikeville.
This championship made the third region title in four years for the Lady Tigers and throughout the years has helped build a championship culture that the players are passing along to anyone who comes into the program.
"We have been fortunate to have won three of the last four regional championships and having a team that understands what it takes both in the off season and throughout the season to make that happen, plays a big role in that success," Kinner stated. "Our seniors were monumental in showing our younger players the standards and expectations of our program and what it takes to win a regional title. They know what is expected of them as a student athlete and a team player, so being able to return a large part of this year's squad will help keep that mindset going into next season."
Next season is sure to be exciting and filled with expectations as the Lady Tigers return most of their corps starters from this season's squad.
Among those are talented players like Bella Blackburn, Kara Ward, Mattie Ratliff, Blair Ratliff and Hailey Little, who all started for the Lady Tigers this season.
"It's very exciting to be returning our players from this year's team," said Kinner. "As players, they have grown tremendously in the last two seasons and being able to reach the goal of a regional championship this year will help them going into next season as they know what it takes, the importance of playing together and seeing their hard work pay off for a championship title."
This group is a special one filled with girls who communicate well with each other on the floor, hold each other accountable, make the effort plays necessary to win and well of course, they live above the net looking to get a kill at any moment.
For those reasons or traits the Lady Tigers made it to the state tournament. Paintsville traveled to Russell in the in the first round.
Paintsville lost the contest 3-0 however; coach Kinner sees a chance to grow from that going into the next season.
"Making the trip to the state tournament and having to play at Russell was a great test for our team," said Kinner. "It was a great learning experience for them to have to go into that type of environment and compete. We will use that experience and learn and grow from it."
For fans the excitement level should be through the roof as this group of girls should return next season on fire.
Who knows, the Lady Tigers may have a fifth region title in their sights.
However, one thing is for sure, with the championship culture Kinner has helped build, it will be almost impossible to keep this squad out of the championship contention.