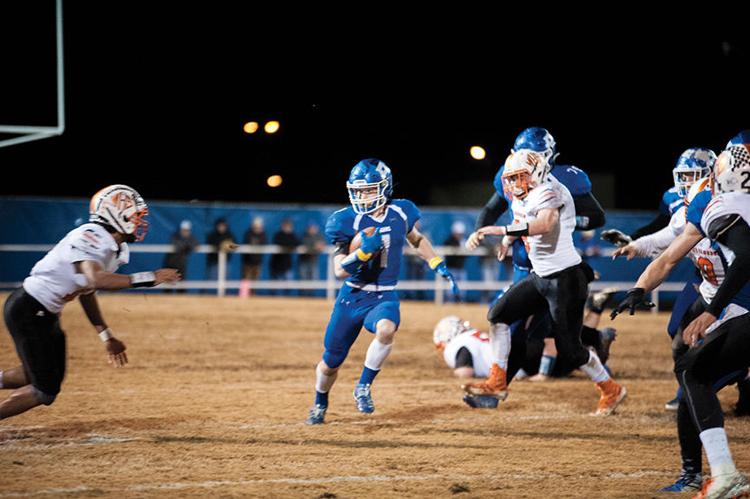 Who: Paintsville (10-3) at Kentucky Country Day (13-0)
Kickoff: Friday, 7:30 p.m.
Location: Monahan Field, Louisville.
Coaches: Paintsville, Joe Chirico. Kentucky Country Day, Matthew Jones.
Notes: Paintsville picked up a 36-34 win over Williamsburg in the region championship last week, while Kentucky Country Day knocked off Crittenden County 36-22.
Paintsville advanced to the state semifinal round in 2015 and 2016. The Tigers fell short to Pikeville 42-23 in 2015 and fell to Hazard 20-7 in 2016.
The Tigers are looking to go to their first state championship game under Joe Chirico.
Even though Paintsville is taking on Kentucky Country Day in the state semifinals, if the Tigers and Pikeville both win, it could see an Eastern Kentucky rivalry played out on the biggest stage — the state championship.
Don't think the Tigers are looking ahead, though.
Paintsville knows it has a tough task at hand going to Country Day the day after Thanksgiving.
Country Day is the top ranked team in Class A in the new RPI ranking system.
Last week, John Walker Phelps had a game to remember.
John Walker Phelps had the flu, but that didn't stop him as he led the Tigers with 206 yards rushing and two TDs on 29 carries.
The Tigers just wouldn't quit.
The defense came up with a big stand late in the fourth quarter that helped the Tigers pick up the win.
Paintsville quarterback Jake Hayden also rushed for 102 yards and two TDs on 19 carries.
Last week, Kentucky Country Day also had a big performance in the run game.
Bear quarterback Dorian Heard rushed for 221 yards and four TDs on 23 carries. He was three for six passing for 29 yards.
Nick Smith just missed an 100-yard game as well. Smith rushed for 99 yards and a TD on 15 carries.
The Bearcats finished with 373 yards of total offense last week.
On the season. Holy Cross quarterback Luke Russo is 57 for 103 passing for 1,039 yards and 15 TDs with two interceptions.
Heard is 13 for 25 passing for 230 yards and four TDs. Heard has also rushed for 1,854 yards and 30 TDs on 193 carries. Smith follows with 935 yards rushing and 15 TDs on 103 carries.
Smith also leads the receivers with 34 catches for 749 yards and 10 TDs. Heard follows with 11 catches for 154 yards and four TDs.
The Bearcats have recovered 24 fumbles this season.
Exavier Douglas leads the defense with 111 total tackles and five sacks. Jalen Todd follows with 94 total tackles and seven sacks.
On the season, Vince Edwards leads the team with seven and 1/2 sacks. Country Day has 31 total sacks.
The Bearcats also have 11 interceptions on the season. Jackson Hubert leads the team with four interceptions. Smith follows with three; he returned one for a TD. Douglas has two pick sixes and Jalen Todd has a pick six as well.
Who 2 Watch: For Paintsville, John Walker Phelps.
He wouldn't let the Tigers just give up running the ball last week.
John Walker Phelps carried the ball 29 times.
He will have to have another big workload this week on the road.
The defense has been great all season.
Look for Paintsville's defense to show up ready to play.
After coming off such a tough outing with the flu, John Walker Phelps will have to carry the workload again for the Tigers on offense.
Paintsville has been close to the state championship in the past, but if the Tigers want to make their way to Kroger Field and a potential showdown with rival Pikeville, John Walker Phelps will have to have a strong game rushing the ball.