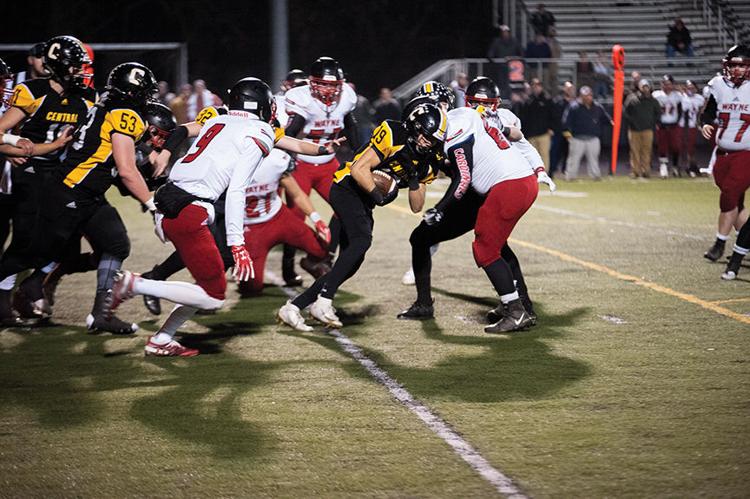 Class 4A state semifinals
Who: Madisonville-North Hopkins (11-2) at Johnson Central (13-0)
Kickoff: Friday, 6:00 p.m.
Location: Eagle Field, Paintsville.
Coaches: Madisonville-North Hopkins Jay Burgett. Johnson Central, Jim Matney.
Notes: Madiosville-North Hopkins picked up a 45-31 win over Franklin-Simpson, while Johnson Central cruised to a 36-7 win over Wayne County.
The Maroons assured that there will be a new Class 4A state champion by defeating the two-time defending champion.
The Golden Eagles will have the task of stopping another standout running back.
Maroon running back Jeriah Hightower rushed for 324 yards and six TDs on 37 carries last week against Franklin-Simpson.
Quarterback Hayden Reynolds was six for 10 passing for 121 yards and a TD. He also rushed for 45 yards and a TD on eight carries.
Wide receiver Marquise Parker had two catches for 85 yards and a TD.
On the season, Hightower has rushed for 2,817 yards and 33 TDs.
Reynolds is 125 for 237 passing for 1,948 yards and 26 TDs with four interceptions. He has also rushed for 402 yards and six scores on 65 carries.
Deljuan Johnson leads the wide receivers with 34 catches for 819 yards and 14 TDs. Parker follows with 38 catches for 607 yards and nine TDs.
The Maroon defense has recovered nine fumbles.
Krey Cunningham leads the defense with 122 total tackles and four sacks. Blake Moody follows with 91 total tackles and five sacks; 20 of his tackles have been for a loss.
The Maroons have 36 sacks this season.
The Maroons have also came up with 11 interceptions this season.
Parker leads the team with four interceptions.
Johnson Central just keeps on cruising.
The Golden Eagles are on a mission this season.
Johnson Central held Wayne County and the state's leading rusher Braedon Slone in check last week. Slone got 100 yards on the ground, but he had to work for it. Slone finished with 101 yards and a TD on 33 carries.
Slone had to take over quarterbacking duties after quarterback Brody Weaver got hurt early on in the game.
Slone threw for 105 yards on six for nine passing.
Johnson Central just did what Johnson Central does — run the football down their opponents necks'.
The Golden Eagles rushed for 364 yards on the night.
Johnson Central didn't attempt a pass.
Devin Johnson led the way with 121 yards rushing and two TDs on 10 carries.
Quarterback Ryley Preece followed with 91 yards and a TD on 11 carries.
Dillon Preston added 73 yards and a TD on six carries. Cody Rice rushed for 69 yards and a TD on five carries.
Jake Headly made all four of his extra-point attempts.
Preston led the Golden Eagle defense with 15 total tackles and one and 1/2 sacks. Hunter McCloud followed with 13 total tackles and 1/2 sack.
Andrew Burchett and Mason LeMaster each had 10 total tackles. LeMaster added a sack and Burchett added 1/2 sack. Jesse McCoy also finished the night with one and 1/2 sacks.
Who 2 Watch: Johnson Central's Devin Johnson.
There has been a lot of talk about the running backs that the Golden Eagles have played against the last couple of weeks, but Johnson can hold his own with anybody.
The Golden Eagle offensive line is one of the best in the state.
Johnson has rushed for 1,339 yards and 18 TDs on 109 carries this season.
Johnson has had a great season running the ball, but he is also a standout linebacker as well.
The Golden Eagles often get out to big leads and Johnson often sits out most of the second half.
On the season, Johnson has 77 total tackles, four sacks and an interception.
If Johnson has a big game on both sides or just one side of the ball, the Golden Eagles may be making their way back to Kroger Field playing for the Class 4A state championship.