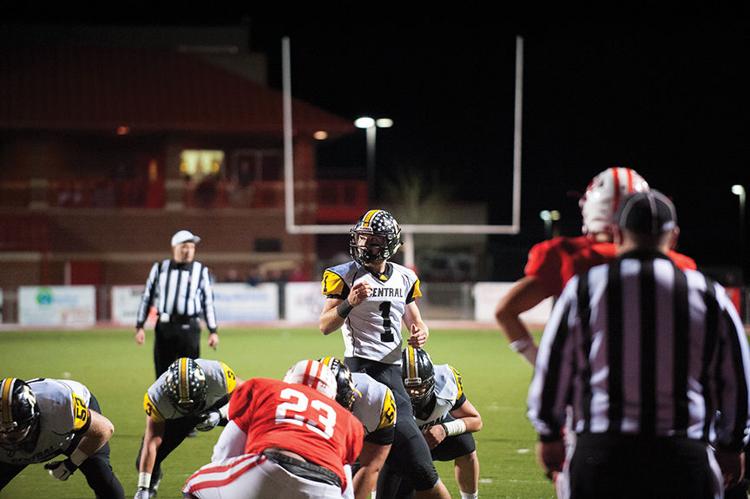 Who: Harlan County (8-3) at Johnson Central (11-0)
Kickoff: Friday, 7:30 p.m.
Location: Eagle Field, Paintsville.
Coaches: Harlan County, Warren Creech. Johnson Central, Jim Matney.
Notes: Harlan County picked up a 53-14 win over Clay County in the opening round of the Class 4A playoffs, while Johnson Central cruised to a 49-7 win over Letcher Central.
Johnson Central won the first meeting between the two teams with a 56-6 win over the Black Bears.
Harlan County is 2-1 since the loss to the Golden Eagles. The Black Bears knocked off Perry Central 49-19, then fell to Bell County 32-14 before last week's win over Clay County.
Harlan County only gained 107 yards of total offense against Johnson Central in the first meeting.
The Black Bears couldn't get anything going.
Harlan County likes to run the ball.
That might be a problem, though.
In the first meeting, the Black Bears rushed for 78 yards on the ground.
Harlan County averages 224 yards per game on the season.
The Black Bears will have to be better up front against a strong Johnson Central front seven.
Last week, Johnson Central worked on its passing attack against Letcher Central.
The Golden Eagles are known for their run game, but wanted to show that they can throw the ball as well.
Ryley Preece was outstanding. He was 17 for 19 passing for 320 yards and three TDs. He added 24 yards rushing and a TD.
Wide receiver Seth Dalton had eight catches for 198 yards and three TD catches. Zach Russell followed with five catches for 79 yards.
Mason Lawson led the running attack with 38 yards and a TD on three carries. Devin Johnson and Bladen Sexton each added TD runs.
Grant Rice led the defense against the Cougars with seven total tackles. Mason LeMaster followed with six total tackles and a sack.
Cameron Wright added an interception.
Who 2 Watch: The Johnson Central defensive line.
The Golden Eagles held Harlan County well shy of its rushing average in the first contest.
If Johnson Central's defensive line steps up and has a repeat performance, the Golden Eagles should be marching on to the region championship round of the Class 4A playoffs.
Johnson Central will be home until the state championship round of the playoffs as well.