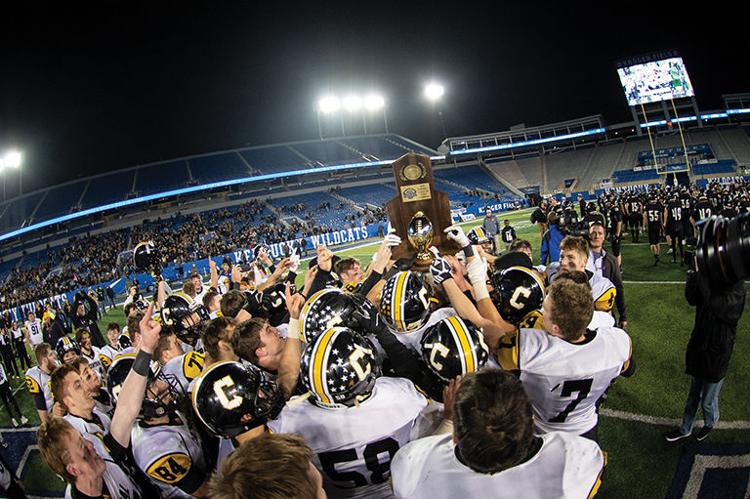 LEXINGTON — A championship was at stake Saturday evening, but something more important was in store as well — Pride.
Johnson Central captured the UK Orthopaedics/KHSAA Gridiron Bowl Class 4A state championship and were the pride of the mountains after the win.
Why were they Golden Eagles playing with extra pride?
A Boyle County adminstrator made some off-handed remarks saying people in Johnson County can't count to 100 and live in "hollers."
"I don't know, it affects our mountains a lot," Johnson Central coach Jim Matney said. "But we've been fighting since I was a little boy for the poor white children of Appalachia and all of my friends, the poor black kids of Appalachia. It was very tough  growing up. I've been fighting prejudice and injustice my entire life. We produce the coal that has powered our country and several countries for 200 years, now the entire country has turned their back on Appalachia. It's a tough fight.
"Football is strong in the mountains," Matney said. "Football will continue to be strong in the mountains as long as God favors us, but if we don't stay humble, if we start thinking we're special and we're cocky, then it'll end quick. But if we stay humble and work hard, I think we have a lot of more years and a lot of great teams coming out of the mountains."
The Golden Eagles won their second state championship under coach Matney.
"I didn't want to come home because it was tough at home," Matney said. "It was very poor. It was rough. But that's what God wanted me to do, so I didn't have any choice. I was trying to run, I was trying to get away as far as I could. God took me back home to the mountains. The main thing he said was you're very fortunate, you've had some good people help you along the way. Now go back and help those kids in the mountains to do the same thing that the people did to you. So I felt like that what God had done for me, I had to do for everybody else."
Boyle County got on the scoreboard first as quarterback Reed Lanter found Reiley Colwick for a six-yard TD pass with 57 seconds left in the first quarter to give Boyle County a 7-0 lead.
Johnson Central answered after Dillon Preston came up with an interceptions midway through the second quarter.
That set up a 22-yard rushing TD for Devin Johnson. After the Jake Headly field goal, the Golden Eagles and the Rebels were tied at 7-7.
"I have a pebble that came from the same stream that David slew Goliath picked up and slew Goliath," Matney said. "Somebody went to the Middle East and brought it back. I don't know. God is good. I'm very fortunate. I wish everyone has a blessed life like I have. We beat a great team and a great coach and I'm very happy. I'm very, very, very, happy."
Boyle County went back on top with 3:53 left in the first half as Will McDaniel scored on an one-yard rushing TD with 2:47 left in the first half to give the Rebels a 14-7 lead.
Johnson Central answered before the break as Dillon Preston scored on a two-yard TD run with 25 seconds left in the half to cap off a 65-yard drive. The score was tied at 14-14 at the break.
Cody Rice gave the Golden Eagles' their first lead of the game with a 12-yard TD run with 3:58 left in the third quarter. The Golden Eagles held a 21-14 lead over Boyle County.
Later found Reese Smith for a three-yard TD for the Rebels. Boyle County missed the extra-point as the Golden Eagles held a 21-20 lead.
Boyle County got one last chance to win the game. The Rebels got the ball with 2:53 to play. The Rebels drove the ball down to the Johnson Central 28-yard line. On fourth down, Boyle County went for the first down instead of a field goal attempt and the Johnson Central defense held strong forcing a turnover on downs to win the game.
Johnson Central's defense caused four Boyle County turnovers in the game.
Preston led the way for the Golden Eagle rushing attack with 97 yards and a TD on 15 carries.
Senior quarterback Ryley Preece capped off his career with another state championship after winning the state championship as a freshman quarterback to begin his career with the Golden Eagles. Preece was two for five passing for 51 yards. He added 69 rushing yards on the ground on eight carries.
Johnson added 49 yards rushing and a TD on 11 carries. Rice followed with 46 rushing yards and a TD on 16 carries.
Seth Dalton caught a 46-yard catch and Zach Russell added a five-yard catch.
"I'll never say God is only on our side because God is good to everyone," Matney said. "But David was the underdog and when I took this job, they'd only won three games in four years. The principal came to me and he said, 'Jim you cannot say that you're not needed in Johnson County no more.' So I came and this is unbelievable."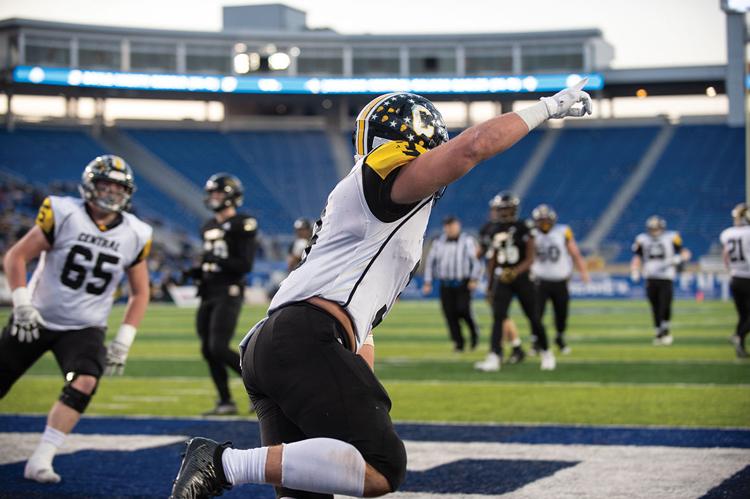 Johnson Central has played in five straight Class 4A state championship games.
The Golden Eagles finished the season with a perfect 15-0 record and their second state championship in school history.