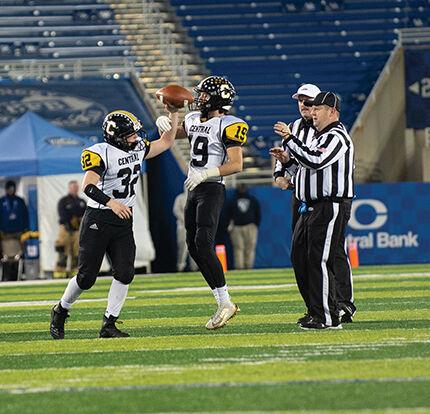 Johnson Central at Bell County
Who: Johnson Central (0-0) at Bell County (0-0)
Kickoff: Friday, September 11, 7:30 p.m.
Location: Dudley Hilton Stadium, Pineville.
Coaches: Johnson Central, Jim Matney. Bell County, Dudley Hilton.
Notes: Johnson Central is the reigning Class 4A state champion, while Bell County fell to Belfry in the Class 3A state title game 30-20 last season.
Both teams will look a bit different from last season because of graduation.
Johnson Central will return a strong offensive line with several starters back, but lose starting quarterback Ryley Preece and to rusher Devin Johnson.
Grant Rice will take the reigns at quarterback and Dillon Preston will take over the top spot running the ball.
Rice got some playing time last season, but was behind four-year starter Preece.
Once Rice gets a feel for things, he will try and put his own stamp on the offense.
He will probably be asked to run the ball some on top of throwing the ball in the Golden Eagle offense.
Preston is as talented as anybody and had a huge game in the state championship game against Boyle County last season. Preston finished with 97 rushing yards and a TD on 15 carries in the Golden Eagles' 21-20 win over Boyle County.
On defense, the Golden Eagles will have to replace several key pieces as well.
But Johnson Central returns plenty of talent and experience.
Bell County lost its do it all quarterback London Stephney.
Bell County lost eight total seniors from last season's team.
Stephney will be tough to replace.
The Bobcats will return leading rusher Brandon Baker. Baker will be a junior this season.
Baker rushed for 1,418 yards and 17 TDs on 156 carries last season.
Cameron Burnett returns as the Bobcats' top receiver. Burnett had 17 catches for 299 yards and five TDs.
Burnett, Dawson Woolum and Jonathan Lankford all got a few reps at quarterback last season backing up Stephney. Burnett completed five of his six pass attempts for 34 yards and a TD. Woolum completed his only pass for 15 yards; he also rushed for 564 yards and nine TDs. Lankford only had two pass attempts, but he didn't complete either of them.
Bell County also returns its top two tacklers from last season.
Hunter Bailey led the team with 133 tackles (98 solo tackles) and a sack last year; he had six tackles for a loss.Tyson Thomas added 100 total tackles and five sacks; 17 of those tackles were for a loss.
In the secondary, Lankford returns as the leader. He had seven interceptions and returned two of those for TDs last season.
The game will come down to who controls the line of scrimmage.
Both teams like to be physical.
Look for Johnson Central's offensive line to be a difference maker.
Who 2 Watch: The Golden Eagle offensive line.
They are big and nasty up front.
The Golden Eagles return four guys and tight end Zach Russell up front.
Look for Grant Bingham and company to physically dominate up front.
But on the opposing side, Johnson Central's defensive front will have to control the Bobcats.
If Johnson Central's offensive line does what its capable of doing, look for the Golden Eagles to walk out with a win to open the season.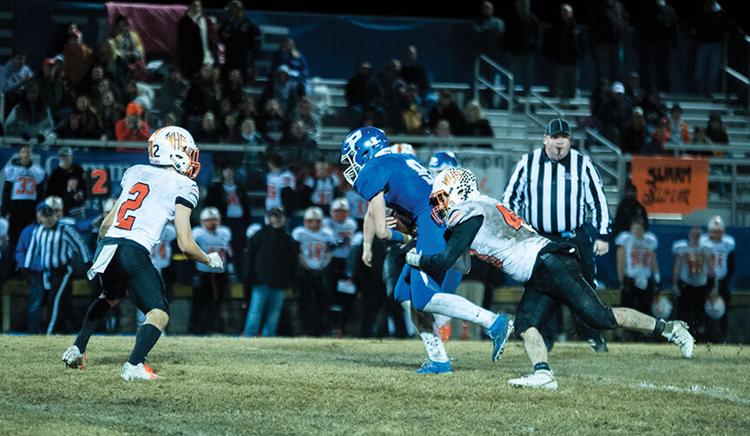 Paintsville at East Jessamine
Who: Paintsville (0-0) at East Jessamine (0-0)
Kickoff: Friday,September 11, 7:30 p.m.
Location: The Jungle, Nicholasville.
Coaches: Paintsville, Joe Chirico. East Jessamine, Michael Bowlin.
Notes: Last season, the Tigers clawed their way to the state championship as they went 11-4 on the season.
East Jessamine finished last season 9-3 on their way to the second round of the class 5A state playoffs.
Last year, the Tigers picked up a 41-35 win over the Jaguars at Paintsville.
East Jessamine graduated their top two running backs in Dylan Moore and Valdon Miles. The two combined for  nearly 2,800 rushing yards last season.
The Tigers are returning one of the most experienced offensive lines in the state. The Tigers return all five starters up front from last season.
Paintsville rushed for north of 3,000 yards last season and the running game will be just as important as last season.
Last year, then junior Paintsville quarterback Jake Hyden threw for 306 yards and three TDs while also rushing for 63 yards and a TD for the Tigers.
Hyden's No. 1 target in last season's contest was John Phelps who has now graduated.
However, Hyden is returning his No. 2 target, Harris Phelps, who is expected to have an increased role in the Tigers offense.
Defensively the Tigers did what they had too to hold off the Jaguars.
Who 2 Watch: For Paintsville, senior Jake Hyden.
Hyden had a fantastic season last year.
He has experience and knows how to play in big road games.
Hyden's experience could be a difference for the Tigers.
The senior is an exceptional dual-threat player and he can beat teams with his arm and his legs.
If Hyden has a big game, look for the Tigers to have a chance to pull out a big road win over a Class 5A opponent.