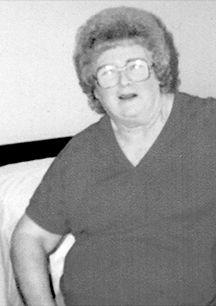 Gladys Ratliff
1929-2019
Funeral services will be held Saturday, June 9, 12 p.m. at the Fairview Free Will Baptist Church for Gladys Mae Ratliff, 89, who died Wednesday, May 5 in Magoffin County.
Gladys was born to Guy and Dessie Hannah Crace in Johnson County. She was a retired employee of the Johnson County Fiscal Court, where she worked as a custodian. She was also preceded in death by her husband, Hassell Ratliff; two sons, Larry Ratliff and James Dean Ratliff; two sisters, Anna Jewell Hitchcock and Ernestine Spurlock; and three brothers, Charles Crace, Fred Crace and Raymond Crace.
Surviving are two son, Garry (Donna) Ratliff and Michael Ratliff, both of Staffordsville; four brothers, Guy Franklin (Ernestine) Crace of Dayton, Ohio, Leon (Phyllis) Crace and James W. (Yvonne) Crace, both of Staffordsville, and Eulas (Vicki) Crace of Paintsville; three grandchildren, Gayla (Richard) Adams of Grayson, Miranda (Mark) Caudill of Leander, and Tabitha (Joe) King of Staffordsville; and six great-grandchildren.
Burial will follow in the Ratliff Cemetery at Staffordsville.
Arrangements under the direction of the Paintsville Funeral Home.
This is a paid obituary.