Dr. Maurice Hall
1921-2020
Dr. Maurice M. Hall, 98, of Paintsville, passed away peacefully at his home on Davis Branch, Tuesday, January 21, 2020.
He was born in Frankfort, Kentucky, on December 31, 1921, the eldest son of the late C. Mitchel & Hester Rice Hall. He grew up in Jefferson City, Missouri, but, spent his summers in Johnson County with grandparents J. Melvin & Ella Davis Hall. He graduated from the University of Missouri and later LSU Medical School. He proudly served both in the Army (1943-1946) and the Air Force (1951-1953), the latter as Flight Surgeon, attaining the rank of Captain.
"Doctor Maurice" practiced as a GP and obstetrician for 50 years, retiring at age 75. He delivered hundreds, if not thousands, of babies on Johnson County. He was an avid golfer, a tireless grouse hunter, a world-wide traveler, and an ambitious hiker from Alaska to Switzerland and on the Appalachian Trail. He loved nature and the outdoors, raising bird dogs, his wild flower garden, and his beautiful azaleas. Most of all, he loved Johnson County, its history, and its people.
He was preceded in death by his wife of 71 years, Adele Wells Hall. Surviving are three children; Thomas A. Hall (Anne), Susan Hall Schultz (Randy), and Alan M. Hall (Mary); and one brother, Paul R. Hall (Vicki). Also, five grandchildren: Brett Montgomery, Amy Hall Aquadro (Trey), Zachary M. Hall (Abbey), Alyse Schultz Paquette (Alex), and Jackson Hall, and nine great grand-grandchildren: Ashley, Abby, Alice, Leo, Wesley, Adele, Audrey, Sam, and Adelyn.
The family asks that in lieu of flowers, donations be made to the James McHenry Davis Cemetery Trust.
Visitation at Jones-Preston Funeral Home on Friday, January 24 from 1 p.m. until 9 p.m., and noon on Saturday, until the funeral service at Jones-Preston Chapel at 1 p.m.
Burial to follow in the Davis Cemetery on Saturday, January 25.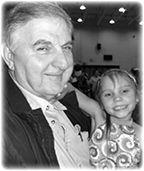 "Buddy Boy" Stanford
1945-2020  
Robert Earl "Buddy Boy" Stanford, 74, of Williamsport, Kentucky, passed away Wednesday, January 15, 2020. Robert was born October 18, 1945 in Magoffin County.     
Funeral services was held 11 a.m., Monday, January 20, 2020, in the chapel of the Phelps & Son Funeral Home followed with burial in the Highland Memorial Park, Staffordsville.
Arrangements were under the direction of the Phelps & Son Funeral Home.