Two licensed Johnson County professionals are bringing a big-thinking new aviation company to serve the entire region — but they are not based out of any airport.
Only a few months ago, Mike Tramel and Joshua Price founded Kentucky Aerial Technologies, a company based out of West Van Lear specializing in drone photography.
Already, KAT has joined with the Shaping Our Appalachian Region initiative as a unity partner. KAT is also planning in the coming months to create educational materials for newcomers and hobbyists interested in drone flying, and help them better understand the Federal Aviation Administration regulations on drones.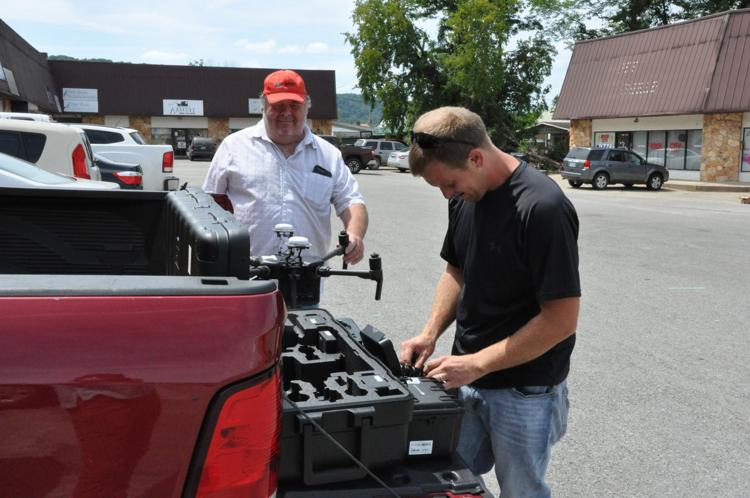 During the storms on July 4, KAT flew a drone over downtown Paintsville to survey the damage.
But drones are much more than just high-flying footage of landscapes and towns — high-end technology built into the drones Mike and Josh use mean they can do much more.
Infrared cameras together with GPS technology can provide emergency management officials with help finding stranded people in search and rescue operations, or help the police find fugitives without sending a full-size helicopter into the area. Thermal differentiation can help them measure the fluid levels in massive cisterns, and their cameras can survey and map out complex topography, for instance to measure the volume of giant coal piles using automated photogrammetry. And of course, the stable, high-definition footage from a unique perspective make them the perfect auxiliary videographers for selling real estate or putting together keepsake videos for events like weddings and birthdays.
Later this month, Price said the group has been hired by an environmental group do a census of bats under a bridge in West Virginia.
Tramel said these myriad industries in need of drones have the choice of investing their own thousands of dollars in equipment and hours into training, licensing and practicing its usage; hiring amateurs who are not properly equipped, licensed or insured, and face thousands of dollars in FAA fines; or bring a group like KAT on board to help.
"We set the company up right, and wanted to be not just your average group. We want to be the go-to drone company," Tramel said.