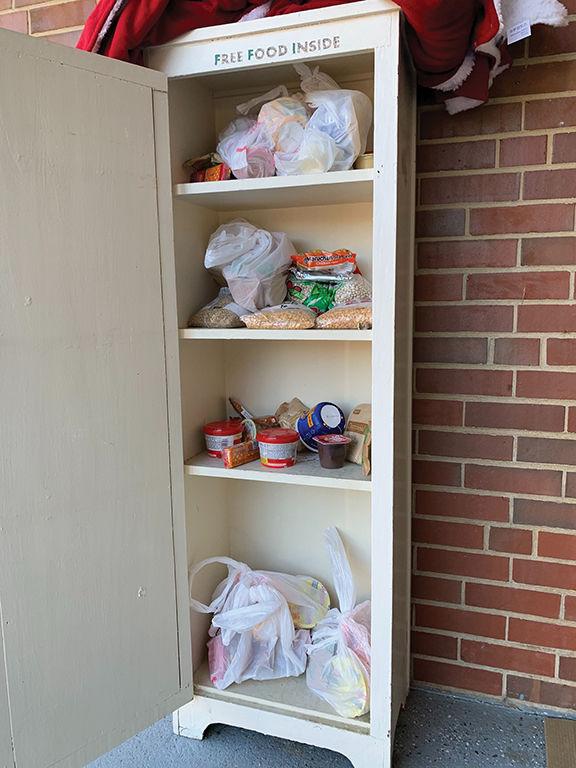 For over one year, W.R. Castle Elementary School has served the Johnson County community's less fortunate through their new Blessing Box program.
The box, located outside the front doors of the school, is an unlocked cabinet that is consistently filled with free food and necessities for anyone in need.
W.R. Castle's Family Resource Director, Shelley Lemaster, said any donations are welcome.
"Anybody can come leave stuff. You can bring anything you want, even perishable food items, because it's usually gone by the evening. We've never had an issue with anything spoiling. It goes the same day," Lemaster said.. "I'm filling it up twice a day now. Yesterday I filled it up around 10 a.m. and usually it's empty by about 2 p.m."
Lemaster said that the items contained in the Blessing Box are free for anyone to take, not just students and their families. She cited the support her students already receive from community partners as a reason for the Blessing Box being open to all members of the community.
"I let anybody take it," she said. "Paintsville Church of Christ and another (organization) called Soul Food, they donate food and give me like 30 bags for our Backpack Program. It's filled with snacks for the kids for the weekend, so my kids here at school are fed. So, usually if they're fed, they won't be the ones to use the Blessing Box. I just feel like the community doesn't have (as many options)."
She also felt it was important to note that the Blessing Box is under no surveillance.
"If people are seen going and doing stuff, sometimes that kind of stops them," she said. "So I make sure to let them know there's no camera out there, no requirements out there, you come and take as you need and nobody needs to know anything. I've been in that situation and it's hard."
Lemaster said that anyone can donate food, blankets, coats and warm socks to their Blessing Box and that she hopes to inspire other organizations to create boxes of their own.
"More people could do it," Lemaster said. "I have no funding at all for that. There's just so many little things we can do. You have to think, I'm far away. We could just take little things from our houses, even, and start filling them up other places."
There are a few organizations within the City of Paintsville that are participating in similar charitable ventures, such as those with boxes located at Johsnon County Middle School (sponsored by the student council), Paintsville High School (sponsored by Fellowship of Christian Athletics), First United Methodist Church of Paintsville, and the First Baptist Church of Paintsville.
As a whole, Family Resource Centers located in W.R. Castle Elementary, Flat Gap Elementary, Highlands Elementary, and Porter Elementary schools work with many community partners and take donations such as socks, undergarments, clothing and school supplies.
"This helps eliminate barriers so our kiddos can be successful," said Lemaster. As the slogan painted on the Blessing Box says, "Take what you need, give what you can, above all be blessed."