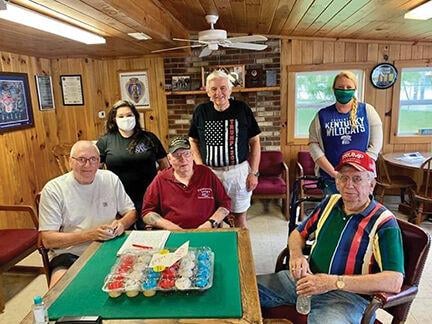 Despite the major effects of COVID-19 on the community, the state and the nation at large, Paintsville's Veterans Referral Center and the American Legion Youth Group that they sponsor, United for Hope, have kept the doors open for local veterans and have continued to serve Johnson County and beyond.
Alyssa Poston, an active member of the youth group and a junior at Johnson Central High School, said, "For the past five or six months, we've been going over to the Church of God and passing out food for two to three hours every Tuesday. Of course, when we're there we have to sanitize our hands after reloading each car. We don't let anybody out of their vehicles so there's no close contact and we keep the social distancing.
We also do little activities with Veterans so they're not stuck in their homes," she continued. "We've had pancake breakfast and stuff with them here."
Aside from primarily helping veterans file for the benefits entitled to them, the center hosts events and activities such as chair yoga, painting, arts and crafts classes, and trainings on PTSD awareness and more, said VRC volunteer and youth group parent Stephanie Rodriguez.
"Before all of our activities we do here at the center we do temperature checks and things like that. We do have a very large room in the back where we can easily social distance. It works out really great," she said.
According to Veteran and United for Hope leader Mark Rodriguez, the decision to keep the youth group active was well thought-out.
"We sat down with the parents and looked at it," he said. "Even though there was a big fear of the unknown, everybody kind of came to the same consensus that as long as we do the recommended safety precautions, keeping the kids moving and keeping them active is more benefit to them than locking them up and totally isolating them. If you don't do that, a lot of them start missing their friends. You start worrying about a lot of mental and physical issues. By doing this, we allow them to come out. We keep our group small or we keep a distance from others not in our group. We wear masks and do a lot of hand sanitizing.
"We have had zero instances of positive COVID tests as a group or within any of the places we deal with," he continued.
The VRC and United for Hope work in harmony for the benefit of veterans, the youth group members and the community. Youth group member and JCHS junior Levid Rodriguez stated that this gives his life meaning.
""Being able to help with the veterans and our community definitely helps give my life meaning. It feels good to make a difference somewhere and to feel like you're helping somebody," he said.
The VRC has continued various planned events, including a way to honor those who have served last week on September 11.
"We had some veterans here that come here every day," Stephanie said. "On 9/11, we had some cupcakes here for them and interacted with them. We talked a little bit. It was something very informal and just a way to spend the day together on a day that might be a little heightened in anxiety and stress. It was nice to see everyone and put a smile on their face. Anytime you get them some sugar, of course, they love it."
She also thanked Cash Express of Paintsville for donating the cupcakes.
The center also recently hosted a golf scramble with several community sponsors to raise money for the VRC and scholarships awarded to members of the youth group.
According to Mark, most of the people who take advantage of the local VRC are Vietnam and Korea era veterans and their families, although they try to reach out to younger veterans as well. For him, keeping the doors open is vital to the well-being of veterans.
"I do honestly believe that if the veterans were to stay isolated and do what we were doing in the early beginning of COVID, some of them wouldn't be here," he said. "This is their stress relief. They come here to play cards and to socialize. A lot of them will tell you that if they stayed inside like everyone told them to do, they'd take their own life. If you look at statistics right now, a lot of Veterans are doing that," he stated.
For more information on the upcoming events planned at the Veterans Referral Center or how to obtain veteran benefits, visit them on Facebook or call the center at,  (606) 789-7587.