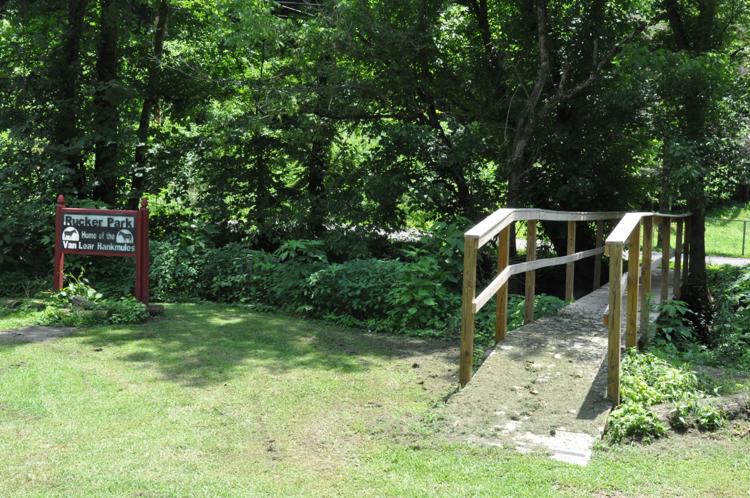 With the help of some local sponsors and volunteers, Van Lear's Rucker Park is looking brand new again. A small ceremony of thanks was held Friday afternoon for those volunteers.
Tina Webb with the Van Lear Historical Society said Lowe's of Paintsville donated volunteer time and equipment to construct a new bridge over Miller Creek, new playground equipment for the park, and acquired a contractor to remove and replace the shelter area, complete with four new picnic tables. The area was also mowed, weeded and pressure washed.
"All the work that's gone into it, the building here of this fine picnic area with all the tables, what a beautiful, perfect job has been done," Joe Hill said. "They also told us they had a lot of fun while they were here."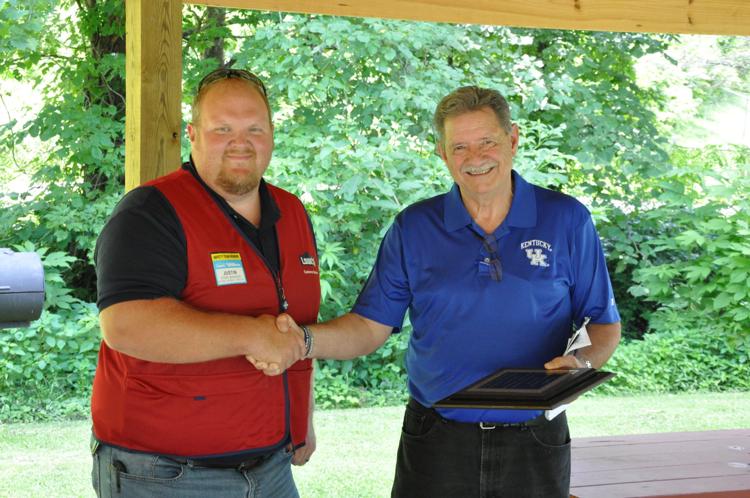 Webb said volunteers also repainted the outside of the train caboose that sits in Rucker Park, with original stenciled logos printed out by Big Sandy Community and Technical students at the Mayo campus.
Lowe's of Paintsville store manager Justin Creech said this park renovation was their "Lowe's Heroes" project of choice.
"We always look in the areas we serve for opportunities to beautify, clean up or benefit the community. In Van Lear, I got to meet Tina and learn so much about the area through the museum," Creech said. 
Lowe's also provided the Van Lear Historical Society with new bathroom fixtures for the town's museum.
Creech said some of his employees still live in Van Lear and take pride in their hometown. Creech was named an honorary Van Lear Bankmule at Friday's ceremony. Webb said Castle's Jewelry of Paintsville provided the plaque they were able to present to Creech.
The park's namesake and one of the original builders of the park's first bridge, Bill Rucker, 95, was also recognized at the ceremony.
Hill said the volunteers that helped included: Justin Creech, Monika Marcum, Joe King, Scott Ray, Sabrina Paige, John Goble, Katrina Saylor, Bernice Samsone, Terry Spencer, Taneisha Howard, Jessica Howard, Cheyenne Kimbler, Terry Cantrell, Daniel Ward, Jeff Keltner, Timmy Paige, Randy Salvage, Jerry Hannah, Weston Miles, Matthew Couch, Amber Johnson, Rob Johnson, Donyel Bowen, Travis Stidham, Brent Ratliff, Johnny Baldwin, Chad Stout, Henry Blanton, Hardin Ritchie, Tammy Click and Brandon Gullett.