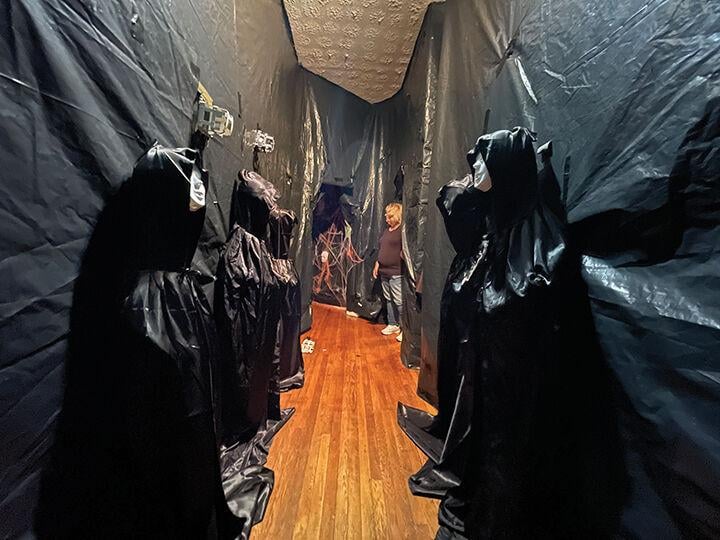 With a history stretching all the way back to 1913, when it functioned as the Consolidation Coal Company's office and several other businesses in Van Lear, what is now known as the Van Lear Coal Miner's Museum is celebrating another, shorter anniversary this year — its 20th year hosting the "Haunted Museum."
The Haunted Museum functions as a fundraiser for the Van Lear Historical Society, which Vice President and Museum Director Tina Webb said has become vital to the museum's operation since its
inception in 2001.
"I started in 2001, of course, I've always loved doing Halloween to begin with, with my kids, but when I started here, we needed another fundraiser and I liked doing it, and it was a handful of people that I had to help me, so I took $300 and decorated, brought stuff from home, and we were open that one weekend, just trying it out," Webb said.
Webb said she was happy to see that it has continued to grow and she's especially thankful for the help of the Main Street Players, who have been involved in the Haunted Museum for the past three years.
"We didn't cover the walls, I was on a rickety old wooden ladder and pushing push pins into the window frames just to keep out the light, and that's how that started, so it's progressed, so, yeah, it's grown," Webb said. "Plus, we have the Main Street Players with us and they've been with us for the past three years — they've been extremely helpful."
Being born and raised in Van Lear and a lover of history has led Webb down this path, she said, along with a belief that our county's roots in the coal industry and what that history looked like is important to preserve.
"This is a non-profit, a total volunteer operation on everybody, including me, there's never been a paid employee, including me, and I was born and raised in Van Lear," Webb said. "I wish we had a building we had that's as big as this and even if it wasn't two floors — so we wouldn't have to take our museum down for the haunted house, but we don't."
The kicker, Webb said, and what makes this a unique location is that there has been purported evidence by several different individuals and groups of actual paranormal activity at the museum, which housed several businesses for the entire city of Van Lear during its hayday and, according to Webb, who said she spends a lot of time in the building, one can often hear (and feel) the remnants of that time.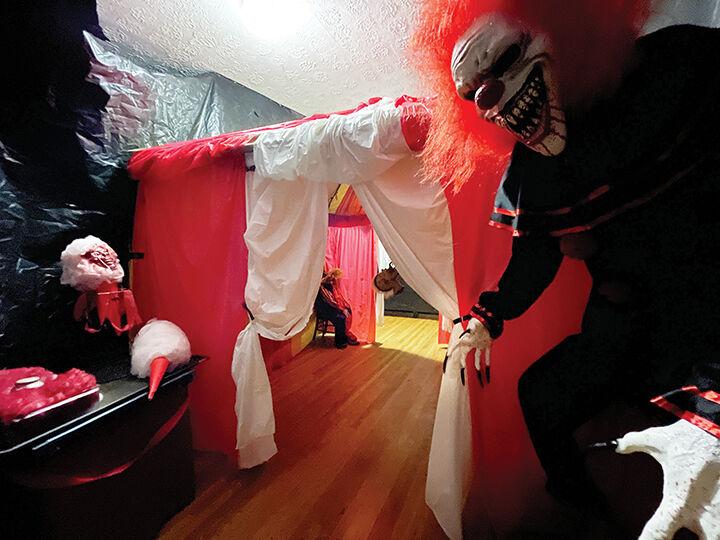 "It is very much haunted, that's been proven over and over and over," Webb said. "You can actually talk to them, whether it's by recorder or whatever, and, let me tell you something, it was so active in here the other night that you didn't want to be here ... actually, you can sometimes hear meetings going on in the building, and you hear kids, and I've actually sat in this office here and listened to a horse walk across that floor in Icky's, but it was really cold  in the winter time, so I'm assuming it just came in to get warm. There's sometimes you just get this eerie feeling and it's just like, go."
If one knows the history of the building from the time of its inception to now, none of these occurences would have been out of place in the early 20th century as the building functioned not only as the Consol main office, but as a barber shop, jail, doctor's office, general store and more.
"The building's 108 years old," Webb explained. "It was their office building, which was the post office, bank, doctor, dentist, barber, city offices, jail, Masonic lodge, all of the engineers for the mines, everybody was right here. There was a beauty shop at one time, so it was different things throughout the years, and back in those days, they had to come here, everything was here."
Webb said that, although the museum's haunted history could be seen as setting it apart from other local haunted house attractions, she does not at all feel in competition with other haunted houses in the area, as she believes in "the more, the merrier," and that having several attractions of this nature helps to bring in tourism from outside the area, which is often a focal point for a our local economy.
"We like that. I have nothing against any other people having haunted houses, because people away from here don't want to travel in here just for one, they want to come and see a bunch of them in that night that they're here, it helps the draw," Webb said. "I know we're out of the way, but this place is actually haunted."
Webb said that a lot of work goes into making the attraction run each year, since it has grown to include two nights a week all throughout October and requires storing all of the usual museum exhibits — so to have it continue to function has been a coordination of many people, all of which she is thankful for.
"I'd love to see as many people as possible come out and support us and enjoy what we've put together, I think we're always getting better and we now have 20 years of experience at putting this thing together," Webb said. "It's taken a lot of people over these years, it's taken a heck of a lot of people, so I'm incredibly thankful to all of our volunteers, and it's just been a handful of people that have been here with me from the get go, and we call them the Original Four, and that's Debbie Burton, Tikena Castle, Brian Castle and myself, and they've been here for the entire 20 years. I'm so thankful for all of our volunteers and I want everybody to come out and support and hopefully get scared."
The Van Lear Haunted Museum operates on every Friday and Saturday this month, barring Oct. 30, which Webb said she leaves open for trick or treating as many of the volunteers who work the house either have kids or attend Halloween parties on that night. The museum opens at 7 p.m. each night and sells tickets until midnight.