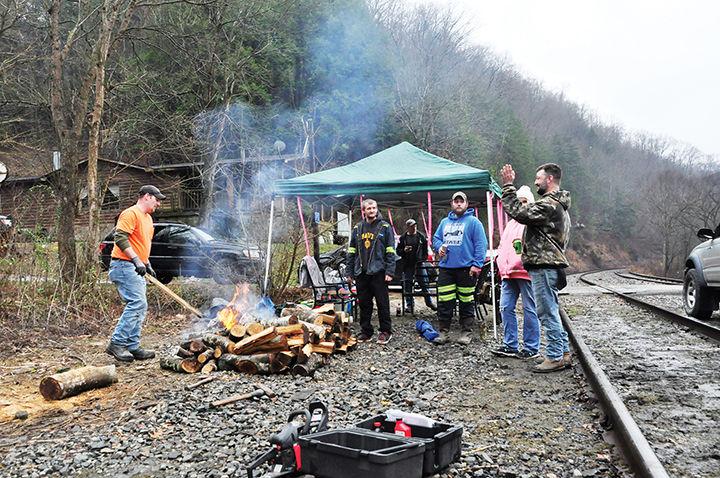 KIMPER — Several unpaid Pikeville miners blocked coal from being moved at the Blackburn Bottom railroad intersection near Kimper on Monday afternoon. After not receiving all of their pay on Tuesday, the miners continued their protest until Wednesday evening, when they and their fellow miners were paid in full.
Quickly, their protest captured the attention of local, state and national legislative officials. Although they were criticized by their employer, the miners gained support from many in the community.
On Monday, the miners at Blackburn Bottom contended that they and about 50 of their fellow employees had not received paychecks since Dec. 27 by their employer, Quest Energy Inc., a subsidiary of American Resources Corporation. According to two miners' pay stubs, they allegedly were paid on Dec. 27 for the work they completed Dec. 9-22, and they said the funds were delayed until Dec. 30.
One miner from Pikeville, who declined to give his name out of fear of retribution, said he and his fellow miners decided to "take a stand" by protesting and blocking the train. He said he has worked in the coal mines for about eight months, and he did not have another job available for him if he was laid off from his current position.
"The reason we're out here and the reason why we stopped this train is because we're tired of empty promises," the Pikeville miner said. "It's always tomorrow. It's always tomorrow. Tomorrow never comes."
The miner said his employer, Quest Energy, had "never been on time" with its payments, and the funds were often delayed for
several days past pay day, which made he and his wife live "paycheck to paycheck."
"All each one of us men want is what we're owed," the miner said.
Dusty Maynard, an electrician with Quest Energy, said on Tuesday that he had also not been paid since Dec. 27, and he joined the protest with his fellow workers because he wanted what he was owed. He said his position as an electrician at the mine is his family's primary source of income, as his wife stays at home to take care of his two children. He said he has worked in the coal mines for about 20 years, and he has worked for Quest Energy for two years.
"I'm not trying to throw anybody under the bus," Maynard said. "All I want is my pay. I think that's only fair. Never, never in my life did I think I would stand here on a rainy day on a train track holding a train. I never in my life thought that it would come to this, but evidently, it has."
On Tuesday, Quest Energy Inc. released a statement on the company's public Facebook page, responding to the miners' protests. The company said in its statement that it has received "positive and supportive messages" from "all the hard working men and women of its company" and it will "continue to fight for them" for "many years to come."
"(It's) unfortunate that although these few men were paid their wages that they continue to refuse to leave the train tracks for their own personal gain at the risk of so many of our wonderful employees," the company's statement read. "We don't hide behind the fact that (it's) tough in the coal markets today, but we are fighters. We pray for better times, yet we will fight to continue to provide jobs in eastern Kentucky. We have always paid everything we ever owe our employees and will continue to do so. There has been times when pay has been delayed, but we have always paid."
On Wednesday morning, Maynard confirmed to the Appalachian News-Express that the miners were paid two weeks of backpay by their employer on Tuesday, but he said that they had not received their pay for last week's work.
The miners were also allegedly given an ultimatum by Quest Energy: Leave the property or lose your job. One of the miners at the site, who declined to give his name, said that he does not believe he would get all of the money he has earned if the men stopped their protest.
"If that train rolls out of here, we're not getting paid," the miner said.
Although he would rather leave and go home, Maynard said, he decided to stay until he and his fellow workers were paid in full.
"When I walked up on this hill on Monday, I knew I was probably going to be fired," Maynard said. "We all knew it. I've worked for them (Quest Energy) for two years, and I love the mines. I've never taken days off from work. I've only been gone from there for three days, and it's eating me up. I don't want to be here, but I've got to stand my ground."
By Wednesday evening, the miners packed up their supplies and left the intersection after being paid in full.
Maynard said that he was overwhelmed by the community's support for them during their protest. People from the community, Maynard said, dropped off food and supplies for them as they blocked the coal, and many others shared their support for them.
"Thankfully and luckily, the community has stepped up to support us, people we don't even know," Maynard said. "When we started this, I thought we were alone in this. I thought it was just going to be the six of us men. It's really touched my heart. That makes me feel good."
This was the second time within six months that Kentucky miners blocked coal from being moved in response to not being paid on time. In September last year, miners employed by Kentucky-based Blackjewel Mining LLC in Harlan County protested and blocked coal for more than six weeks in response to not receiving their paychecks.
American Resources operates four mining complexes located primarily within Pike, Knott and Letcher counties in Kentucky and Wyoming County in West Virginia, with additional mining operations in Sullivan and Greene counties in Indiana, according to its official website.
This was also not the first time that complaints had been made against American Resources for not paying its employees.
In September last year, after Cambrian Holding Company, Inc. filed for Chapter 11 bankruptcy protection in June, American Resources closed on the purchase of Perry County Coal, or Perry County Resources, leading to a majority of employees being laid off.
As of Jan. 9 this year, many of those employees have also made complaints to the Perry County Judge-Executive Scott Alexander about not receiving their paychecks. Alexander told the Hazard Herald that his office has started seeking help for the employees from the U.S. Department of Labor to receive their wages.
U.S. Sen. Mitch McConnell released a statement on Tuesday about the Quest Energy protest, calling for the company to pay the miners what they were owed.
"These miners should be paid, and the company should do it without delay," McConnell said in a statement. "Not paying these miners for their hard work is unacceptable. I will continue to closely monitor the situation in Pike County, Kentucky."
93rd Dist. state Rep. Chris Harris, who represents Martin and Pike counties, shared his thoughts on the situation through his public Twitter account on Tuesday, calling for Quest Energy to pay the miners what they were owed.
"This can't continue to happen to miners who are desperate for work," Harris said in his statement. "We owe it to them to make sure all the mines that are required by law to be wage bonded have posted the bond."