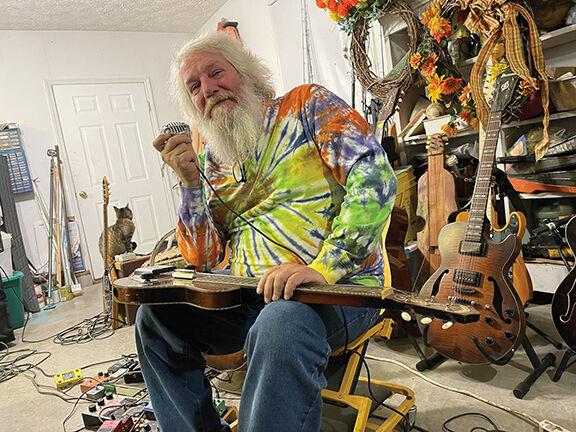 Tim Preston, a retired journalist, connoisseur of bicycles, guitars and friends, has made a habit of making stone soup wherever he travels.
Now, after living away from Johnson County for years, health issues with Tim and wife Alys have placed the pair back in town and bringing their ingredients to a pot of soup in the works, through volunteering with the Johnson County Trail Towns Committee as a bicycle enthusiast and whatever other services he can provide as a habitual storyteller and blues man.
If you haven't heard the old folk tale about stone soup, which harkens back hundreds of years, it goes a little something like this, with some variables depending on who's telling it: A traveler (or a group of travelers) arrive to a village with nothing to eat and ask locals to share some of their food. When the locals decline, the travelers walk down to a nearby stream and gather a pot of water, place it over a fire and place a varying amount of stones in it.
Curious, the locals approach the travelers and ask what they're doing. The travelers respond by saying that they're making stone soup, which is delicious, but that it would be better with a bit of garnish. The locals offer up ingredients one by one, each met with a promise of sharing in the soup when it's finished. Ultimately, the stones are removed and the travelers enjoy a delicious soup with the villagers.
The story is meant as a moral on the virtues of sharing and as a lesson that everyone can bring one small thing to the table and the resulting product is greater than the sum of its parts, Tim said. Ultimately, it's a tale that centers on the idea of "from each according to his means."
That analogy can carry over easily into the way in which he's chosen to live, whether he be the villager or the traveler, bringing stones or vegetables. The locus of Tim's life, according to him, has been about community since he grew up in Thelma with a bicycle-riding, train track walking group of young boys who would spend their days in downtown Paintsville and the mountains surrounding Thelma, riding the elevator at a local bank or dreaming of the day they would climb a nearby cliff face to camp at the top.
"I was born in Thelma, Kentucky, and went to Meade Memorial Elementary. I grew up here and realized very much that I had a childhood that was kind of like the Stephen King thing of Stand By Me. You know, it was me and Russ and Bobby and Rick, and we rode bicycles and this was a place where little boys got together on bicycles at 9 o'clock in the morning, and I don't know if that exists now," Tim said, transitioning then to his post-high school days. "I graduated from Johnson Central High School in 1982 and studied at what was then Prestonsburg Community College as the beginning of a series of failed college attendance kinds of things."
Fast forward through a list of colleges that Preston said no one wants to read — but, according to Preston, these were his "rockstar years," in the 1980s. Preston laughed and said he felt blessed that no photographs of him in spandex pants and wielding a pointy guitar had ever seemed to surface from the era.
"Amongst my greatest fears in life is that something from that tour in southern Ohio will re-emerge," Preston laughed.
Thus begins the story proper as Preston secured his first gig at a newspaper, the now-defunct Mountain Chronicle, a four-county paper established as a direct competitor to The Paintsville Herald.
"Got my first newspaper job, I was a student at PCC and the (Chronicle) … was established to be a competitor, straight up, for the juggernaut that was The Paintsville Herald," Preston said. "So, the Mountain Chronicle, that was an interesting introduction and I started out being basically a courier for them and I sold ads and I walked into their office on Court Street, and … the editor at the time, Roger Frazier, was having a staff meeting at the time, and he says, 'If anyone knows anyone, I mean anyone, that can write a story, we really need a reporter. We're desperate.'
"At the end of that meeting I went to Frazier, you know, while actively failing out of school, and passing English, which was the one class I did well in," Preston continued. "I said, 'Give me a shot at that,' I think I could do it."
Preston was then sent to cover a Johnson County Solid Waste Commission meeting, and during the meeting, he was somewhat starstruck by the presence of the chairman of the commission, "Cousin Clyde," as those present at the meeting spoke about a trash dump in Van Lear.  
During the meeting, Preston said Clyde turned to him and said, "If you turn off that recorder, I'll tell you a secret." Preston turned off the recorder promptly and Clyde said, "There ain't nobody buried in that cemetery in Van Lear."
Preston said he was hooked and the story speeds up from there as Preston and his wife moved about to various locales, writing news and being involved in more community groups and endeavors than one could imagine.
While juggling those projects, Preston was acting as the editor for the Grayson Journal-Enquirer and the Olive Hill Times — which tasked him with the endeavor to present the illusion that both towns had their own newspapers. Preston said he went to Carter County with the expectation that he was heading into a violent, drug-addled community  but was met with quite the opposite as he and Alys went out to enjoy the outdoor adventure tourism aspects of the area, from hiking and kayaking.
"I was reading the local paper and the person at the helm of that paper was a believer in the phrase 'if it bleeds, it leads,' … so anyway, I really had a chance there to blow some sunshine out of there. If I'm guilty of overdoing it, I'l take that lump, but I got away from murders and meth labs and got into, you know, 'World War II veteran down the road,' and 'young man plays a heck of a guitar.' Just good stories about good people doing good things," Preston said.
Bicycles and pedal-powered traversal machines have been an oddly-constant part of Preston's life after he bought a "rusted out" $20 Schwinn at a yard sale and rode it one night on a dare issued to himself and ultimately led to an upgrade and then the eventual theft of that upgrade, as well as approximately 40 pounds of lost weight for Preston.
"One day, I was riding my (bike) around and I'm all out of breath and I stop by the house and I go in for a glass of ice water and come back out and, well, bike gone," Preston said, adding that a friend then dropped off a brand-new bike from Walmart's online shop and left it in Preston's driveway.
As he sat in his carport and built that bike, it became an epiphany.
"A dude gave me a bike, a brand-new bike right out of the box, and so I started my grand experiment of buying $5 bikes at yard sales, and wouldn't pay more than $10 for one, and people started bringing me bikes and we found out that there was a great demand for used bikes and that was in the world of people in recovery," Preston said, adding that the jobs available to recovering addicts were, at the time, very limited and very low income. "You know, 14 hours a week, at that time, at absolute slave wages. You can't get a car and insurance and drive to your Wendy's job for 14 hours a week. So, bicycles were a good solution."
Preston said that he would rework these cheap bicycles and give them to addicts outright. He laughed that they figured the metrics on it at one point and approximately 40-percent of the bike they gave away went straight to a pawn shop but the other 60-percent were put to good use and, as far as he knew, many of those bike recipients went on to recover and re-enter a normal life.
During his run in Carter County, Alys had a stroke and then Tim broke his leg.
The break left Preston on a long road to recovery as he laid in bed for eight weeks and Alys had a devastating stroke.
Those two events were life-changing, Preston said, adding that the stroke was difficult to navigate despite knowing for a long-time that it was likely coming.
"Christmas Day, 1987, my wife got up, poured herself a cup of coffee, turned, took three steps and had a major stroke and crumpled to the floor. I was right there, I couldn't catch her in time. This is the 'life changes in the blink of an eye' thing. I've looked for opportunities for stroke awareness and we did have a couple of warnings," Preston said. "However, when it happened, our lives changed entirely. I was still actively being the editor of two newspapers and, fortunately, I had an absolutely heroic reporter at the time, Jeremy D. Wells, who just stepped up and made it happen … I can't imagine being put in that position … I've never had a chance to properly thank the guy. It was absurdly heroic how he stepped up there.
"It goes without saying, it changes your life and it changes your priorities," Preston continued. "As a journalist of a hometown newspaper, you're never off the clock, and I was guilty of that on steroids. I lived it. That was my identity. When you're faced with the reality of, you know, the woman that you love has had a life-altering event, it changes your values … Alys was a rock-climber, a hiker and a biker when this all happened to her."
Now, Alys continues her recovery and continues to be an inspiration to Tim, he said.
"Alys continues her recovery today and she's inspirational. Six months into this and I would have been gone, like 'see ya,' and Alys will do or say something tomorrow that inspires me to be a better person," Preston said. "I don't know how she does it, but she does."
Preston said that, with the brain damage that comes with a stroke, Alys' personality changed and her temperament mellowed quite a bit, and she has, through that change, continues to teach him patience and other important lessons.
"When someone has a stroke, they have, inevitably, a personality change … she's not as quick to anger now and she's more accepting of things than I would be, so she teaches me. I learn from Alys everyday," Preston said, adding that now, his profession is to be a caregiver for his wife thanks to income provided to him by the state as a caregiver. "So, I broke my leg, I recovered from that … Thanks to the state of Kentucky, I am now paid to be Alys' caregiver, which I was doing anyway and also trying to figure out means of income and that kind of thing, but that's how I pay my bills and buy groceries."
Then, just as the two thought they had gotten past that struggle, life hit the pair with another curveball.
"So, we get through that, and we're like, 'Oh, god, can't believe we're finally through that,' and I then got hit with, and this is kind of the result of the leg stuff, a condition called C. diff, and it's kind of your body's reaction to too much antibiotics," Preston said. "It's a truly horrible condition, it's just awful. Like, think-you're-going-to-die kind of stuff. That knocked me out and I was hospitalized for quite a while, and the rescue effort by my family and friends was amazing. They scooped Alys up and got her to Johnson County and got my dog down here.
"Through this all, and I have a second point I want to bring up, my dog was neglected," Preston continued.
Preston said that he felt he lost his mind through a combination of the stroke, the broken leg, the C. diff and the pandemic effectively killing his all-online publication, the Carter County Post.
"With the nature of the shutdown that happened, I really couldn't do (the Post), and my readership dwindled and that hit me on an emotional level, and Alys' health hit me on an emotional level and my own anxieties – if you lump everything I was dealing with into one nice little word, it was 'anxiety,' and yes, you can worry yourself sick and you can worry yourself to death and I'm not trying to be dramatic," Preston said, at this point fighting back tears. "There came a day when I called 911 and had them send an ambulance because I was just there, okay? That's when, really, thank God for the people around me that I had and my family, that basically just scooped me up and brought me to Thelma, where I arrived in a very physically compromised position."
Preston said he was initially so weak that I couldn't make it to the front door, and that, living next to the railroad tracks, the trains used to drive him crazy. He said, however, that as he laid in his parents' house, recovering, he was reminded of a "rail fan" he had once met, a member of a group of people who are exceedingly enthusiastic about trains and know their every facet and follow trains and stake them out for photographs and just to see them.
"It occurs to me that all of these rail fan people out here would just be dying to live where I live," Preston said. "So, I started making my little trudge and photographing trains going by and that graduated to videos."
That photography, which has always been a facet of Preston's professional life, served as a motivation to get him moving again and ultimately led to his recovery and seeking out those photos had produced a reflection on the beauty of Johnson County and this area of Eastern Kentucky in particular.
"The other things that I've found here, the things that you'll see me doing on a regular basis on social media, the mountain I take photos of or the river I take photos of, are things that, when I lived away from here, I knew but didn't know. I knew when I lived in other places, as beautiful as they were … no place compared to here and that became really apparent to me when I was in Boyd County and more apparent to me when I lived in Carter County and the way the land rolls, and the people are different. We're first cousins, so to speak, so we're not that far removed, but we're far enough removed to be different."
Circling all the way back to that stone soup, bringing in Preston's propensity for riding bicycles and being involved in outdoor adventuring, Preston said he was excited to be part of what Trail Town is doing.
"I've been very rewarded, I've found some very great, like-minded people along the way, like my buddy Greg, we ride bikes together and make fun of all of our other old friends who lost all their hair," Preston laughed. "The people with the Trail Towns Committee, that was a project that I caught that hit my radar years ago, and I'm like, 'I'm really proud people in my hometown are doing this, this is cool,' so to come back and get to be part of that, especially at this moment where they're actively paving the Dawkins Line Rail Trail … I'm excited to be part of that."
Looking forward now, as Tim and Alys recover to functional levels, after all of the tribulation, all of the places Tim and Alys have gone, he's found himself back in Thelma, playing guitars and riding bicycles. That isn't a path backwards, according to Tim, but a path forward. He intends to take those two things and push forward, he said, as he aims to help in any way he can with Trail Towns' bicycle-centric endeavors and aims to put together a solo acoustic set to hopefully perform at Alley on Main.
"I like the idea of contributing to my local community and the expression of 'people in this area.' I never want to be a full-time news guy again in my life, under penalty of death," Preston laughed. Goals for the future would be, I want to get Alys a pedal-assist bike so that she can join me and my buddy Greg, riding the Dawkins Line Rail Trail and others as she continues her physical improvement and I want a gig at the Alley on Main and to continue playing the lap steel guitar."
The Johnson County Trail Towns Committee will remain Preston's number-one priority, he said, as he believes in their mission and has enjoyed everything he's done with them so far.
Preston's already been part of hosting a trike ride for seniors as a member of the Trail Towns Committee, and he's been practicing that acoustic set, too.