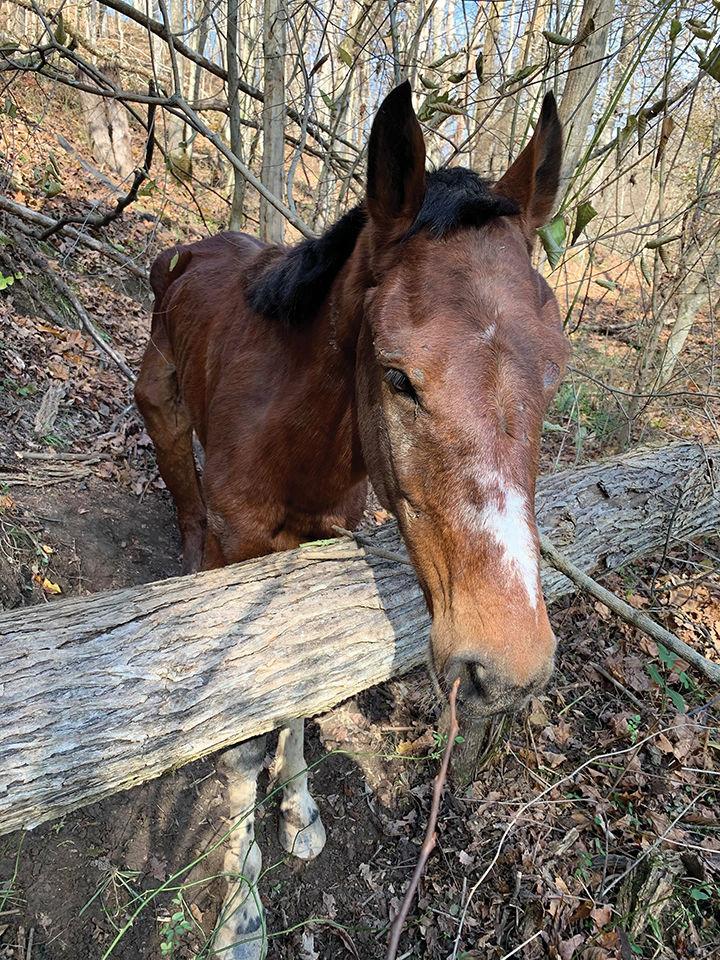 When thinking of the responsibilities of a Johnson County Sheriff's Department Deputy, enforcing laws, investigating crimes, patrolling the county, making arrests and responding to emergency events readily come to mind. Even when off-duty, one might expect those deputies to lead by example and prioritize the welfare of others in their life. For Deputy Chadwick Penix, the prioritization of such welfare extends to four-legged beings as well as the citizens of Johnson County.
Seemingly by chance, Penix has had the opportunity to rescue multiple animals while off-duty this week.
On Monday, Nov. 11, Penix was contacted by Flat Gap resident Haley Lowe for assistance in rescuing a four-year-old horse that had wandered onto her property.
"I was contacted by Haley about a malnourished Horse on her property," said Deputy Penix.  "She stated that the horse was kind of stuck in behind a fallen tree and the hillside. I knew with the weather coming in that if the horse didn't find shelter it had a high chance of expiring."
Members of Lowe's family had tried to free the horse on their own, with no success.
"Once I made it to the horse, Matt (Daniel) and JB (Hill) had already took a chainsaw to the log and the horse (had) made it down to the creek. It took a lot of coaching but the horse finally got out and on level ground. After examining the horse it was discovered that she and had a horrible left eye injury. The left eye looked to be blind and full of infection," said Deputy Penix.
The deputy said that Dr. Music of Highland Veterinary Clinic in Paintsville suggested the best course of action for saving the horse would be immediate shelter and treatment.
"Dr. Music had reached out to Tonya at Dumas Rescue out of Floyd County. I was able to make contact with Tonya and she already had Karen with Pleasant Springs Farm contacted about getting transportation for the horse," he explained. "Karen was able to make contact with me and I got her to the location of the horse. We all were able to get the horse loaded into the trailer and she (the horse) was off to be housed in Lawrence County. "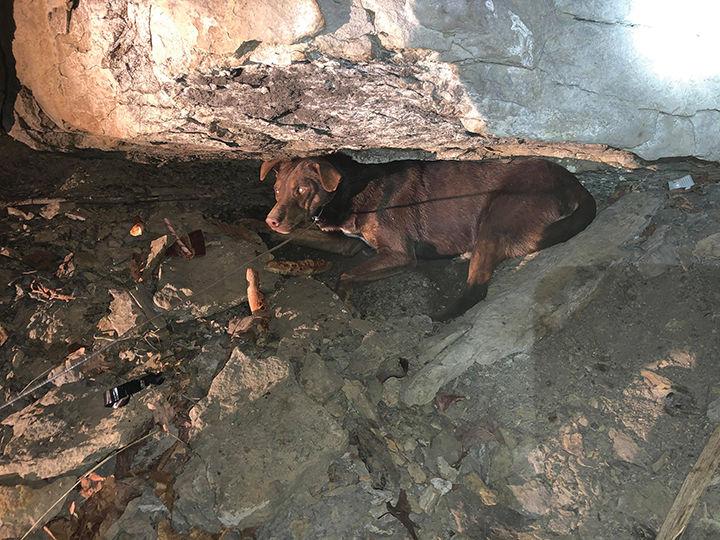 Sadly, Dr. Fugate with West Liberty Vet Clinic felt it would be best to humanely euthanize the horse after being called in to inspect the animal at its new location.
Although the horse had likely been malnourished over the course of several months and the owner had been located, no charges had been filed as of presstime Friday.
In a much happier turn-of-events, Penix was called to the scene of another animal in need of rescue on Wednesday, Nov. 13, again while off-duty.
"I was tagged in a post on Facebook about this poor dog being (stuck) in the rock wall on 172," he said. "So I went out and got her out and to the animal shelter."
Penix said it's natural for him to jump in to help rescue animals.
"I've always been an animal lover. When I first started with the Sheriff's Office, Mrs. Furcolow (a local advocate for animals) and myself became great friends," he said. "When I left out of here policing and went to Prestonsburg, it (his knack for animal rescue) stopped. Now that I'm policing in Johnson County again, it seems the word is out," he laughed.
"I don't care to come out and help any of these helpless babies. I know I can't save them all, but I can try to save a few."