Fifth Hollar, a coal town mystery series from the minds of Jan and Curt Lewis of Harrodsburg, began filming a third season of the show in Paintsville last week.
Set in the imaginary town of Raelin, Kentucky, the show features many local actors, law enforcement officers and familiar locations. According to creator Jan Lewis, the new season of Fifth Hollar will show scenes from downtown Paintsville, the Van Lear Historical Society Coal Miners' Museum, the Johnson County Sheriff's Office and more. Last week's filming took place on Main Street in Paintsville near locations like The CoffeeHouse, various antique stores and the City Parking Lot.
"When we were filming, there were several vehicles making trips up Main Street and people might see their cars going through," Lewis said. "It's surrounded with mystery and legend and unexplained things have happened. People have gone missing and nobody knows where they go. According to legend, people go missing for no reason.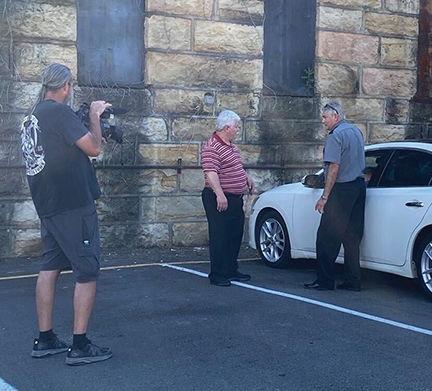 "When we brought the idea to Rick Roberts, who was introduced to us by (actor) Eli Harrington," said Lewis.
Roberts, a native of Paintsville with a passion for film, reportedly told Lewis, "I'm sure you'll be able to film that show down here in Johnson County and Paintsville would love to do the movie."
Lewis said that, after Roberts read the script and spoke with Mayor Bill Mike Runyon he told her "let's do this."
Lewis stated that Johnson County was the perfect location for filming the series and that the local actors, who auditioned for their roles, have a lot of talent.
"All of our characters have volunteered from day one," she stated.
The first season of Fifth Hollar recently concluded airing on Foothills and is available on the YouTube channel Fifth Hollar Coal Town Mystery Series.
Lewis stated that the second season of the series will be premiering on Foothills soon.