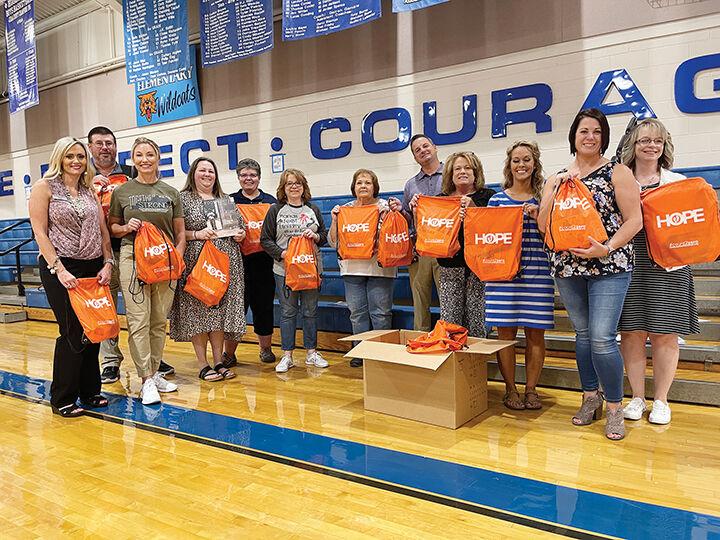 On Aug. 6, Family Resource and Youth Services Center directors from all elementary schools in Johnson County, including both the Johnson County School District and the Paintsville Independent School District, gathered at Highland Elementary to be presented with 350 pairs of new shoes and hygiene and financial literacy "Hope Totes" for students in need by representatives from Samaritan's Feet and Truist Bank.
According to Samaritan's Feet Regional Director of Operations Denise Blomberg, the founder of the company, Manny Ohonme, started the organization as a means of "paying it forward," as he did not receive his first pair of shoes in his home country of Nigeria until he was nine years old. The website for Samaritan's Feet said that, since the organization started in 2003, it has served more than 8 million people in 108 countries and more than 440 U.S. cities.
Blomberg said giving shoes isn't the only thing the organization does, however, also believing in the process of foot-washing much as is highlighted in the Bible and is likely a familiar act to Eastern Kentuckians.
According to Blomberg, Ohonme decided to start the organization after visiting his ill father in the early 2000's in Nigeria and seeing kids walking around without shoes and in the same situation he found himself in.
"So, he saw those same kids walking around barefoot, and said, 'God, somebody's got to do something about that, and God said, 'Manny, that's you,'" Blomberg said. "So, they left the corporate world and started Samaritan's Feet with the vision of putting millions of pairs of shoes on people and we do so by washing the feet of our kids. It's biblical in nature, but Jesus did not invent foot washing. It means showing humility and, when you have to stop in your tracks and have a six-year-old sitting across from you, it makes you, as a volunteer uncomfortable, because most people don't wake up in the morning and say, 'We're gonna go wash feet.' It's a time of just being able to inspire and connect and dream big dreams."
Blomberg said COVID-19 threw a major wrench into that operation, with social distancing totally eliminating the opportunity for foot washing.
"So, then, COVID comes along and what do you do. So, for a few months last year, we did what everybody else in the country did, shift, pivot, all of those things," Blomberg said. "We knew that our partners … businesses, corporations, schools, churches, boys and girls clubs, they were all on the frontlines of trying to stay in existence. People aren't going to die because they don't have a pair of shoes, but they are going to die if they don't eat. So, we knew that we needed to support our partners at that time and figure out how we were going to live in a non-contact world."
The solution, Blomberg said, was delivered in an orange bag called a "Hope Tote" which the organization is now distributing in lieu of feet-washing practices — the totes contain a hygiene kit, an inspirational card written by Truist Bank employees, an information pamphlet about a financial literacy program Truist offers for kids called Everfi — which offers information on money management through online courses geared at elementary students through the use of interactive games and activities that address both financial concepts and social-emotional learning skills aimed at building toward better financial health. According to Blomberg, the Hope Totes are still necessary as communities continue to struggle with the pandemic.
"It's got an inspirational card called a Hope Note, written by Truist employees, so that makes it even more special," Blomberg said. "So, last year, it seemed like, well, wow, we need to get these hygiene kits with toiletries and masks and some of that out, but now, we're not out of the woods yet, so it's still relevant. Then, we've created another program called Shoe Locker, so that's what we're doing today, thanks to the generosity of Truist and their commitment to the Kentucky/Ohio region, they allocated 700 pairs of shoes for Eastern Kentucky, so we're distributing 350 pairs between the Paintsville Independent District and the Johnson County Schools district."
FRYSC Directors collaborated with the organization, Blomberg said, to help identify sizes that were needed and create a discretionary stockpile that they can keep on stock at their schools for when they see a need, versus Samaritan's Feet's usual practice of putting shoes on an entire school at a time.
"The family resource counselors weighed in on sizes that they wanted … and these are meant to be used discretionary for those times that you have a child come in your office, or whatever that situation is. Typically, we'd be putting these shoes on the entire school, but this is the next best thing, is to have resources available for those times when a family needs this, this or this," Blomberg said. "So, it's thanks to the collaboration of these two school districts, which is amazing, Truist's reputation in the community and their commitment to serve, this is just a great place to be. This is the third leg of my tour, I served in Madison County with the school district there in Berea, Pikeville yesterday and this is the end of my tour … it's just really a blessing to see and hear the stories of what Truist is doing in all of these communities they serve."
According to Michelle Staniford, Branch Leader for Truist, which is a company name that probably isn't recognizable to Eastern Kentuckians yet, but is the result of a merger between BB&T and Suntrust Bank, Truist has had an ongoing partnership with Samaritan's Feet, but this is the first year of them collaborating in the region.
"We became involved in it through our partnership … we asked if we could get them involved in Eastern Kentucky," Staniford said. "Personally, it makes me feel great working in the community and, on a personal level, it makes me feel really good  to do anything to help other people's lives be better and help fulfill our mission at Truist. Our vision is to inspire and build better lives and communities."
Paintsville Independent Schools FRYSC Director Elizabeth Bruner said that Samaritan's Feet was a blessing and fulfilled a constant need for students in the area.
"It's just a blessing for us and shoes are something that resource centers use all year long -- kids always need shoes, so this is just a blessing and it provides us with those shoes … because kids break their shoes all of the time," Bruner said, adding that the FRYSC directors in the county have always collaborated, because, despite being in different school districts, they serve the same community. "It's just a blessing, we're thrilled. These ladies are awesome, they're awesome. They really are. We serve the same people, you know what I'm saying, because they float around to different schools, so we serve them all."