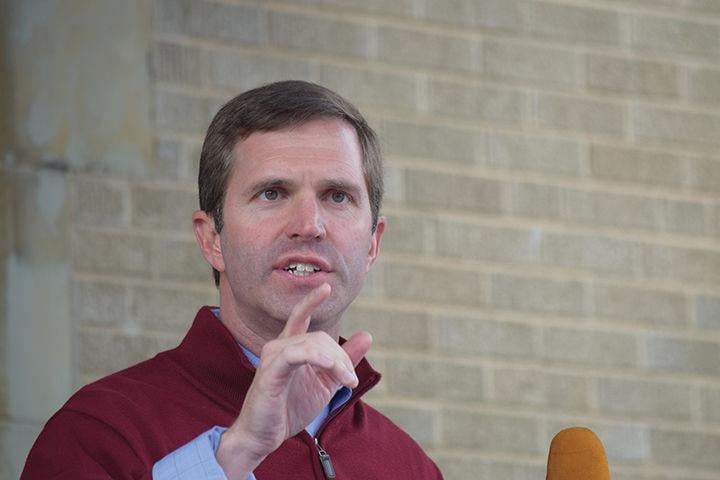 Voters made a statement in Johnson County Tuesday night, voting by a substantial margin for Republican candidates in each of the races on this year's ballot, including incumbent Gov. Matt Bevin, who captured approximately 60.3 percent of Johnson County's vote with a total of 3,988 votes.
The total, however, was not mirrored statewide. As of presstime late Tuesday, it appeared that Democratic Attorney General Andy Beshear was going to win a close race over Bevin statewide.
Beshear captured on 34.8 percent of the vote in Johnson, with a total of 2,034, while Libertarian candidate John Hicks received only 3 percent of the vote in the governor's race with a total of 192 votes.
Other races also saw a Republican sweep, in Johnson County, with totals as follows:
Michael G. Adams (REP): 4698, 71.1 percent
Heather French Henry (DEM): 1714, 25.9 percent
Daniel Cameron (REP): 4452, 67.4 percent
Gregory D. Stumbo (DEM): 2016, 30.5 percent
AUDITOR OF PUBLIC ACCOUNTS
Mike Harmon (REP): 4685, 70.9 percent
Sheri Donahue (DEM): 1436, 21.7 percent
Kyle Hugenberg (LIB): 167, 2.5 percent
Allison Ball (REP): 5084, 76.9 percent
Michael Bowman (DEM): 1310, 19.8 percent
COMMISSIONER OF AGRICULTURE
Ryan F. Quarles (REP): 4777, 72.3 percent
Robert Haley Conway (DEM): 1484, 22.4 percent
Josh Gilpin (LIB): 157, 2.3 percent
The results in the down-ticket races in Johnson County also mirrored those statewide, as, aside from the governor's race, it appeared that all other statewide races were won by the Republican candidate.
Neither Bevin nor Beshear did well in Johnson County's primary election.
Only 725 voters chose the incumbent Bevin over Republican challenger Robert Goforth, who took 1,363 or nearly 60 percent of the vote in Johnson County. Beshear fared even worse in Johnson County, only receiving 259 votes compared to Democratic primary challenger Rocky Adkins, who took 780 votes, or more than 66 percent of the vote.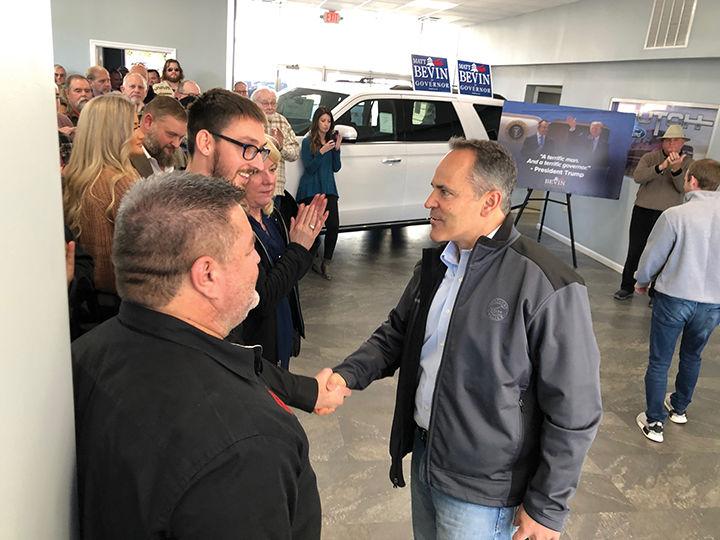 Bevin made numerous trips to Eastern Kentucky, including an August visit to the Appalachian Wireless Arena in Pikeville, where he was joined by Donald Trump Jr., son of President Donald Trump.
During that visit, Trump Jr. tied Bevin's election to his father's work.
"(Bevin) is a local extension of what my father is trying to do for the country," Trump Jr. said during the event.
Other visits by the governor included groundbreaking ceremonies, check presentations and other events. In an interview recently with Appalachian Newspapers, Bevin answered criticisms about the visits by saying that he has long been a supporter of the region.
"We have (money) pouring into Eastern Kentucky into infrastructure, into roads, into water, into sewer, into economic development, the likes of which has not been seen ... at least for many decades, and we're doing this intentionally," Bevin said. "And for those who literally have only begun to notice it for the past couple of moths, I wonder where they've been and why they've been asleep as to what's been going on for the past three-and-a-half years."
Beshear accused the governor of selling "false hope."
"This governor sold false hope to Pike County," Beshear said. "In all the numbers he puts out there about jobs and investments, do you know what he still includes? EnerBlu, a company that he claimed was going to be a reality, that I had concerns of from the start. He said there was going to be hundreds of jobs and a hundred-million dollars of investment, never got off the ground. Instead, he sold false hope to Pike County and to Eastern Kentucky."