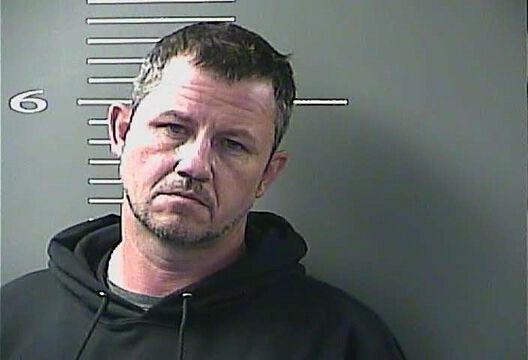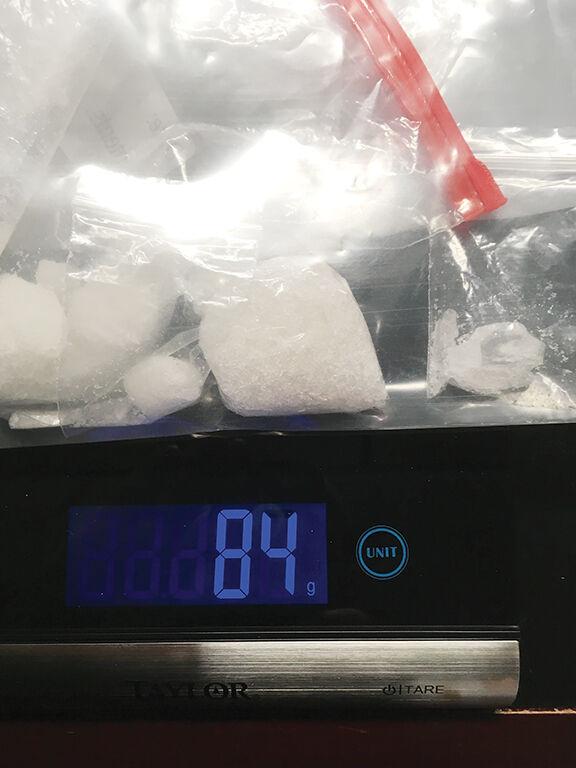 The Paintsville Police Department received several tips about a Johnson County man suspected of trafficking in methamphetamine over several months, according to PPD Capt. Jonathan Holbrook. Holbrook said that District 2 Constable Bruce Ritz received an anonymous tip that, after surveillance, led to the man's arrest and the discovery of multiple grams of suspected heroin and more than two ounces of suspected methamphetamine.
Holbrook said the department had received several complaints about Ned Davis, 38, of Paintsville, related to drug trafficking, and that Ritz had spent time observing a residence where Davis was living before the department received a tip that someone was planning to meet Davis at the BP gas station on Turner Branch Hill, off of U.S. 23.
"Well, we've been getting several complaints on Ned for trafficking, and then Dist. 2 Constable Bruce Ritz got a tip on where he'd been hanging out, and then (Ritz) took us out and showed us the house where Davis had been staying at, and we were doing some surveillance," Holbrook said. "Then we got a tip that Ned was at the BP gas station on Turner Branch Hill and someone was going to meet him to pick up their drugs from him."
Holbrook said that Davis was riding a motorcycle that night, on Dec. 15, when it was less than 60 degrees outside and that Davis seemed unbothered by the temperature but did not seem to be under the influence and was honest about having drugs.
"We went up there and he was standing beside his motorcycle, and I walked up to him, and I said, 'Ned, we have an issue, I heard you've got some drugs on you,' and he said, 'I do have drugs on me,' he was just straight up honest about it, and we placed him under arrest," Holbrook said, adding that, strangely, this was probably the most sober Davis he'd seen yet. "Honestly, that's probably the straightest I've ever seen him."
According to Holbrook, a search afterwards led to the discovery of several pre-packaged bags containing drugs, including one with what appeared to be heroin and several bags of methamphetamine totalling more than two pounds of the substance.
"He had some bags in his pocket, little tiny bags that were already prepackaged and then, in a bookbag, there was one Ziploc bag and the bottom of it was completely lined and there was another little black lunchbox zip-up bag and that ball of heroin was also in that," Holbrook said. "I think there was $824 in cash. It was like he didn't care."
PPD Chief Mike Roe said that he was surprised with how cooperative Davis was.
"He just said, 'You boys have got me,' and I asked him, 'Ned, are you not facing some time on this,' and he said, on top of what we've got here, he's got 10 years hanging over his head on probation," Roe said. "He was straight up with us. Ned has run from us and fought with us and everything else before, but this time, this was just like, 'You got me, oh well.'"
According to Roe, he previously arrested Davis several years ago after Davis broke into an FBI agent's home in Paintsville. Holbrook, when asked if he felt like they were making a dent in the methamphetamine epidemic in the area, said that it felt to him like, every time they netted one arrest on a suspected dealer, another replaced them in short order.
"This is my opinion, you get one and another one comes," Holbrook said.
"Although, I will say, from what I've been told, and Jon, too, (Davis) is one of the bigger (dealers) in this area with the meth and heroin," Roe added.
"He even made the statement that he was supplying this area with the meth," Holbrook said. "I think this will put a dent in it for now, but later on, there will probably be someone that will take his place."
"You wouldn't believe the people that will eliminate their competition," Roe said.
According to photographs from the bust, the bags of suspected methamphetamine weighed in at a total of approximately 84 grams, or 2.96 ounces — which, at the approximate street value per gram, according to Holbrook, of $100, equals approximately $8,400 worth of the substance.
Special thanks were due to Ritz, according to Roe and Holbrook, as he was instrumental in securing the information that led to the arrest.
"We need to make sure we recognize Bruce Ritz in this, actually, he stopped me before he and Jon ever got started the other night and said, 'We're ready to roll, we'll get this guy tonight,'" Roe said. "You would not believe how much he helps us."
"It started in Thelma, that's where Bruce's area is, and it led back here to town, to Ned," Holbrook said. "I'd say he puts anywhere from 16 to 18 hours a day in, doing that job."
A preliminary hearing in Davis' case is set for Jan. 5, where Davis faces charges of first-offense and first-degree trafficking in a controlled substance (heroin), first-degree and first-offense trafficking in a controlled substance (more than two grams of methamphetamine), possession of drug paraphernalia and possession of marijuana.