An Oil Springs man was arrested with some help from civilians after Walmart asset protection staff contacted the Paintsville Police Department with complaints of a shoplifter last Friday, April 27, according to court documents.
The citation said PPD Officer Zac Mitchell responded to the call from asset protection, who reported that a man had concealed batteries and drain cleaner while in Walmart and had passed by all points of sale. When confronted by asset protection staff, the man, John Andrew Lewis, 51, of Oil Springs, dropped the concealed items and fled the store, the citation said.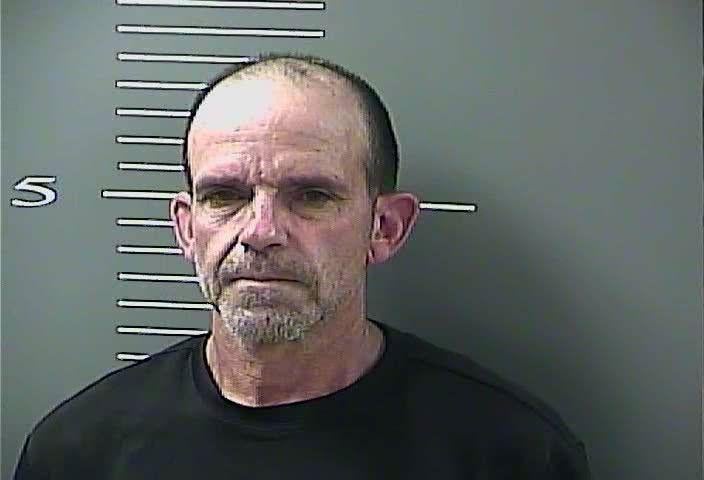 Mitchell wrote in the citation that he made contact with Lewis on the bridge near the Big Sandy Regional Detention Center on Ky. 321 and told Lewis to display his hands. Lewis, the citation said, put his hands up but then accelerated his pace away from Mitchell. Mitchell asked Lewis to stop, according to the citation, because he needed to speak with him about a shoplifting complaint. 
The citation said Lewis then began fleeing at a "rapid pace," during rush-hour traffic and refused Mitchell's further commands to stop. Mitchell said he pursued Lewis for a short distance and then deployed his Taser, but missed. 
According to the citation, at that point, a civilian, having observed the pursuit, pulled their vehicle to the shoulder in an attempt to prevent Lewis' further evasion. Lewis observed the vehicle, according to the citation, and jumped over the guardrail, with Mitchell following him. Mitchell said he put Lewis on the ground and landed beside Lewis, but before Mitchell was able to return to his feet, Lewis was already upright and attempted to flee again, but was stopped when Mitchell pulled him back over the guardrail. 
The citation said Lewis continued to resist commands to get on the ground, and two more civilians approached and asked Mitchell if he needed help. Mitchell responded to the citizens, stating, "Yes, please help."
Mitchell said Lewis continued to be combative, attempting to resist even though he was on the ground, prompting Mitchell to order the civilians back and deploy his pepper spray, which, the citation said, forced Lewis to comply. 
After placing Lewis under arrest, the citation said, Mitchell said that PPD Assistant Chief Danny Smith arrived on scene, and Lewis admitted to Smith that he had attempted to steal the items from Walmart and ran due to a national extradition warrant through the state of Florida. 
Lewis was transported to Walmart for asset protection staff to confirm his identity and, after receiving confirmation, Mitchell transported Lewis to Paul B. Hall Regional Medical Center for medical clearance and then to BSRDC for lodging. 
As of presstime, Lewis was still lodged at BSRDC, and officials from Florida had advised Mitchell they would extradite him.
Lewis was charged with theft by unlawful taking (shoplifting) with a value of less than $500, second-degree fleeing or evading police (on foot), second-degree disorderly conduct, menacing and resisting arrest. Lewis was also served with the fugitive warrant, with no court dates currently set for his case in Johnson County courts.